Share the post "Atreyu, Nonpoint, Tetrarch & Another Day Dawns tour announced"
Atreyu, Nonpoint, Tetrarch and Another Day Dawns will join forces for a handful of gigs this September — see all tour dates below.
Atreyu comment, "NEW SHOWS ANNOUNCED! We're headed to Wisconsin, Kansas, and Arkansas in September with special guests Nonpoint, Tetrarch, and Another Day Dawns! Tickets will be on sale WEDNESDAY at 10am local time."
Dates:
09/03 – Green Bay, WI @ Epic Event Center
09/04 – Newport, KY @ Ovation
09/05 – Madison, WI @ The Sylvee [TIX]
09/07 – Wichita, KS @ Temple Live
09/08 – Fort Smith, AR @ Temple Live [TIX]
09/10 – Danville, VA @ Blue Ridge Rock Fest
ICYMI, Atreyu recently announced a fall U.S. tour with Crown the Empire, Tetrarch, Saul and Defying Decay — check out those shows below.
Dates:
11/9 — Dallas, TX — Gas Monkey Bar And Grill
11/10 — Houston, TX — The Warehouse
11/11 — New Orleans, LA — Republic NOLA
11/13 — Daytona, FL — Welcome to Rockville [TIX]
11/15 — Atlanta, GA — The Masquerade [TIX]
11/16 — Charlotte, NC — The Underground [TIX]
11/17 — Baltimore, MD — Rams Head Live
11/19 — Pittsburgh, PA — The Roxian [TIX]
11/20 — Sayreville, NJ — Starland Ballroom
11/21 — New York, NY — Webster Hall
11/22 — Albany, NY — Empire Live [TIX]
11/23 — Hartford, CT — The Webster
11/24 — Worcester, MA — The Palladium
11/26 — Detroit, MI — The Majestic [TIX]
11/27 — Columbus, OH Newport Music Hall [TIX]
11/30 — Cleveland, OH — The Agora
12/1 — Grand Rapids, MI — The Intersection
12/2 — Joliet, IL — The Forge
12/3 — Belvidere, IL — The Apollo Theater AC
12/4 — Minneapolis, MN — Skyway Theatre
12/6 — Kansas City, MO — The Truman
12/7 — Denver, CO — The Summit [TIX]
12/9 — Salt Lake City, UT — The Depot [TIX]
12/10 — Boise, ID — Knitting Factory [TIX]
12/11 — Portland, OR — Roseland
12/12 — Seattle, WA — The Crocadile [TIX]
12/14 — Santa Cruz, CA — The Catalyst
12/15 — San Diego, CA — House of Blues [TIX]
12/16 — Santa Ana, CA — The Observatory [TIX]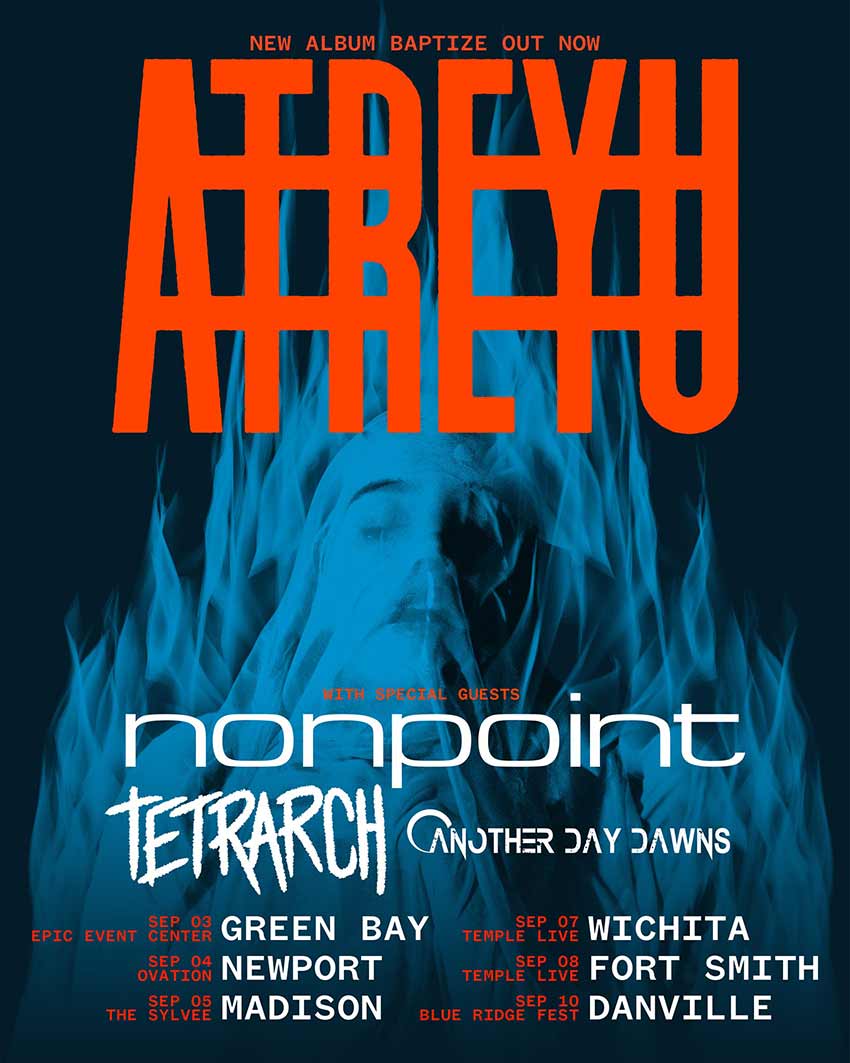 Also Check Out: Ross Jennings (Haken) reveals new single "Words We Can't Unsay" + live stream