Share the post "Baroness streamed a full performance of 'Gold & Grey' (should you watch?)"
Savannah, Georgia metal foursome Baroness took part in a special virtual concert event on Thursday, September 10, 2020 which aired for a premium via Nugs.tv from Long Island City, NYC (at The Plaxall Gallery inside Culture Lab LIC).
Here are a few highlights from the online event:
Baroness performed 'Gold & Grey' in full
The 70-minute set featured a full performance (for the first time ever) of Baroness' insanely well-received 2019 fifth full-length studio album on their own Abraxan Hymns imprint titled 'Gold & Grey.' The set-list included all 17 songs off said LP, including major numbers like "Tourniquet," "Throw Me an Anchor," "Cold-Blooded Angels" and "Borderlines," along with all haunting instrumental tracks. Hands down my favorite moment of the stream was the band's goosebumps-inducing rendition of "I'd Do Anything," which featured an up close and personal moment with founding frontman John Baizley (on piano) and lead guitarist / vocalist Gina Gleason, who joined the fold in 2017.
It's like Baroness performing in your living room from their living room
As noted at the start of this post, the stream was filmed in Long Island City, specifically at The Plaxall Gallery located inside the Culture Lab LIC (a new nonprofit organization). The band performed in a closed setting, playing their instruments 'in the round' as a band would do in lets say a studio rehearsal environment. With only essential equipment at hand and multiple huge rugs under their feet, it was like we were taking a sneak peak at a private and intimate gathering from the band. One could almost forget the fact that the gang were actually playing from inside a 12,000 square foot converted warehouse in Queens.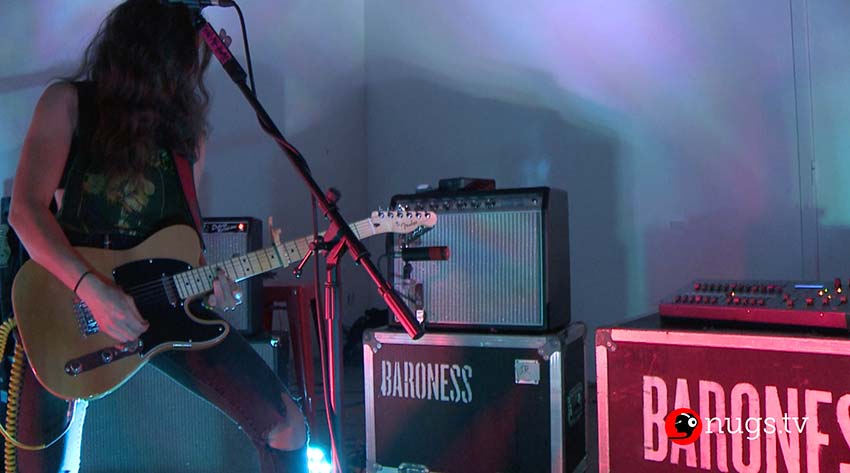 Short staffed? No problem
Due to the ongoing Covid-19 pandemic and the restrictions that go along with it (especially in New York state), producing a huge and super flashy live stream concert event nowadays is near impossible (or irresponsible?… unless you're the VMAs, of course) due to the huge amount of production personal not only required to set up the whole damn thing but also disassemble it all at the end of the night. It kind of defeats the purpose of throwing a (safe?) live stream event in a world still trying to get accustomed to social distancing guidelines. Prior to the virtual concert and speaking with Invisible Oranges, John Baizley noted that they produced the event with "bare minimum crew," pretty much setting up and installing the whole production themselves. "By the minimum, I mean it's the band and our sound guy," Baizley said. Also visible during the stream were a handful of the streaming/video recording team.
Less flash more thrash
The band's skeleton crew-led basic production didn't take away from the overall value of the stream as the mix sounded clear and crisp and the handful of LED lights scattered around the room intensified the vibe with saturated reds, blues, magentas and ambers bouncing off Plaxall Gallery's pure white walls. The stream was recorded with numerous camera angles including a sky shot, plus numerous remote robotic and human-manned cams, with smooth and sleek video transitions to boot. On top of that, I personally experienced zero buffering or streaming lag during the entire run of the show.
Finally
So to answer the question asked in the title of this article, should you check out this stream? Well, the answer is… of course, absolutely YES. Not only is 'Gold & Grey' a great album, but watching Baroness perform said record from front-to-back is quite magical, and especially since this stream marks the band's first (and maybe only?) performance of this year.
As of this post going live, the stream is still available via Nugs.tv and is priced at $14.99. Ticket purchasers are granted unlimited viewing for 48 hours beginning at the time of redemption. The concert is available throughout the weekend, ending at 11:59 pm Eastern on Sunday, September 13, 2020. In addition, a collection of limited edition merch items to commemorate the stream is available for purchase to ticket holders.
For more info, hit up yourbaroness.com.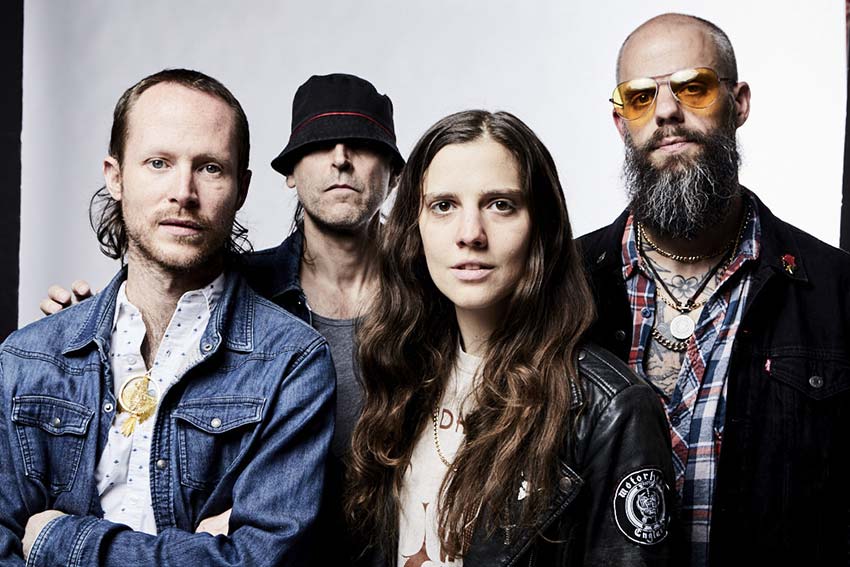 _________
Stream screenshots courtesy of Nugs.tv/Baroness/Speakeasy PR
Band promo photo courtesy of Baroness/Speakeasy PR
Full disclosure, the author of this post was gifted a complimentary press ticket to this live stream