Share the post "Evanescence & Within Temptation reschedule European/UK tour"
Evanescence and Within Temptation have officially rescheduled their planned European and UK trek.
Evanescence state:
As promised, almost every date on the Worlds Collide Tour has been rescheduled! We will have an update on Frankfurt shortly. This has been a whirlwind but we are all in this together and we are even more excited to get to you now. All tickets and VIP packages that have been purchased will still be honored at the new dates listed. For more info go to https://www.worldscollidetour.net or contact your local venue.
Within Temptation add:
Did you check out our new dates of The Worlds Collide Tour? Although we have to wait a few more months, we are so excited that it will go ahead as planned! 🙏🏻
Here are the new shows:
September:
WED 2nd Glasgow (tickets valid from original April 28 show)
THU 3rd Leeds (tickets valid from original April 30 show)
SAT 5th Birmingham (tickets valid from original May 1 show)
SUN 6th London (tickets valid from original April 7)
TUE 8th Amsterdam (tickets valid from original April 21 show)
WED 9th Amsterdam (tickets valid from original April 22 show)
FRI 11th Brussels (tickets valid from original April 4 show)
SAT 12th Brussels (tickets valid from original April 24 show)
MON 14th Paris (tickets valid from original April 5 show)
THU 17th Hamburg (tickets valid from original April 17 show)^^
FRI 18th Leipzig (tickets valid from original April 18 show)
MON 21st Berlin (tickets valid from original April 9 show)
TUE 22nd Munich (tickets valid from original April 15 show)
THU 24th Düsseldorf (tickets valid from original April 20 show)
FRI 25th Esch-Sur-Alzette (tickets valid from original April 26 show)
SUN 27th Zurich (tickets valid from original April 12th show)
TUE 29th Milan (tickets valid from original April 14 show)
October:
THU 1st Madrid (tickets valid from Original May 3 show)**
** Evanescence only
^^ New venue – tickets will be honoured but email serviceteam@fkpscorpio.com with any questions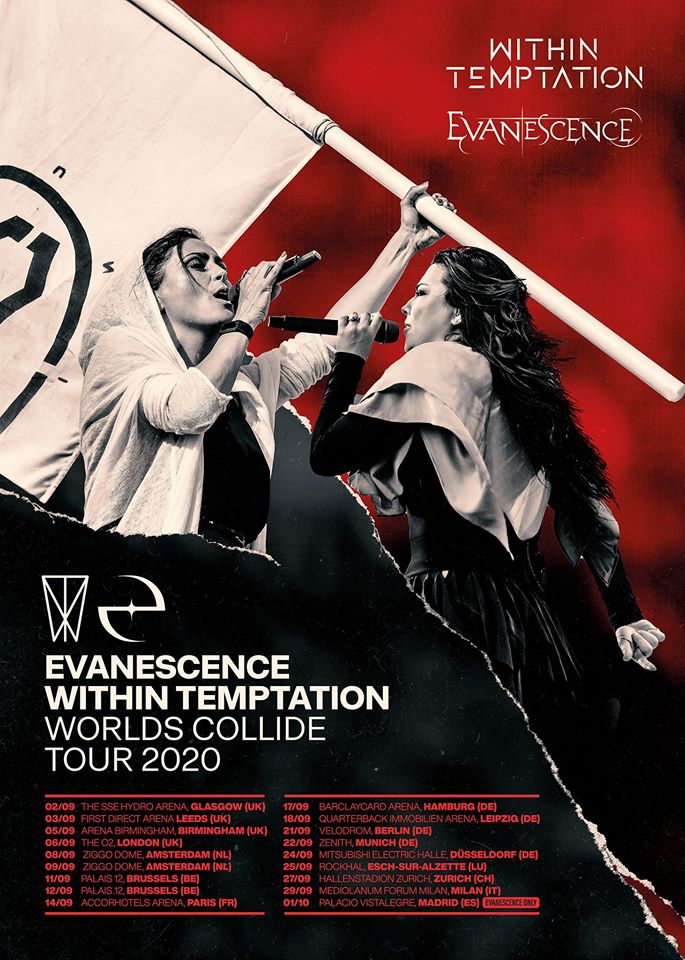 Concert shot by Johnny Perilla