Finnish melodic death metal greats Insomnium have released an official music video for their track "Song of the Dusk," which you can check out below. The tune appears on the band's upcoming EP of the same name, due to drop on November 3rd through Century Media Records (pre-order).
'Song of the Dusk' is the follow-up to the band's ninth studio album, 'Anno 1696,' released earlier this year. The incoming 3-song EP continues where the band's latest 8-track record left off.
"We simply had eleven great songs, and we thought that this material is too good to be 'just' bonus tracks," the band's bassist and vocalist Niilo Sevänen comments. "They are part of the big story, so you can think of them as the director's cut material that tells a little extra. For those who want to have more."
Stream:



Later this year, Insomnium will join forces with In Mourning and Kvaen for a lengthy November through December European/UK trek. Check out all confirmed shows below.
Insomnium w/ In Mourning & Kvaen:
Nov. 5, 2023 – (UK) Manchester – Club Academy
Nov. 6, 2023 – (UK) London – O2 Academy Islington
Nov. 7, 2023 – (FR) Paris – La Machine du Moulin Rouge
Nov. 8, 2023 – (BE) Sint Niklaas – De Casino
Nov. 9, 2023 – (NL) Tilburg – 013
Nov. 10, 2023 – (DE) Übach Palenberg – Rockfabrik
Nov. 11, 2023 – (DE) Bremen – Tower
Nov. 12, 2023 – (PL) Poznan – 2Progi
Nov. 13, 2023 – (PL) Krakow – Kamienna 12
Nov. 15, 2023 – (DE) Berlin – Hole 44
Nov. 17, 2023 – (HU) Budapest – Barba Negra
Nov. 18, 2023 – (CZ) Prague – Palac Akropolis
Nov. 20, 2023 – (DE) Bochum – Zeche
Nov. 21, 2023 – (DE) Leipzig – Hellraiser
Nov. 22, 2023 – (DE) Cologne – Kantine
Nov. 23, 2023 – (DE) Heidelberg – halle02
Nov. 24, 2023 – (DE) Frankfurt – Batschkapp
Nov. 25, 2023 – (IT) Milan – Legend Club
Nov. 27, 2023 – (ES) Barcelona – Razzmatazz 2
Nov. 28, 2023 – (ES) Madrid – Mon
Nov. 29, 2023 – (ES) Bilbao – Santana 27
Nov. 30, 2023 – (FR) Tououse – Le Rex
Dec. 1, 2023 – (FR) Grenoble – L'Ilyade
Dec. 2, 2023 – (FR) Strasbourg – La Laiterie
Dec. 3, 2023 – (DE) Geiselwind – MusicHall
Dec. 4, 2023 – (AT) Vienna – Szene
Dec. 5, 2023 – (DE) Hirsch – Nuremberg
Dec. 6, 2023 – (DE) München – Backstage
Dec. 7, 2023 – (DE) Stuttgart – Im Wizemann
Dec. 8, 2023 – (DE) Cham – L.A. Cham
Dec. 9, 2023 – (DE) Trier – Mergener Hof
Dec. 10, 2023 – (DE) Hamburg – Gruenspan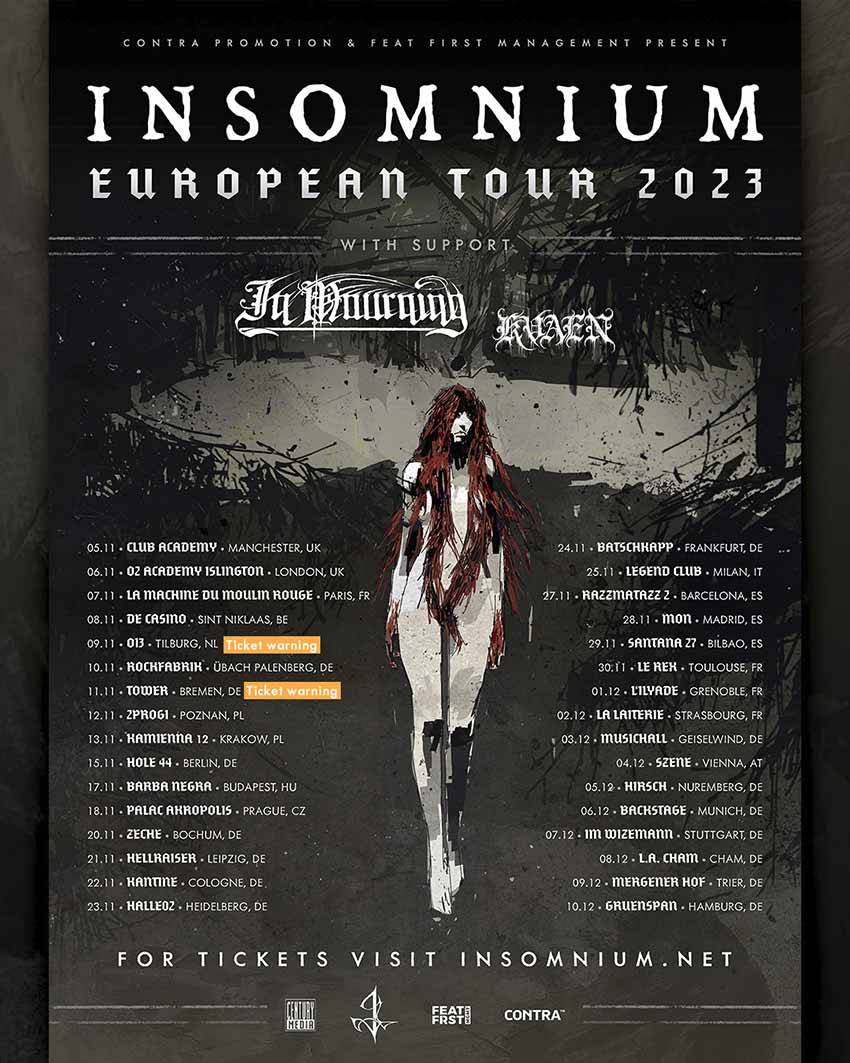 Featured photo by Terhi Ylimäinen
Also Check Out: Feuerschwanz unleash 'Fegefeuer' lyric video