Fast food metallers Mac Sabbath will return to the road this fall for their '2022 Pop-Up-Drive-Thru Tour,' which ignites on September 27th at the Great American Music Hall in San Francisco, CA, and runs through November 19th at the Mesa Theater in Grand Junction, CO. See all confirmed shows below.
Here's more info from the trek reveal, "MAC SABBATH will return to the road late this Fall to bring America another heaping helping of unhealthy – but irresistible – Drive-Thru Metal on the 2022 Pop-Up-Drive-Thru Tour, featuring special guests Speedealer, southern rock heavier and faster then anything this side of Motorhead and shoulders, and Lung, the electric cello and drums female duo, kicking off one heck of a party feast for the senses! A food fight to the death!"
"The waiting is over! I mean When it comes to "drive-thru metal", who needs waiters!?! With our debut album release we are about to "pop-up" all over the states for the first time in years! So head over for a triple decker helping of the cheese you need! on sale now!" exclaims lead singer Ronald Osbourne.
'Drive-Thru Metal' is available at macsabbath.bigcartel.com.
Mac Sabbath on tour:
Tue 09/27/22 Great American Music Hall – San Francisco, CA – with Speedealer and Lung – All Ages [TIX]
Wed 09/28/22 Goldfield Trading – Sacramento, CA – with Speedealer and Lung – 21+
Fri 09/30/22 Dante's – Portland, OR – with Speedealer and Lung – 21+ [TIX]
Sat 10/01/22 El Corazón – Seattle, WA – with Speedealer and Lung – 21+
Tue 10/04/22 Urban Lounge – Salt Lake City, UT – with Speedealer and Lung – 21+ [TIX]
Thu 10/06/22 WAVE – Wichita, KS – with Speedealer and Lung – All Ages
Fri 10/07/22 Knuckleheads – Kansas City, MO – with Speedealer and Lung – 21+ [TIX]
Sat 10/08/22 Wooly's – Des Moines, IA – with Speedealer and Lung – 21+
Sun 10/09/22 Fine Line – Minneapolis, MN – with Speedealer and Lung – 21+
Tue 10/11/22 Shank Hall – Milwaukee, WI – with Speedealer and Lung – 21+
Wed 10/12/22 Afterlife Music Hall – Lombard, IL – with Speedealer and Lung – 21+
Thu 10/13/22 Red Flag St. – Louis, MO – with Speedealer and Lung – 21+ [TIX]
Fri 10/14/22 Elevation – Grand Rapids, MI – with Speedealer and Lung – All Ages [TIX]
Sat 10/15/22 Magic Bag – Ferndale, MI – with Speedealer and Lung – 18+ [TIX]
Tue 10/18/22 HI-FI Indy & HI-FI Annex – Indianapolis, IN – with Speedealer and Lung – 21+
Wed 10/19/22 Beachland Ballroom – Cleveland, OH – with Speedealer and Lung – All Ages [TIX]
Thu 10/20/22 The Crafthouse Stage & Grill – Pittsburgh, PA – with Speedealer and Lung – 21+
Fri 10/21/22 Brooklyn Bowl – Brooklyn, NY – with Speedealer and Lung – 21+ [TIX]
Sat 10/22/22 The Vault Music Hall & Pub – New Bedford, MA – with Speedealer and Lung – 21+
Sun 10/23/22 Wall Street Theater – Norwalk, CT – with Speedealer and Lung – 21+
Wed 10/26/22 The Foundry – Philadelphia, PA – with Speedealer and Lung – All Ages [TIX]
Thu 10/27/22 Black Cat – Washington, DC – with Speedealer and Lung – All Ages
Fri 10/28/22 Harrisburg Midtown Arts Center – Harrisburg, PA – with Speedealer and Lung – All Ages [TIX]
Sat 10/29/22 The Underground – Charlotte, NC – with Speedealer and Lung -All Ages [TIX]
Mon 10/31/22 The Grey Eagle Asheville, NC – with Speedealer and Lung – All Ages [TIX]
Tue 11/01/22 EXIT/IN – Nashville, TN – with Speedealer and Lung – 18+ [TIX]
Thu 11/03/22 The Charleston Pour House – Charleston, SC – with Speedealer and Lung – 21+
Fri 11/04/22 42nd Street Tavern/Reggies – Wilmington, NC – with Speedealer and Lung – 21+
Sat 11/05/22 Jack Rabbits Live – Jacksonville, FL – with Speedealer and Lung – All Ages
Sun 11/06/22 Tuffy's Bottle Shop/Lounge/Music Box – Sanford, FL with Speedealer and Lung – 21+ [TIX]
Wed 11/09/22 Chelsea's Cafe – Baton Rouge, LA – with Speedealer and Lung – 18+ [TIX]
Thu 11/10/22 Lafayette's Music Room – Memphis, TN – with Speedealer and Lung – 21+
Fri 11/11/22 Come and Take It Live Austin, TX – with Speedealer and Lung – All Ages
Sat 11/12/22 Trees – Dallas, TX – with Speedealer and Lung – 21+
Mon 11/14/22 Paper Tiger – San Antonio, TX – with Speedealer and Lung – 21+
Tue 11/15/22 RockHouse Bar & Grill – El Paso, TX – with Speedealer and Lung – All Ages
Wed 11/16/22 Meow Wolf – Santa Fe, NM – with Lung – 21+
Fri 11/18/22 Marquis Theater – Denver, CO – with Speedealer and Lung – All Ages [TIX]
Sat 11/19/22 Mesa Theater – Grand Junction, CO – with Speedealer and Lung – All Ages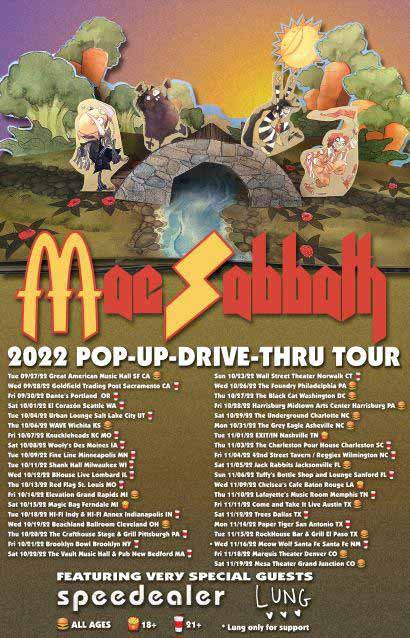 Artist photo by Jeremy Saffer
Also Check Out: Eyehategod announce spring North American headline tour dates