California deathcore band Suicide Silence have unleashed a new music video for their fresh single "Dying Life," which appears on the band's upcoming album on Century Media Records, 'Remember… You Must Die' (out March 10th, pre-order). Check out the clip below.
"Our environment is enveloped in death and constant change, as is the vessel we live in," the band states. "'Dying Life' comes from a place of complete and utter pain before the world around us comes to an inevitable end and we can do nothing but watch and let it happen — there in the dark, under a dying sun."
'Remember… You Must Die' was produced and mixed by Taylor Young (NAILS, Xibalba, Vitriol). As for the artwork, Suicide Silence recruited acclaimed Necrosurrealist artist David Van Gough to conceive the concept.
Stream:



Track listing 'Remember… You Must Die':
"Remember…"
"You Must Die"
"Capable of Violence (N.F.W.)"
"Fucked For Life"
"Kill Forever"
"God Be Damned"
"Alter of Self"
"Endless Dark"
"The Third Death"
"Be Deceived"
"Dying Life"
"Full Void"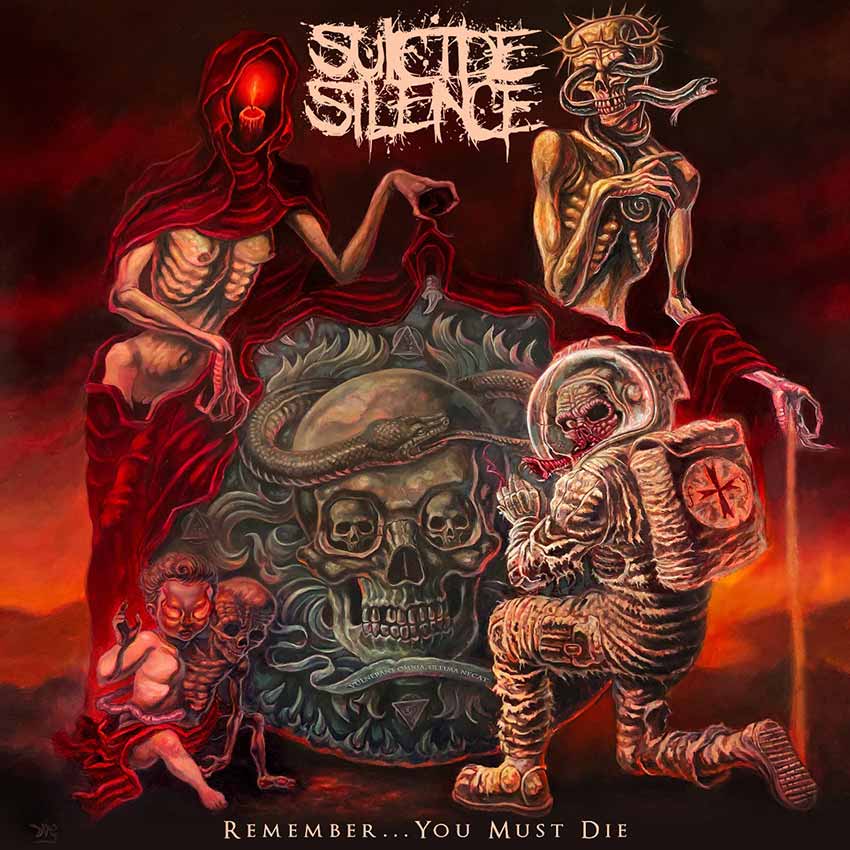 ICYMI, Suicide Silence are going on the 2023 'Chaos & Carnage' tour with Dying Fetus, Born of Osiris, Aborted, Sanguisugabogg, Crown Magnetar and Slay Squad. Check out dates below.
Chaos & Carnage 2023 Tour Dates:
Friday, April 7 – Fort Worth, TX @ Ridglea Theatre
Saturday, April 8 – San Antonio, TX @ Vibes Event Center
Sunday, April 9 – Houston, TX @ Warehouse Live
Tuesday, April 11 – Atlanta, GA @ The Masquerade [TIX]
Thursday, April 13 – New York, NY @ Palladium Times Square [TIX]
Friday, April 14 – Sayerville, NJ @ Starland Ballroom
Saturday, April 15 – Hartford, CT @ The Webster Theater
Sunday, April 16 – Reading, PA @ Reverb [TIX]
Tuesday, April 18 – Pittsburgh, PA @ Mountain View Amp
Wednesday, April 19 – Cleveland, OH @ Agora Theatre
Thursday, April 20 – Covington, KY @ Madison Theater [TIX]
Friday, April 21 – Pontiac, MI @ The Crofoot [TIX]
Saturday, April 22 – Joliet, IL @ The Forge [TIX]
Monday, April 24 – Denver, CO @ Ogden Theatre
Wednesday, April 26 – Las Vegas, NV @ House of Blues [TIX]
Thursday, April 27 – Mesa, AZ @ The Nile
Friday, April 28 – Los Angeles, CA @ The Belasco [TIX]
Saturday, April 29 – Berkeley, CA @ UC Theatre
Sunday, April 30 – Anaheim, CA @ House of Blues [TIX]
_____
Suicide Silence festival dates:
5/20 — Daytona Beach, FL — Welcome To Rockville [TIX]
7/13 — Cadott, WI — Rock Fest




Also Check Out: Stoned Jesus share new song "Get What You Deserve"