After making their grand return with their first live performances in years earlier this month, Michigan alternative rockers Taproot are getting ready to embark on a slew of shows in the coming months. The band's schedule includes upcoming festival appearances and shows alongside Smile Empty Soul, September Mourning, Dead By Wednesday, and more. All dates are listed below.
In addition, Taproot are gearing up for the release of their new album, 'SC\SSRS,' which officially drops September 29th at retail and all digital outlets Worldwide via THC: Music/Amplified Distribution (pre-order).
The band's incoming new single, dubbed "Favourite Song" and featuring a guest appearance from Nonpoint vocalist Elias Soriano, is set for release on Sept. 1st.
In the meanwhile, listen to official audio for Taproot's new track "No One Else To Blame" after the dates.
Tour Dates:
Sat 9/2 – Taste of Madison | Madison, WI | WJJO Stage | w/ Nonpoint
Sat 9/9 – Blue Ridge Rock Festival | Alton, VA
Fri 9/29 – The Machine Shop | Flint, MI – SOLD OUT w/ Heartsick | Lift the Medium
Sat 9/30 – The Machine Shop | Flint, MI – SOLD OUT w/ Eva Under Fire | See This Through | Never the Crash
Sun 10/1 – The Machine Shop | Flint, MI – SOLD OUT with Eva Under Fire | Heartsick
Fri 10/6 – Route 20 | Racine, WI – w/ Smile Empty Soul | Heartsick | Finding Ghosts [TIX]
Sat 10/7 – The Forge | Joliet, IL- w/ Smile Empty Soul | Heartsick [TIX]
Fri 10/13 – EPIC Event Center | Green Bay, WI- w/ September Mourning | Heartsick [TIX]
Sat 10/14 – The Blue Note | Harrison, OH- w/ September Mourning | Lift the Medium, Xero Hour
Fri 10/20 – The KING of CLUBS | Columbus, OH-w/ September Mourning | XFACTOR1 | Artifax [TIX]
Sat 10/21 – The Winchester Music Tavern | Lakewood, OH- w/ September Mourning | Brothers At Arms [TIX]
Thu 11/2 – The Vault – New Bedford, MA w/ Dead By Wednesday [TIX]
Fri 11/3 – Wally's | Hampton Beach, NH w/ Eva Under Fire/ Dead by Wednesday [TIX]
Sat 11/4 – The Gramercy Theatre | NYC, NY- w/ Eva Under Fire / Dead by Wednesday [TIX]
Fri 11/17 – Elevation | Grand Rapids, MI [TIX]
Sat 11/18 – The Eclectic Room | Angola, IN [TIX]
Sat 12/9 – 101 WRIF – FM Detroit Presents: District 142 – Wynadotte, MI w/ I Set My Friends On Fire [TIX]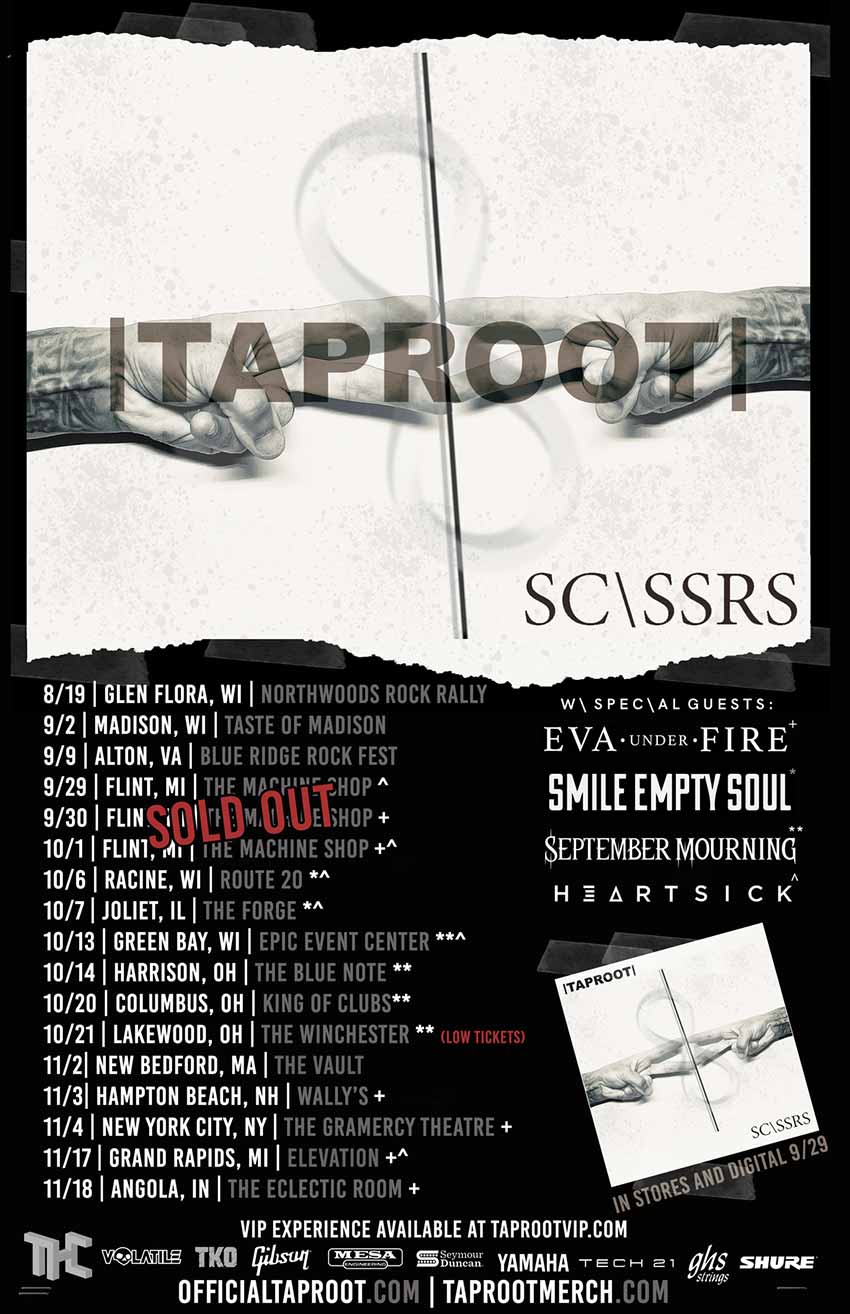 Also Check Out: Jawbreaker confirm fall 2023 tour of the Southwest