Share the post "VISCERAL DISGORGE stream remastered version of debut album"
U. S. based slamming death metallers VISCERAL DISGORGE post advance stream of their remastered debut album, "Ingesting Putridity". The re-release will be available on February 28th via Agonia Records and is currently available for pre-listening here:
The record is coming to digipack CD, vinyl (black, purple, red and splatter) and digital formats. Here's how the physical formats turned out:
VISCERAL DISGORGE is currently on a North American tour with with UK's Ingested through March the 1st. Dates are available below.
"Ingesting Putridity" is considered by many as a brutal death metal classic. Its release quickly developed a loyal national and international following around VISCERAL DISGORGE, and facilitated metal festival appearances & tours throughout the United States and abroad. The record has been remastered by Drewisf and features original artwork with illustrations from Japanese artist Toshihiro Egawa.
VISCERAL DISGORGE released their sophomore studio album "Slithering Evisceration" in September 2019 on Agonia Records. The album entered Billboard's Heatseekers chart at #38 in its first week of release, and was followed by a massive tour across North America, feat. Disentomb and Signs Of The Swarm.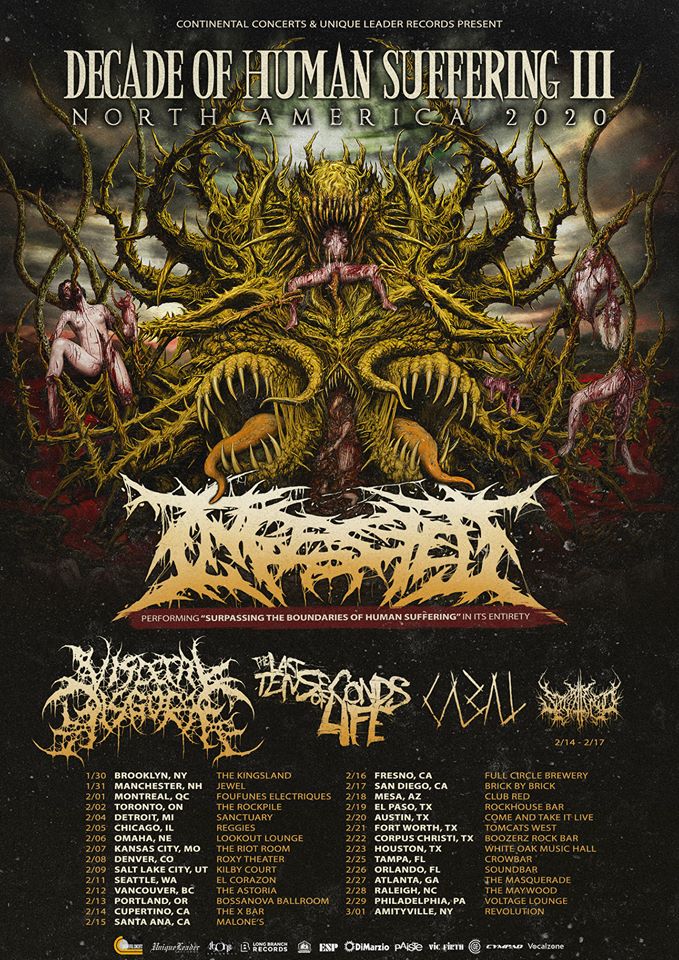 REMAINING TOUR DATES:
"Decade Of Human Suffering Tour"
Ingested + Visceral Disgorge
Cabal + Splattered + TBA
Tickets: www.ingested.co.uk
2/27 – Atlanta, GA – The Masquerade (Purgatory)
2/28 – Raleigh, NC – The Maywood
2/29 – Philadelphia, PA – Voltage Lounge
3/01 – Amityville, NY – Revolution