Share the post "Wednesday 13 embarking on fall U.S. tour celebrating 21 years of Murderdolls"
Horror rocker Wednesday 13 and his band are getting ready to set out on their previously revealed fall 2023 U.S. headline tour to celebrate 21 years of his former band, the glam punk greats Murderdolls. Get all dates below.
Here's more info from the trek reveal, "WEDNESDAY 13 and his current band – which features former Murderdolls alumni Roman Surman and Jack Tankersley – will perform a full set of Murderdolls songs, taken from the band's celebrated 2002 debut album, Beyond The Valley Of The Murderdolls and their 2010 sophomore album, Women And Children Last, which won them the Revolver Golden Gods 'Comeback Of The Year' Award. WEDNESDAY 13 was the frontman and songwriter, alongside Murderdolls guitarist and his creative partner-in-crime, Joey Jordison, in the metallic glam punk outfit."
Sadly, we lost Jordison on July 26th, 2021, as he died in his sleep at the age of 46. Joey is buried in Highland Memory Gardens Cemetery in Des Moines, Iowa, only a brief distance away from Paul Gray, a founding member and bassist of Slipknot.
They added, "The tour will begin on Friday, October 20 in Los Angeles, CA, and will visit a slew of major cities before ending in Colorado Springs, CO on December 9. Support will come from Gemini Syndrome, Napalm Records labelmates Infected Rain, and Black Satellite."
Wednesday 13 himself commented, "After 21 years since its release, and the recent sad and premature passing of Joey, it only feels right to go out and celebrate these songs. We made two amazing albums that I was very proud of, and unfortunately much of the world didn't get a chance to hear the songs live. In 2018, we all got together at Joey's house and discussed plans and possibilities for the future, but we both had other immediate plans. We will be performing tracks from both Murderdolls albums on this upcoming tour and celebrating the legacy of the band."
Guitarist Roman Surman ended with, "We're really excited to do a tour that Joey would be genuinely happy to see us do."
Wednesday 13 Performs Murderdolls – 2023 Tour Dates:
w/ Gemini Syndrome, Infected Rain, and Black Satellite
_____
October 20 – LOS ANGELES, CA @ The Whisky
October 21 – LAS VEGAS, NV @ Count's Vamp'd
October 22 – RENO, NV @ Virginia Street Brewhouse
October 24 – PORTLAND, OR @ Bossanova Ballroom [TIX]
October 25 – SEATTLE, WA @ El Corazon [TIX]
October 27 – ROSEVILLE, CA @ Goldfield Trading Post [TIX]
October 28 – SAN JOSE, CA @ The Ritz [TIX]
October 29 – SAN DIEGO, CA @ Brick By Brick [TIX]
October 31 – PHOENIX, AZ @ The Nile Theater [TIX]
November 1 – ALBUQUERQUE, NM @ Launch Pad [TIX]
November 3 – DALLAS, TX @ Sundown At Grenada [TIX]
November 4 – HOUSTON, TX @ Warehouse Live [TIX]
November 5 – AUSTIN, TX @ Come And Take It Live [TIX]
November 7 – LAWRENCE, KS @ The Bottleneck [TIX]
November 9 – MINNEAPOLIS, MN @ Skyway Theater [TIX]
November 10 – MADISON, WI @ The Annex [TIX]
November 11 – JOLIET, IL @ The Forge [TIX]
November 12 – BLOOMINGTON, IL @ Castle Theater [TIX]
November 14 – RACINE, WI @ Route 20 [TIX]
November 15 – FLINT, MI @ Machine Shop [TIX]
November 16 – CLEVELAND, OH @ The Foundry [TIX]
November 17 – PITTSBURGH, PA @ Crafthouse [TIX]
November 18 – LITITZ, PA @ Mickey's Black Box [TIX]
November 19 – CLIFTON, NJ @ Dingbatz [TIX]
November 22 – SPARTANBURG, SC @ Ground Zero
November 24 – WINSTON-SALEM, NC @ Millennium Center
November 25 – RICHMOND, VA @ Canal Club [TIX]
November 26 – LEESBURG, VA @ Tally Ho [TIX]
November 30 – KNOXVILLE, TN @ The Concourse
December 1 – LOUISVILLE, KY @ Headliners Music Hall
December 2 – COLUMBUS, OH @ The King Of Clubs
December 3 – INDIANAPOLIS, IN @ Hi Fi Annex [TIX]
December 5 – DES MOINES, IA @ Lefty's Live Music
December 6 – LINCOLN, NE @ Bourbon Theater
December 8 – DENVER, CO @ Oriental Theater [TIX]
December 9 – COLORADO SPRINGS, CO @ Black Sheep [TIX]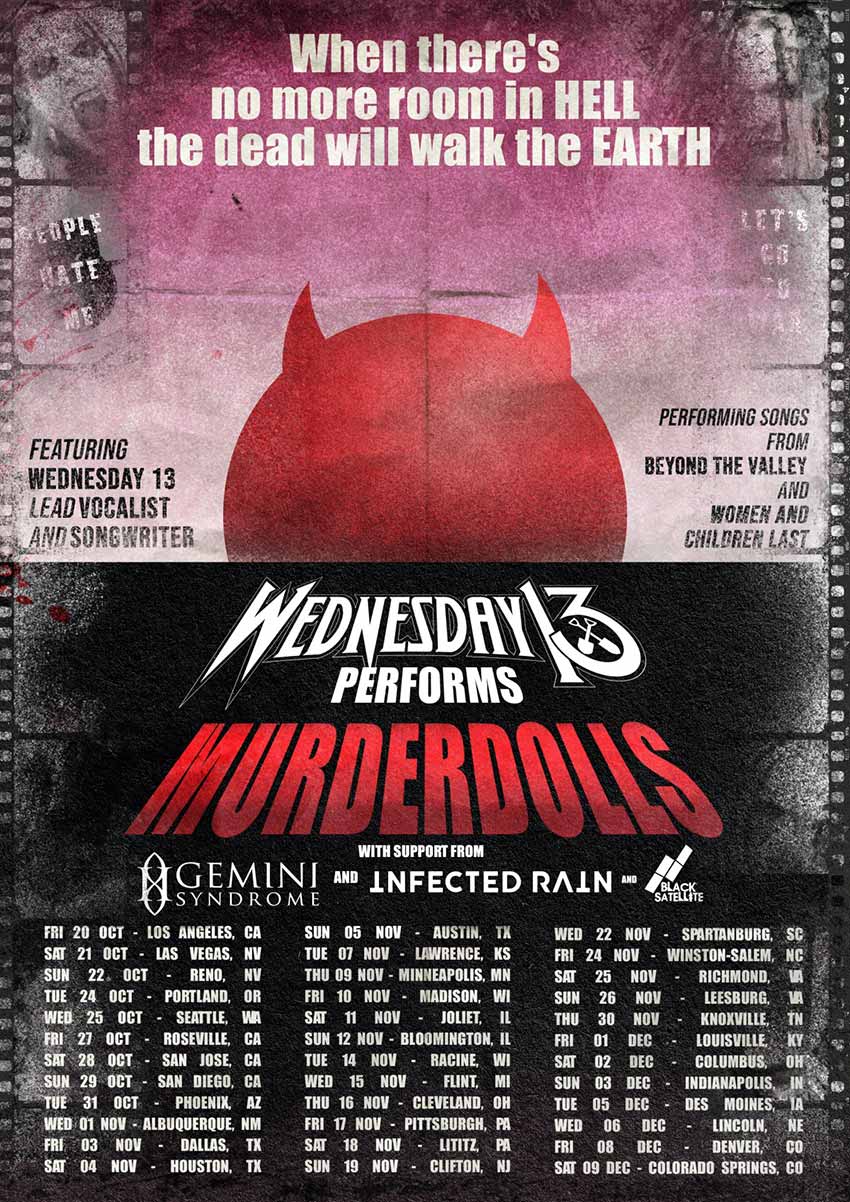 Artist photo by Stephen Jensen at F3 Studios
Also Check Out: Crypta confirm first-ever U.S. headline tour