Share the post "Alpha Boötis channel John Carpenter on new tune "Serpens Nebula" (exclusive stream)"
Canadian science fiction-themed synth metal band Alpha Boötis are readying their new studio album 'Jump to Alpha Boötis' for a September 24th, 2021 release. The impending effort is a reinterpretation of the act's 'Episode I' EP, which they released in June of 2017. For a taste of said upcoming opus, scroll down below for an exclusive advance stream for their ominously riffy new track "Serpens Nebula" (get the song here on 8/27).
The band's Ozymandias comments, "'Jump to Alpha Boötis' is a complete reinvention of the first Alpha Boötis EP. Conceived originally as the soundtrack to a fictitious space exploration video game, these five songs are now the musical backdrop of an exciting science-fiction movie, alas still a fictitious one. Taking place in the far future (and distant past!) of our universe, 'Jump to Alpha Boötis' takes the listener through space and time, inside a cutting-edge spaceship, a sprawling planet-sized city, a bustling nightclub orbiting a wormhole, the horrors of subspace and the serene beauty of untouched alien nature. We've always blended multiple genres and moods within our songs, but for this album we've sharpened the contrast between those elements to create an eclectic and immersive album."
Regarding "Serpens Nebula," Ozymandias adds, "Originally written for a horror-themed composition contest around Halloween 2017, Serpens Nebula is our spookiest and darkest song to date. To achieve this dark sound, we channeled DOOM, John Carpenter and Pokemon Red/Green's Lavender Town theme in our sound design and composition. I took the opportunity to include baritone guitar, tuned to G, to make the riffs extra gnarly. Of course, it's still an Alpha Boötis song, so there are still disco beats and optimistic melodies sprinkled here and there."
Alpha Boötis' forthcoming offering also features previously unearthed tracks "Jump to Alpha Boötis," "Ecumenopolis" and "Circling The Belt Of Orion (Alattia Remix)," plus still to be liberated numbers "Wormhole Gas Bar" and their Gojira cover "Another World," which introduces vocals to the album.
For fans of Rush, Coheed and Cambria, Daft Punk, Carpenter Brut and the like, stream Alpha Boötis' new song "Serpens Nebula" below.



Here's the story from the band:
A foe and a fucker it is! The crew of USS NEON emerged from the past, with the Acorn of Time secure in their vault, only to realize they had been fooled. By stealing the Acorn, they had doomed Nalanie's father's legacy: Ecumenopolis.

As the years flew past them at dizzying speed, they witnessed paradise wither on the vine and the vile fungus of corruption take hold. The Tree never grew, and humanity never found a nest. By their ignorance, they had doomed 42 generations to a life of endless toil and trouble. Nalanie will always remember the smirk on Frederic Huang's holograph as he spat these wretched words: "Your past is compost; the flowers of my future will bloom across the galaxy!" Once they reach the 22nd millenia, the ship's warp drive suddenly malfunctions and jolts them forward a couple centuries before giving up the ghost. Our crew is left stranded in the dreaded Serpens Nebula.

How could they have been so blind?
What happened to their warp drive?
Where the fuck is Votson?

Find out, in Serpens Nebula
Credits:
Music by Frak & Ozymandias
Guitars & sound design by Ozymandias
Bass by Votson
_____
Saxophone by Krogorlon
Drum programming by Jotunbot
_____
Produced by Ozymandias
Mixed by David Fuller
Mastered by Brandon Allhouse at Steelhouse Studios
_____
Artwork by Alexandre Gauthier
_____
Story by Harakoa, Ozymandias and Jérémie Dubé-Lagaude
'Jump to Alpha Boötis' track list:
01. Jump to Alpha Boötis
02. Ecumenopolis
03. Wormhole Gas Bar
04. Serpens Nebula
05. Circling the Belt of Orion (feat. Alattia)
06. Another World (Gojira cover)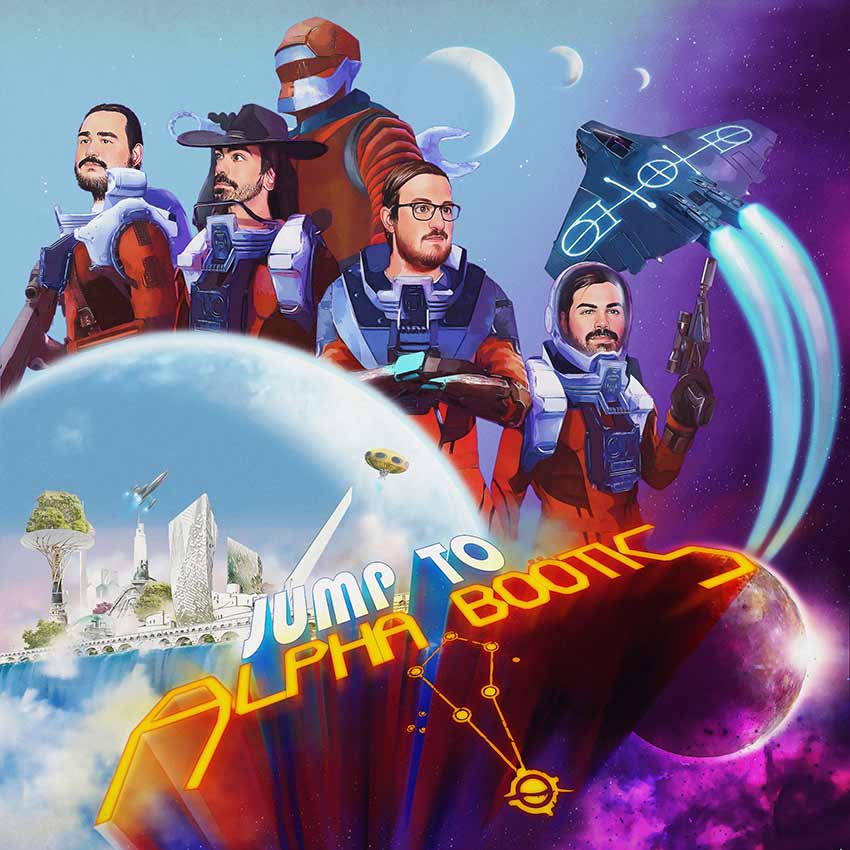 Links:
Bandcamp
Twitter
Instagram
Facebook
Artist photo by Giostino Giotezio
Also Check Out: Confused get f**ked up on "I Want A Beer" (video premiere)