Swedish metallers Amaranthe have announced the cancellation of their planned 2020 North American trek with Battle Beast and Seven Spires due to the ongoing global pandemic.
An official announcement reads:
All ticket holders will be refunded by the service where they made the purchase. Please note the promoters are working diligently to refund the payments in a timely manner and appreciate ticket holders patience during the process. The band thank fans for the understanding while they work on rescheduling the anticipated tour.
The band adds:
While the cancellation of our US tour probably doesn't come as a surprise to anyone, with the COVID-19 situation being far from over with – it is still really devastating for us. We were massively looking forward to visit US soil again after a three-year absence and judging from the ticket sales so were you guys – thank you for the support! Obviously, we will be back as soon as we possibly can, so keep your eyes peeled to our sites, and we will be rocking together again before you know it!!
Cancelled dates include:
08/20/2020 Soundstage – Baltimore, MD
08/21/2020 The Palladium – Worcester, MA
08/22/2020 The Gramercy Theatre – New York, NY
08/23/2020 Theatre Of Living Arts – Philadelphia, PA
08/25/2020 Club Soda – Montreal, QC
08/26/2020 Imperial de Quebec – Quebec City, QC
08/27/2020 Mavericks – Ottawa, ON
08/28/2020 MOD Club – Toronto, ON
08/29/2020 The Eclectic Room – Angola, IN
08/30/2020 Token Lounge – Westland, MI
09/01/2020 Concord Music Hall – Chicago, IL
09/02/2020 Apollo Theater – Belvidere, IL
09/03/2020 Wooly's – Des Moines, IA
09/04/2020 The Cabooze – Minneapolis, MN
09/05/2020 Park Theatre – Winnipeg, MB
09/06/2020 The Exchange – Regina, SK
09/08/2020 The Starlite Room – Edmonton, AB
09/09/2020 Dickens – Calgary, AB
09/11/2020 The Venue – Vancouver, BC
09/12/2020 El Corazon – Seattle, WA
09/13/2020 Hawthorne Theatre – Portland, OR
09/14/2020 Holy Diver – Sacramento, CA
09/15/2020 Brick by Brick – San Diego, CA
09/16/2020 Whisky a Go Go – West Hollywood, CA
09/18/2020 Club Red – Tempe, AZ
09/19/2020 Backstage Bar and Billiards – Las Vegas, NV
09/20/2020 Liquid Joe's – Salt Lake City, UT
09/21/2020 Bluebird Theater – Denver, CO
09/23/2020 Trees – Dallas, TX
09/24/2020 Come and Take it Live – Austin, TX
09/25/2020. Scout Bar – Houston, TX
09/26/2020 House of Blues – New Orleans, LA
09/27/2020 House of Blues – Lake Buena Vista, FL
09/29/2020 Rt 20 – Racine, WI
09/30/2020 The Crafthouse – Pittsburgh, PA
10/01/2020 The Underground – Charlotte, NC
10/02/2020 Riverfront Live – Cincinnati, OH
Amaranthe's sixth studio album will be released this fall via Nuclear Blast Records.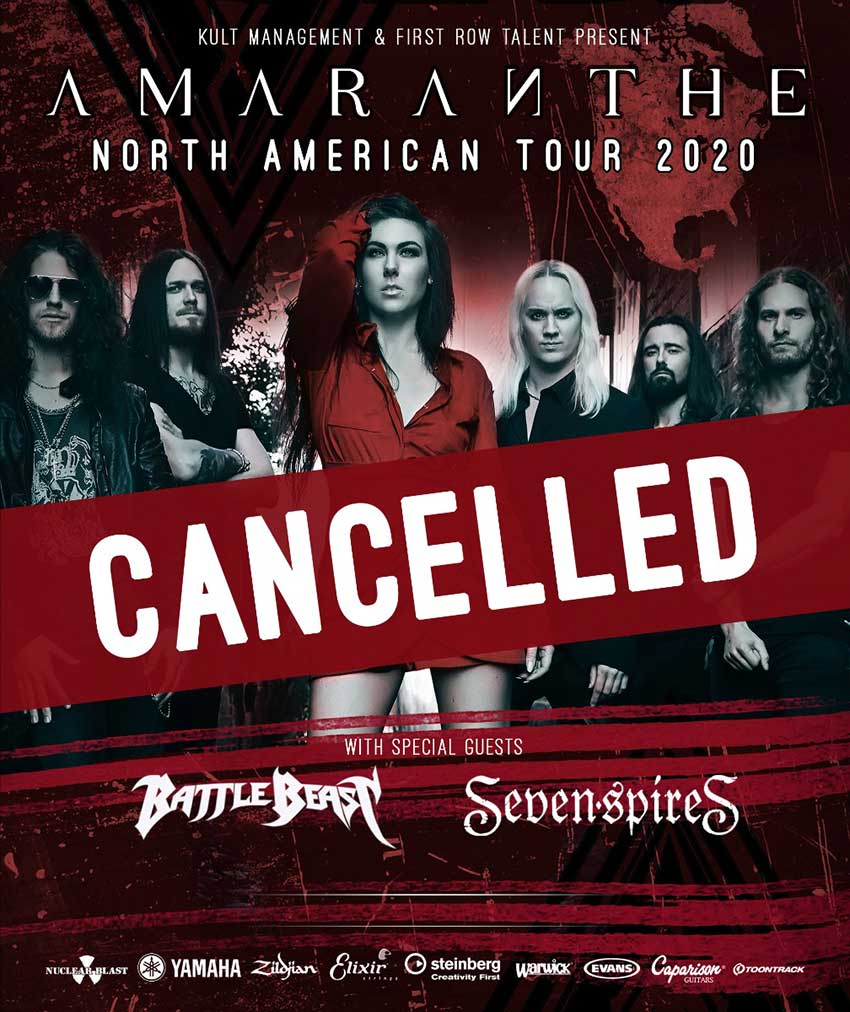 Concert shot by Lina Glasir