Share the post "August Burns Red share "Reckoning" (ft. Spencer Chamberlain) lyric video"
Lancaster headbangers August Burns Red have unleashed their new song "Reckoning," which features Spencer Chamberlain of Underoath. The tune, which you can check out below in lyric video form, appears on the band's incoming new album, 'Death Below,' releasing on March 24th through SharpTone Records (pre-order).
"'Reckoning' is an eight-minute journey that concludes our new album, Death Below," says lead guitarist JB Brubaker. "It was one of the last songs we wrote for the album and is taken over the top by the haunting guest vocal appearance by our friend Spencer Chamberlain from Underoath. We don't typically like to share the album closer before our records come out but we're just so pumped on this track and had to make an exception this time."
Stream:



'Death Below' track listing:
"Premonition"
"The Cleansing"
"Ancestry" (Feat. Jesse Leach)
"Tightrope" (Feat. Jason Richardson)
"Fool's Gold in the Bear Trap"
"Backfire"
"Revival"
"Sevink"
"Dark Divide"
"Deadbolt"
"The Abyss" (Feat. JT Cavey)
"Reckoning" (Feat. Spencer Chamberlain)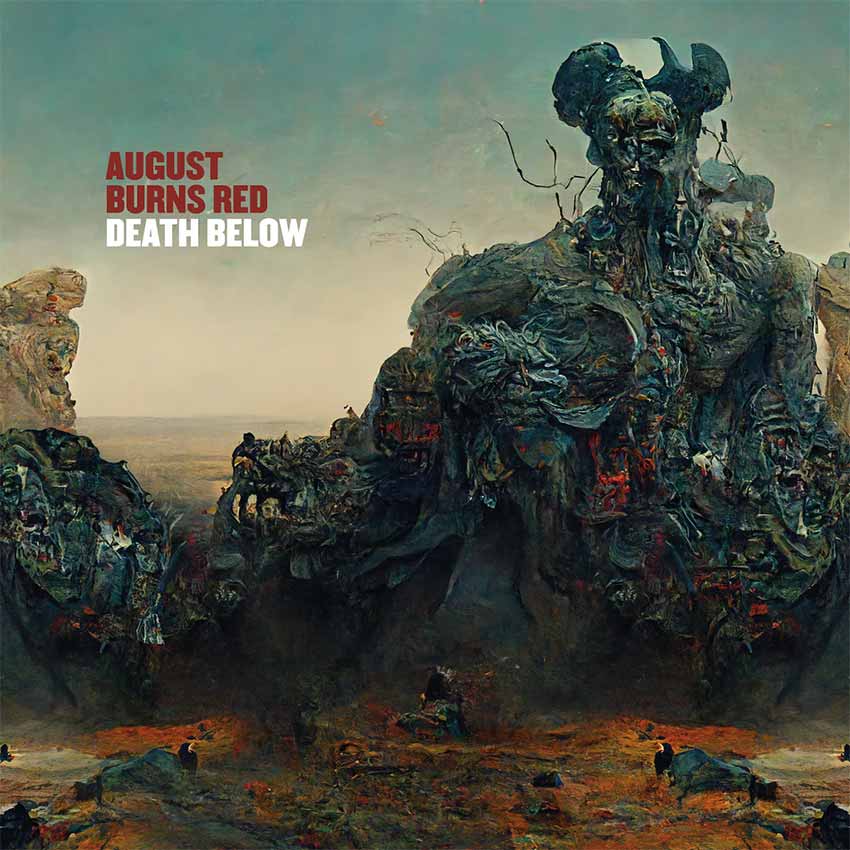 August Burns Red are currently on the road on their 20 year anniversary tour, which sees them dishing out songs from all nine of their albums throughout North America. See all remaining dates below.
August Burns Red On Tour:
With The Devil Wears Prada + Bleed From Within:
2/23 — Houston, TX — House of Blues [TIX]
2/24 — Dallas, TX — South Side Ballroom [TIX]
2/25 — San Antonio, TX — Vibes Event Center [TIX]
2/27 — Tempe, AZ — The Marquee
2/28 — San Diego, CA — Soma [TIX]
3/1 — Anaheim, CA — House of Blues [TIX]
3/2 — Sacramento, CA — Ace Of Spades [TIX]
3/4 — Portland, OR — Roseland Theater [TIX]
3/5 — Seattle, WA — Showbox Sodo [TIX]
3/7 — Salt Lake City, UT — The Complex [TIX]
3/8 — Las Vegas, NV — House of Blues [TIX]
3/10 — Denver, CO — Fillmore Auditorium [TIX]
3/12 — Little Rock, AR — The Hall [TIX]
3/13 — Nashville, TN — Marathon Music Works [TIX]
3/14 — Charlotte, NC — The Fillmore Charlotte [TIX]
4/13 — Philadelphia, PA — The Fillmore Philadelphia [TIX]
4/14 — New York, NY — Palladium Times Square [TIX]
4/15 — Albany, NY — Empire Live [TIX]
4/16 — Worcester, MA — The Palladium [TIX]
4/18 — Niagara Falls, NY — Rapids Theater [TIX]
4/19 — Royal Oak, MI — Royal Oak Music Theatre [TIX]
4/21 — Grand Rapids, MI — The Intersection [TIX]
4/22 — St. Louis, MO — Red Flag [TIX]
4/23 — Kansas City, MO — The Truman [TIX]
4/24 — Wichita — Wave Outdoors
4/25 — Oklahoma City, OK — Diamond Ballroom [TIX]
4/26 — Omaha, NE — Slowdown [TIX]
4/28 — Minneapolis, MN — The Fillmore Minneapolis [TIX]
4/29 — Chicago, IL — Concord Music Hall [TIX]
4/30 — Cincinnati, OH — Bogarts [TIX]
5/2 — Cleveland, OH — House of Blues [TIX]
5/3 — Pittsburgh, PA — Stage AE [TIX]
5/5 — North Myrtle Beach, SC — House of Blues [TIX]
5/6 — Richmond, VA — The National [TIX]
5/7 — Sayreville, NJ — Starland Ballroom [TIX]
5/9 — Toronto, ON — Danforth Music Hall [TIX]
5/10 — Toronto, ON — Danforth Music Hall [TIX]
5/11 — Montreal, QC — MTelus [TIX]
5/12 — Quebec, QC — Theatre Capitole [TIX]
5/13 — Montreal — MTelus [TIX]
*Festival Date




Also Check Out: No/Más drop "Deny/Disgrace" music video