Share the post "Broken Hope announce 'Swamped In Gore' anniversary shows"
Chicago death metal vets Broken Hope are celebrating the 30th anniversary of their debut album, 'Swamped in Gore,' with newly confirmed west coast shows.
ICYMI, Broken Hope were recently added to the stacked 'Psycho Las Vegas' 2021 fest, which goes down next weekend (see set times). In addition, the band will play a pair of California shows beside Devourment — see all dates below.
"On behalf of BROKEN HOPE, we're extremely excited to be appearing at Psycho Las Vegas," states guitarist Jeremy Wagner. "This festival constantly brings only the best in metal and rock of all types and it's an honor to play amongst such talent – and for the greatest fans. Thanks for having us, Psycho Las Vegas. Also, the Psycho-sponsored shows we're playing afterward in both San Diego and Los Angeles are going to be unreal!"
Wagner continues, "We haven't hit these markets in YEARS, and what's even cooler is that we're also being joined by the incomparable DEVOURMENT!!! These shows are gonna be sick! Last, we've been sitting around wondering if we were going to do anything really special to celebrate the 30th anniversary of our first album 'Swamped in Gore'…yes, it's 30 years old this year…and now, thanks to Psycho Las Vegas and these other Psycho-sponsored shows, BROKEN HOPE has a legit reason to celebrate with EVERYONE as we deliver to you all LIVE. See you all soon!"
Broken Hope live dates:
8/22 – Las Vegas, NV @ Psycho Las Vegas at Mandalay Bay
8/23 – San Diego, CA @ Brick By Brick (w/ Devourment) [TIX]
8/24 – Los Angeles, CA @ Catch One (w/ Devourment)
Broken Hope is:
Damian Leski – Vocals
Jeremy Wagner – Guitars
Diego Soria – Bass
Matt Szlachta – Lead Guitars
Mike Miczek – Drums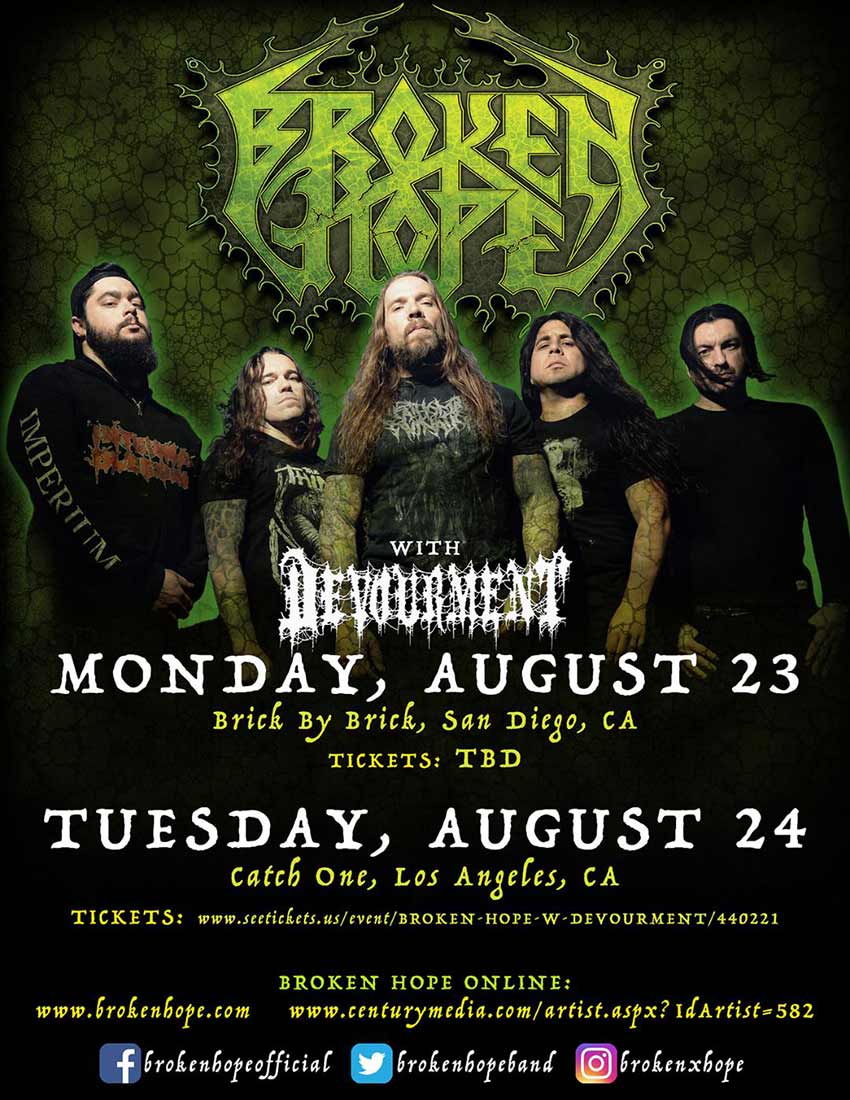 Also Check Out: 'Maryland Deathfest' 2022 lineup finalized