Share the post "Corey Taylor announces 'Forum Or Against 'Em' live stream"
Corey Taylor (Slipknot, Stone Stone) has announced a special global live stream concert dubbed 'Forum Or Against 'Em.'
Scheduled for October 2, 2020, the virtual event will celebrate the release of Corey's first-ever solo album, 'CMFT,' via Roadrunner Records, and will take place at The Forum in Los Angeles.
Here's more info from today's announcement:
Forum Or Against 'Em will be a full arena production complete with a visual feast of pyrotechnics, a stacked set list featuring all tracks from CMFT, select fan-favorite cuts from Taylor's Slipknot and Stone Sour catalogues, a handful of covers and an incendiary guest performance from rock n' roll girl-gang dance squad, The Cherry Bombs. Special event merch and bundles will be available during the stream. Kicking off the event's festivities will be a special pre-show event hosted by presenter/journalist, Beez that will feature exclusive interviews and behind-the-scenes footage.
Taylor adds:
I've been saying since the beginning I'd find a way to bring this music and this band to the people. And I'm honored that The Forum let us do just that. It's CMFT in its entirety. It's songs I've shared over the years. It's a celebration, and I'm so stoked to party with all of you.
Tickets for the pay-per-view streaming event are on sale now from watch.thecoreytaylor.com. In addition, fans can also purchase ticket bundles that include a t-shirt, hoodie, poster, and access to watch an exclusive Corey Taylor acoustic set. A limited number of one-on-one video chats with Corey Taylor are also available with some bundles.
If you haven't already, stream new 'CMFT' tracks "Hwy 666," "Black Eyes Blue" and "CMFT Must Be Stopped" (feat. Tech N9ne & Kid Bookie) below.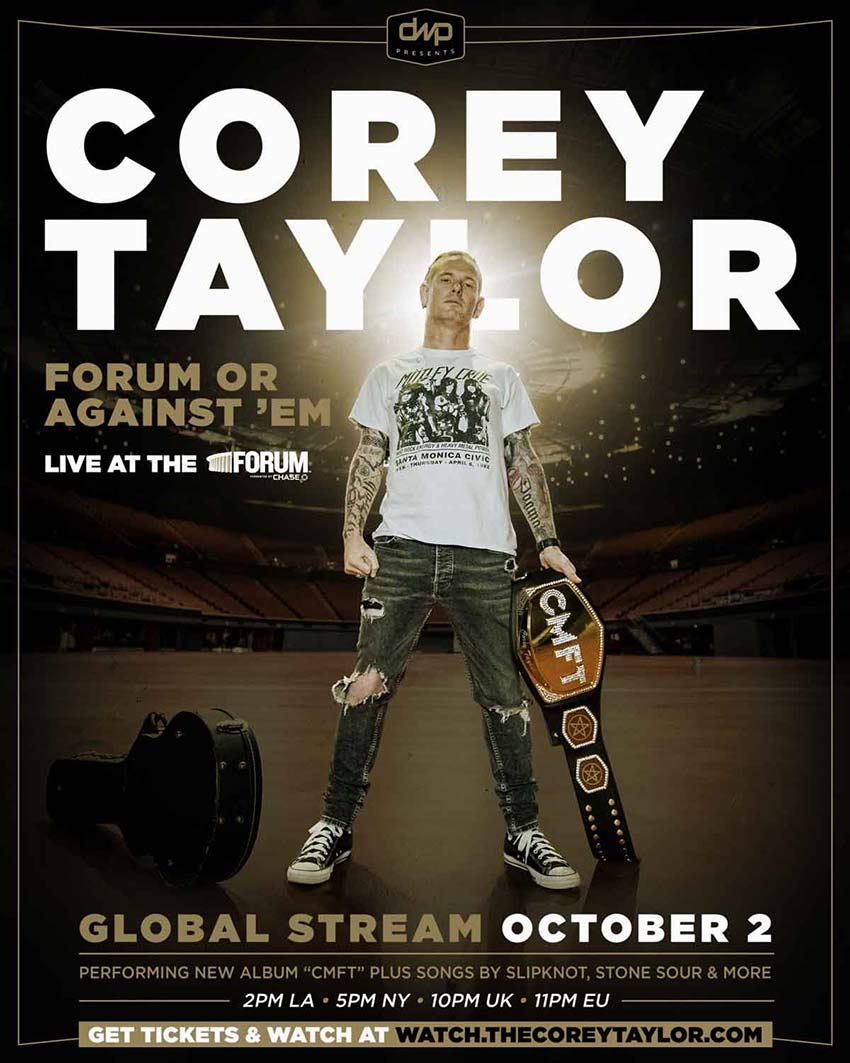 'CMFT' track list:
01. HWY 666
02. Black Eyes Blue
03. Samantha's Gone
04. Meine Lux
05. Halfway Down
06. Silverfish
07. Kansas
08. Culture Head
09. Everybody Dies On My Birthday
10. The Maria Fire
11. Home
12. CMFT Must Be Stopped [Feat. Tech N9ne & Kid Bookie]
13. European Tour Bus Bathroom Song