Today, metalpunk cult Crypt Dagger premiere the new track "Six Horned Pervertor" at Decibel magazine's website. The track hails from the band's highly anticipated new mini-album, From Below, set for international release on March 27th via Dying Victims Productions on 12" vinyl format. Hear Crypt Dagger's "Six Horned Pervertor" in its entirety exclusively HERE [and below].


Like a brightly burning star, Crypt Dagger burst into the night at the dawn of 2019. A two-song rehearsal introduced their boisterous, belligerent ways before the four-song Tales of Torment EP followed. Here, the full rapacious nature of Crypt Dagger revealed itself with rudeness and crudeness: filth-banging, black-as-pitch SPEED METAL with a heavy debt to punk, as well as such surprising influences as Devo, The Mummies, and early B-52s. And it was only the start!
Now, under the guiding gaze of Dying Victims, Crypt Dagger shall spring from the gutter and into heavy metal vomit parties worldwide with From Below! Comprising eight songs in a swift 'n' satisfying 24 minutes, this special MLP comprises the four tracks of Tales of Torment with three more brand-new ones as well as an all-too-fitting cult cover of Dead Moon. Names vividly invoked include Carnivore, Razor, Hallows Eve, Nasty Savage, Living Death, and of course earliest Bathory and Venom, but all done with Road Warrior sense of style: maximum overdrive, total penetration! And again, this is only the start…
Go way, way down with Crypt Dagger's From Below – only for the creepiest of creeps!
Cover and tracklisting are as follows: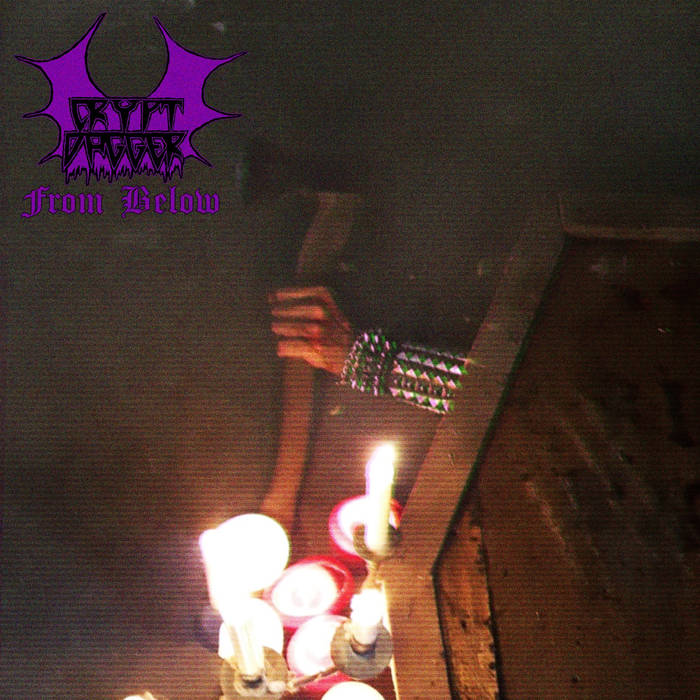 Tracklisting for Crypt Dagger's From Below
1. The God Fukk You
2. Six Horned Pervertor
3. Death to All
4. Rape from the Grave
5. The Cruel Reign
6. Devastation
7. Blood for the Crypt Dagger
8. 54/40 or Fight [Dead Moon cover]