Die Kreatur have dropped their new song "Kälter als der Tod" in music video form. The track appears on the act's upcoming 'Panoptikum' release through Napalm Records (out May 22 – pre-order).
An official announcement reads:
The single draws the listener into an eerie world of want and lust. An ominous fusion of Gothic Rock and Neue Deutsche Härte, Dero Goi (OOMPH!) and Chris Harms (LORD OF THE LOST) present indelible guitar riffs and a smashing drum rhythm that underlines the overall blood-curdling atmosphere. A captivating chorus rounds off this sensational track that's accompanied by an equally magnificent audiovisual.
The band adds:
"Kälter als der Tod" reflects the inclination of many young people to be attracted to danger and the consequent distancing from parental authority. The longing for the confrontation with transience and the resulting feeling of oneself and the preciousness of life are the main motives of this song. We paid special attention to the fear of parents who have difficulties releasing their grown-up children into a world that is inherently threatening. The supposed contradiction between fear and trust, freedom and compulsion, as well as personal responsibility and overprotection becomes apparent in this song.
Stream "Kälter als der Tod":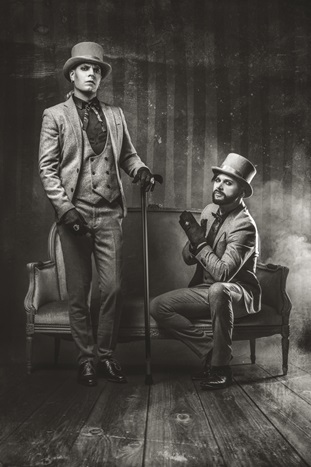 Artist photo by VDPictures