Celtic punk rock legends Dropkick Murphys have announced a special St. Patrick's Day stream to air on Wednesday, March 17 at 7PM ET/4PM PT. The virtual gig, officially christened 'Dropkick Murphys St. Patrick's Day Stream 2021…Still Locked Down,' will be free for all to watch via DKMstream.com.
Dropkick Murphys founder Ken Casey comments, "Instead of charging for tickets, we're going to 'pass the virtual hat' so you can donate what you'd like to help support us in our efforts to keep paying our employees. When we did the first two free live streams for charity, our fans were super generous and we raised lots of money for good causes. But frankly, we've been out of work for over a year, so this one, we've gotta make about us. Of course, a portion will also go to charity, as always!"
"People who donate in advance or during the stream (via www.DKMstream.com) will see their name scroll across the ticker at the bottom of the screen during Still Locked Down," adds a press release. "Still Locked Down will feature a variety of fan favorites, as well as select songs from the band's new studio album, due out soon. Look for details about the new album next week."
Get more info at DropkickMurphys.com. Check out the official flyer below.
As mentioned, Dropkick Murphys are planning to reveal details on their new studio album, the follow-up to 2017's '11 Short Stories of Pain & Glory' next week, stay tuned.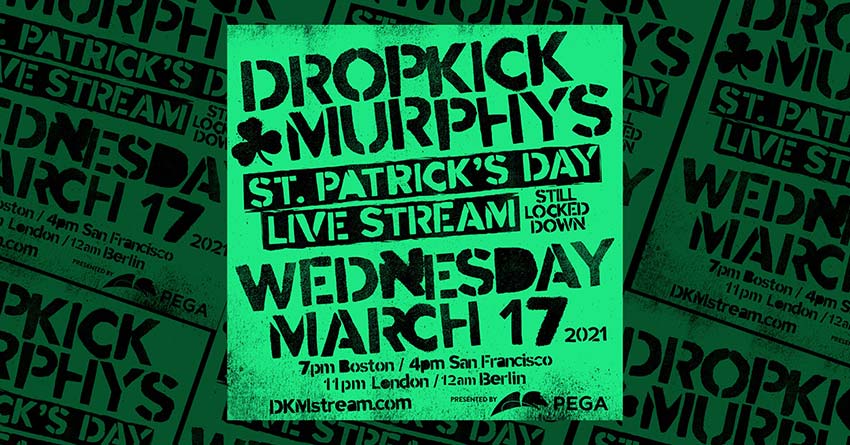 Dropkick Murphys are:
Al Barr (lead vocals)
Tim Brennan (guitars, tin whistle, accordion, piano, vocals)
Ken Casey (lead vocals)
Jeff DaRosa (guitars, banjo, mandolin, vocals)
Matt Kelly (drums, percussion, vocals)
James Lynch (guitars, vocals)
Kevin Rheault (touring bassist)
Lee Forshner (touring bagpipe player)
Featured concert shot by Johnny Perilla