Pearl Jam mainman Eddie Vedder has just announced two solo shows for this October. The gigs are set to take place at the Benaroya Hall in Seattle, WA on Monday, Oct. 23rd and Tuesday, Oct. 24th.
Here's more info from a press release, "Vedder will be returning to the solo stage to raise support for EB Research Partnership (EBRP). All proceeds from the shows will be donated to EBRP, an organization Jill Vedder and Eddie Vedder founded with a group of parents in 2010 to discover treatments and cures for Epidermolysis Bullosa."
Regarding tickets, they add, "A special ticket pre-sale for both concerts begins today for current Ten Club members who were active as of Sunday, August 20. Public tickets will only be available through Ticketmaster Registration. Ticketmaster Registration opens today at 10am PT and closes Tuesday, August 22 at 5pm PT. To register, please visit: [LINK]"
Eddie Vedder is also set to play 'Ohana Festival' in Dana Point, CA on September 30th, performing alongside The Chicks, The War on Drugs, Goose, and others.
Eddie Vedder tour dates:
Saturday, September 30 Dana Point, CA Ohana Festival* [TIX]
Monday, October 23 Seattle, WA Benaroya Hall [TIX]
Tuesday, October 24 Seattle, WA Benaroya Hall [TIX]
* Previously announced show. Full info at www.ohanafest.com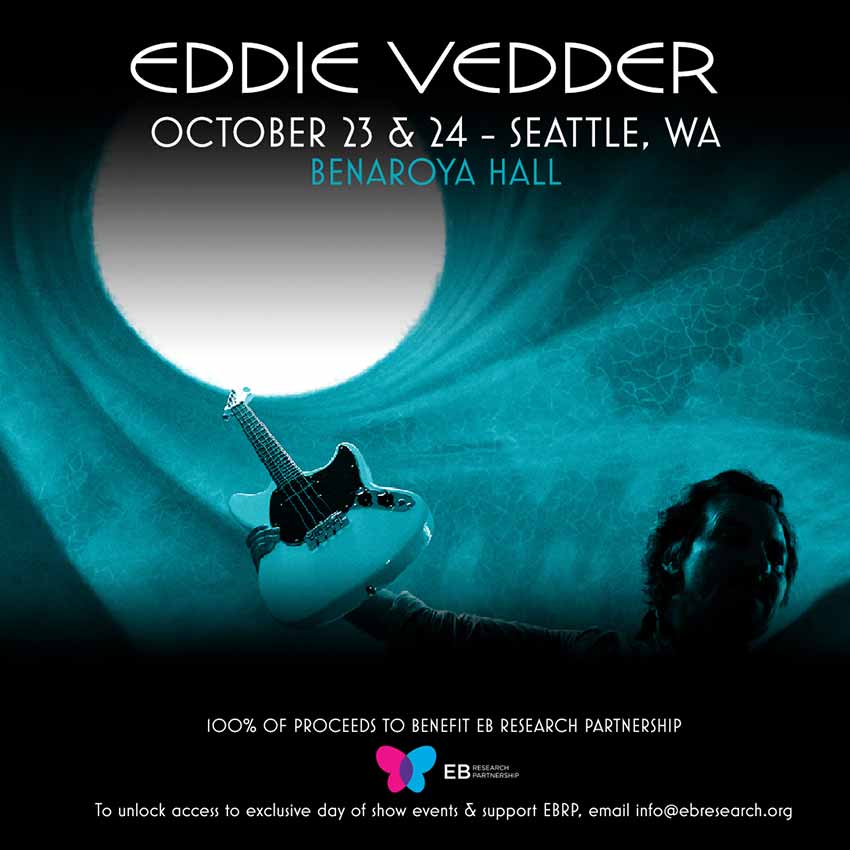 Artist photo by Danny Clinch
Also Check Out: Spirit in the Room playing shows w/ Pantera, Lamb of God & King Parrot