London power metal band Grimgotts are streaming the entirety of their EP 'Sagas' via Metal Underground.
The band commented, "Sagas takes us through the epic quests of Northmen, Pirate lords and ancient orders. Join us as we sail the vast oceans of Andria and raise your fists as we sing of our great heroes!"
Listen to the EP here: [LINK]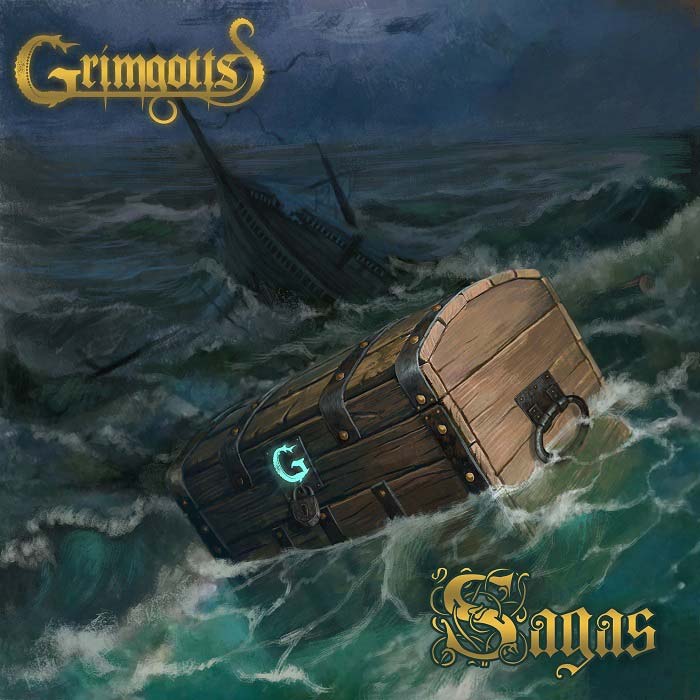 About Grimgotts:
Fans of Rhapsody of Fire, Dragonforce, Sonata Arctica, and Alestorm will be signing up to set sail with London symphonic power metal band Grimgotts. Originally formed in 2015 as a Harry Potter parody outfit, Grimgotts has since graduated into their own original fantasy realm: the mythical land of Andria. Their well-received albums Lions of the Sea(2017) and Dragons of the Ages(2019) chronicled epic battles between men and dragons on Andria's high seas.
And now the band is on the eve of releasing the EP Sagas, which will continue the ahem, saga, of Andria. Due out on August 14th, 2020, its four tracks feature blistering keyboard work and rousing vocal lines that will raise the fists and drinking horns of their audience.
Having supported the German power metal band Victorius and Australian folk metallers Lagerstein, and with a killer discography that's only growing, Grimgotts is on their way to taking over the Andrian oceans, if not planting their flag on the European power metal scene.
As Carl Fischer of GBHBL.com puts it, "May those UK metal pirates continue to invade our minds and enhance our senses with their imposing and symphonic music for many years to come, always fighting for glory, for freedom and for metal!"
This EP is part of a trilogy of releases (Tales, Sagas & Legends) that will be released as one full album later in the year.
Listen to Tales: [LINK]
Lineup:
·Andy Barton – vocals
·David Hills – Guitars
·Fabio Garau – Keys
·Nelson Moreira – Bass
·Mo Abdelgadir – Drums
Connect With Grimgotts
·Facebook
·Bandcamp
·Spotify
Featured photo via
Press release courtesy of Dewar PR