Share the post "Gronibard share new album details, reveal first single: "Fast Gays of Humanity""
The laziest band on earth has written a new album that nobody asked for! French gore grind outfit Gronibard will release their new full-length, 'Regarde Les Hommes Sucer,' on May 20, 2022 via Season of Mist and the artwork can be found below. Much to the dismay of music elitists and those with refined auditory tastes, the band is now sharing the first single, "Fast Gays of Humanity," which can be heard at THIS LOCATION [embedded below].
Gronibard comments: "After 14 years, we are proud to announce that we finally found how to tune our guitars (we expect at least 20 additional years for bass for obvious reasons). We are proud to share with you a preview of our new album, 'Regarde les hommes sucer.' The label asked us to say that this is the album of maturity and our best album so far. But let's be honest, this song (which opens the album) absolutely doesn't reflect the whole album, everything else sounds like Meshuggah."
'Regarde Les Hommes Sucer' is now available for pre-orders HERE.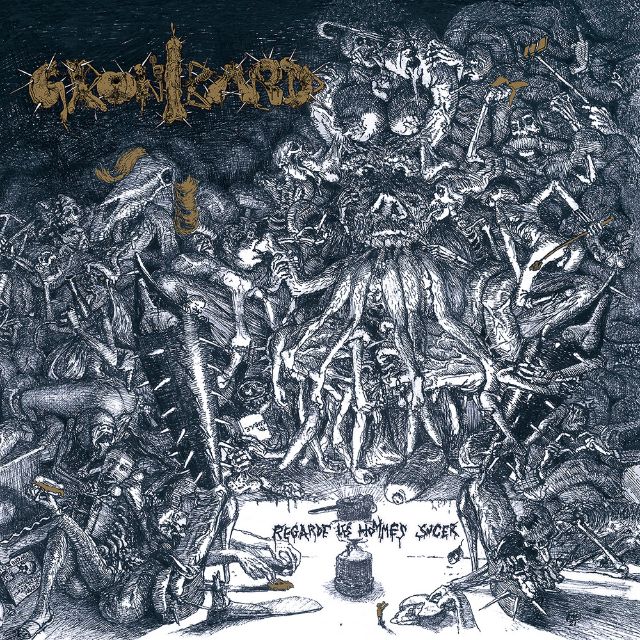 Line-Up:
Anal Capone: Vocals
Necronembourg: Guitars & vocals
Merdic: Guitars
Albatard: Bass
Godemichel: Drums
Produced by: Frédéric PECQUEUR
Recording studio: Studio C&P
Mixing & Mastering: Frédéric PECQUEUR
Cover art: Mat.
Artist photo by Alister Pike
Press release courtesy of Season of Mist
Also Check Out: Sylvaine shares new song "Nova"