Share the post "Gwar add 2nd NYC date to 'Scumdogs 30th Anniversary Tour'"
Monster metal unit Gwar have added a second showing to their previously announced 'Scumdogs 30th Anniversary Tour,' which features support from Napalm Death, Eyehategod and Madball in select markets, plus some festival stops.
Gwar comment, "New York Shitty! We've added one more date for you miserable humans to make sure the entire city won't make Christmas… Tickets at GWAR.net/Tour." The new show happens on December 14, get tickets here. Check out all upcoming tour dates below.
ICYMI, Gwar will release their "Scumdogs XXX Live" effort through the Pit Records on September 10, 2021 — pre-order here.
Tour Dates:
9/16/21 – Richmond, VA – The National $
9/17/21 – Columbus, OH – Newport Music Hall $ [TIX]
9/18/21 – Chicago, IL – RiotFest @ Douglas Park #
9/19/21 – Pittsburgh, PA – Mr. Smalls $ [TIX]
10/28/21 – Norfolk, VA – The NorVa x
10/29/21 – Worcester, MA – The Palladium x
10/30/21 – Philadelphia, PA – Franklin Music Hall x
10/31/21 – New York, NY – Irving Plaza x [TIX]
11/1/21 – Baltimore, MD – Baltimore Soundstage x [TIX]
11/2/21 – Buffalo, NY – Town Ballroom x
11/4/21 – Milwaukee, WI – The Rave x
11/5/21 – Detroit, MI – Crofoot Ballroom x [TIX]
11/6/21 – Indianapolis, IN – The Vogue x
11/7/21 – Cleveland, OH – House of Blues x [TIX]
11/8/21 – Toronto, ON – The Opera House x
11/10/21 – Asheville, NC – Orange Peel x
11/11/21 – Cincinnati, OH – Bogarts x [TIX]
11/12/21 – Atlanta, GA – The Masquerade x [TIX]
11/13/21 – Daytona Beach, FL – Welcome to Rockville # [TIX]
11/15/21 – Houston, TX – Warehouse Live x
11/16/21 – Dallas, TX – Gas Monkey Bar & Grill x
11/18/21 – Albuquerque, NM – Sunshine Theater x
11/19/21 – Tuscon, AZ – The Rialto x
11/20/21 – Las Vegas, NV – House of Blues x [TIX]
11/21/21 – Los Angeles, CA – The Belasco Theater x [TIX]
11/22/21 – San Francisco, CA – The Regency Ballroom x
11/23/21 – Ventura, CA – Ventura Theater x [TIX]
11/24/21 – Santa Ana, CA – The Observatory x [TIX]
11/26/21 – Reno, NV – Virginia Street Brewhouse x [TIX]
11/27/21 – Boise, ID – Knitting Factory x [TIX]
11/28/21 – Portland, OR – Crystal Ballroom x
11/30/21 – Seattle, WA – Showbox SODO x
12/1/21 – Vancouver, BC – Commodore Ballroom x [TIX]
12/3/21 – Calgary, AB – MacEwan Hall x [TIX]
12/4/21 – Edmonton, AB – Midway Bar x [TIX]
12/6/21 – Billings, MT – Pub Station x
12/7/21 – Denver, CO – The Oriental Theater x
12/8/21 – Lawrence, KS – Granada Theater x
12/9/21 – Minneapolis, MN – First Avenue x
12/10/21 – Lincoln, NE – The Bourbon Theatre x
12/11/21 – Sauget, IL – Pop's x [TIX]
12/13/21 – Washington, DC – 9:30 Club x [TIX]
12/14/21 – New York, NY – Irving Plaza x [TIX]
$ – with Madball / Eyehategod supporting
x – with Napalm Death / Eyehategod supporting
# – Festival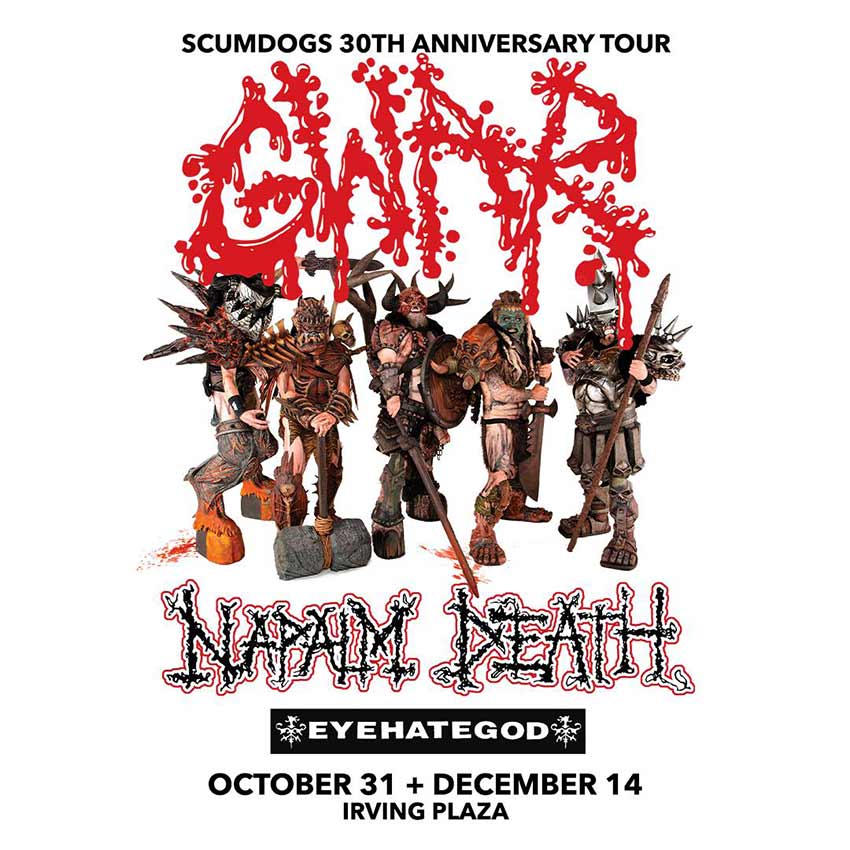 Also Check Out: Fit For An Autopsy, Enterprise Earth, Ingested + more U.S. tour announced