Bay Area hardcore punk outfit Isotope – featuring former members of Stormcrow, Sanctum, Acts of Sedition, Femacoffin, and more – will unleash a limited edition, self-titled compilation cassette next month through Carbonized Records.
Here's more info from the official announcement:
The punishing, nineteen track offering features the band's 2019 eponymous full-length LP, 2017's Wake Up Screaming EP, 2015's Midnight Soldier seven-inch, and 2014 debut demo Final Wind Of Mercy, all mastered for cassette by Kenko Communichaos Media in Gnesta, Sweden. Limited to 100 copies and set for release on September 4th, the black cassette shell comes accompanied by a four-panel, double-sided j-card, and download card.
You can pre-order via the Carbonized website HERE or through Bandcamp HERE. Scroll down below to stream "Wake Up Screaming."
Isotope Compilation Track Listing:
2019 Isotope LP
1. Departed
2. M.A.N.I.C.
3. Dream Thief
4. Bloodied Dove Of Peace
5. Not So Distant
6. Godless Blade
7. Pleasure Convenient
8. Phoenix Ashes
2017 Wake Up Screaming EP
9. Wake Up Screaming
10. Blinded Insanity
11. Breath Of The Sun
12. Only In Dreams (Anti Cimex cover)
2015 Midnight Soldier Seven-Inch
13. Midnight Soldier
14. Final Wind Of Mercy
2014 Final Wind Of Mercy Demo
15. Classical Mess
16. Pleasure Convenient
17. Dream Thief
18. Phoenix Ashes
19. Wreckage
Isotope:
Chuck "Zone Tripper" Franco – vocals
Nick "Sikki Nikki" Cantu – guitar
Kristen "K.P." Payne – guitar (Tracks 1 – 12)
Paul "Bazzy" Capito – bass
Clint "Clza" Baechle – drums
Scootch – guitar (Tracks 13-19)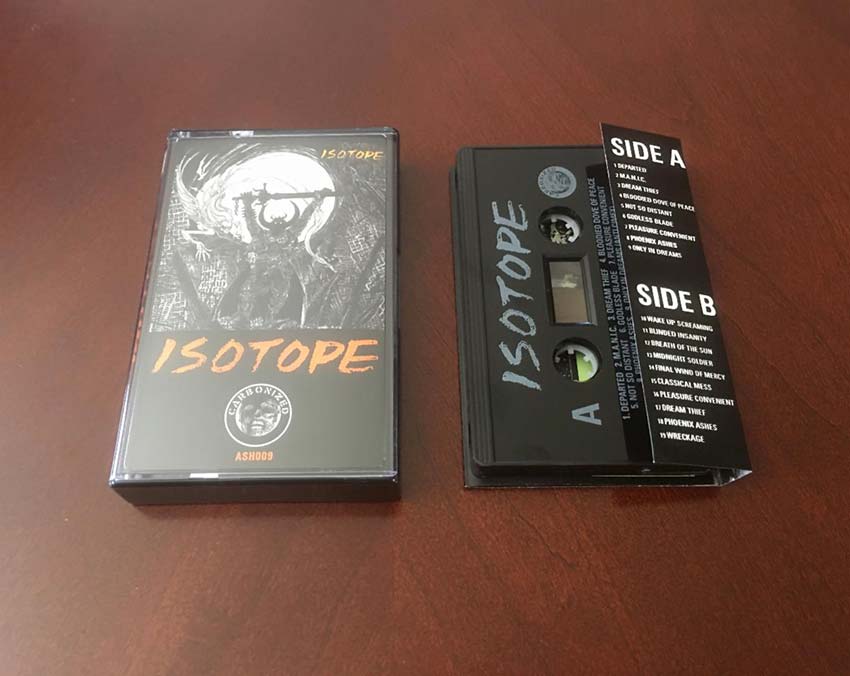 Artist photo by Carlos Garcia