Share the post "Lilith Czar joins Black Veil Brides, Motionless In White & Ice Nine Kills tour"
Rock singer, songwriter, producer, etc. Juliet Nicole Simms AKA Lilith Czar has jumped aboard the previously announced Black Veil Brides, Motionless In White and Ice Nine Kills 2022 'Trinity of Terror' North American tour. The outing kicks off on March 17th in Mesa, AZ at the Mesa Amphitheater and runs through April 27th in Norfolk, VA at the Chartway Arena — all confirmed dates are listed below.
A presser states, "Following her striking transformation last year, Lilith Czar has captivated audiences with her new album Created From Filth And Dust. Today she is thrilled to announce that she will be bringing these songs across the US as support on The Trinity Of Terror Tour, featuring Black Veil Brides, Motionless In White, and Ice Nine Kills. The tour kicks off on March 17th in Mesa, with stops to follow in Los Angeles, Chicago, Indianapolis, Philadelphia, and more."
Lilith comments, "I'm very excited to be opening up for the Trinity Of Terror tour this spring! I truly admire all three bands from their unique artistry, dramatic showmanship, dedication to their music and all they have cultivated and created. This tour is destined to bring all the fans attending a night to remember filled with thrilling entertainment, heart, but most notably everything we love about rock n' roll, it's community and the love and passion we all have for music. Can't wait to hit the road! See you soon."
Following the aforementioned trek, Czar will also be performing on select shows with Three Days Grace, as well as supporting Godsmack. Fans can also see her at 'Welcome To Rockville' in Daytona Beach, FL in May. For more info, visit lilithczar.com.
'Trinity of Terror' tour dates (Lilith Czar not appearing 4/19-27):
3/17 – Mesa, AZ – Mesa Amphitheater
3/18 – Los Angeles, CA – Hollywood Palladium [TIX]
3/19 – San Jose, CA – San Joes Civic [TIX]
3/21 – Spokane, WA – Knitting Factory [TIX]
3/22 – Calgary, AB – Grey Eagle Casino [TIX]
3/23 – Edmonton, AB – Edmonton Convention Center [TIX]
3/25 – Boise, ID – Revolution Concert House [TIX]
3/26 – Salt Lake City, UT – The Great Salt Air [TIX]
3/27 – Grand Junction, CO – Grand Junction Convention Center
3/29 – Wichita, KS – Cotillion Ballroom
3/30 – Oklahoma City, OK – The Criterion [TIX]
4/01 – Des Moines, IA – Val Air Ballroom
4/02 – Chicago, IL – Byline Bank Aragon Ballroom [TIX]
4/03 – Oshkosh, WI – Oshkosh Arena [TIX]
4/04 – Fargo, ND – Butler Arena at RRV Fairground
4/06 – Grand Rapids, MI – 20 Monroe [TIX]
4/07 – Pittsburgh, PA – UPMC Events Center [TIX]
4/08 – Indianapolis, IN – The Pavilion at Pan Am
4/09 – Pikeville, KY – Appalachian Wireless Arena [TIX]
4/11 – Buffalo, NY – Buffalo Riverworks [TIX]
4/13 – Wallingford, CT – Toyota Oakdale Theatre [TIX]
4/14 – Portland, ME – Cross Insurance Arena [TIX]
4/15 – Huntington, NY – Paramount Theater [TIX]
4/16 – Philadelphia, PA – The Fillmore [TIX]
4/19 – Birmingham, AL – Avondale Brewing Company [TIX]
4/21 – St. Augustine, FL – Saint Augustine Amphitheatre* [TIX]
4/22 – Tampa, FL – Amalie Arena* [TIX]
4/23 – Orlando, FL – Central Florida Fairground* [TIX]
4/24 – Myrtle Beach, SC – House of Blues [TIX]
4/26 – Charlotte, NC – Fillmore [TIX]
4/27 – Norfolk, VA – Chartway Arena [TIX]
*Radio Show
Additional Lilith Czar tour dates:
04/19/22 – Huntsville, AL – Mars Music Hall (w/Three Days Grace) [TIX]
04/22/22 – Tampa, FL – Amalie Arena (w/Godsmack)
04/23/22 – Orlando, FL – Tinker Field (w/Godsmack) [TIX]
04/25/22 – Norfolk, VA – The NorVa (w/Three Days Grace)
04/26/22 – Charleston, SC – Charleston Music Hall (w/Three Days Grace)
04/28/22 – Newark, NJ – Prudential Center (w/Godsmack) [TIX]
04/29/22 – Harrisburg, PA – HMAC (w/Three Days Grace)
04/30/22 – Worcester, MA – DCU Center (w/Godsmack) [TIX]
05/02/22 – Cincinnati, OH – Bogart's (w/Three Days Grace) [TIX]
05/03/22 – Ft. Wayne, IN – The Clyde Theatre (w/Three Days Grace) [TIX]
05/04/22 – Madison, WI – The Sylvee (w/Three Days Grace) [TIX]
05/06/22 – Milwaukee, WI – Fiserv Arena (w/Godsmack) [TIX]
05/07/22 – Minneapolis, MN – Target Center (w/Godsmack)
05/20/22 – Virginia Beach, VA – Veteran Home Loans Amphitheater [TIX]
05/21/22 – Camden, NJ – BB&T Pavilion [TIX]
05/22/22 – Daytona Beach, FL – Welcome To Rockville [TIX]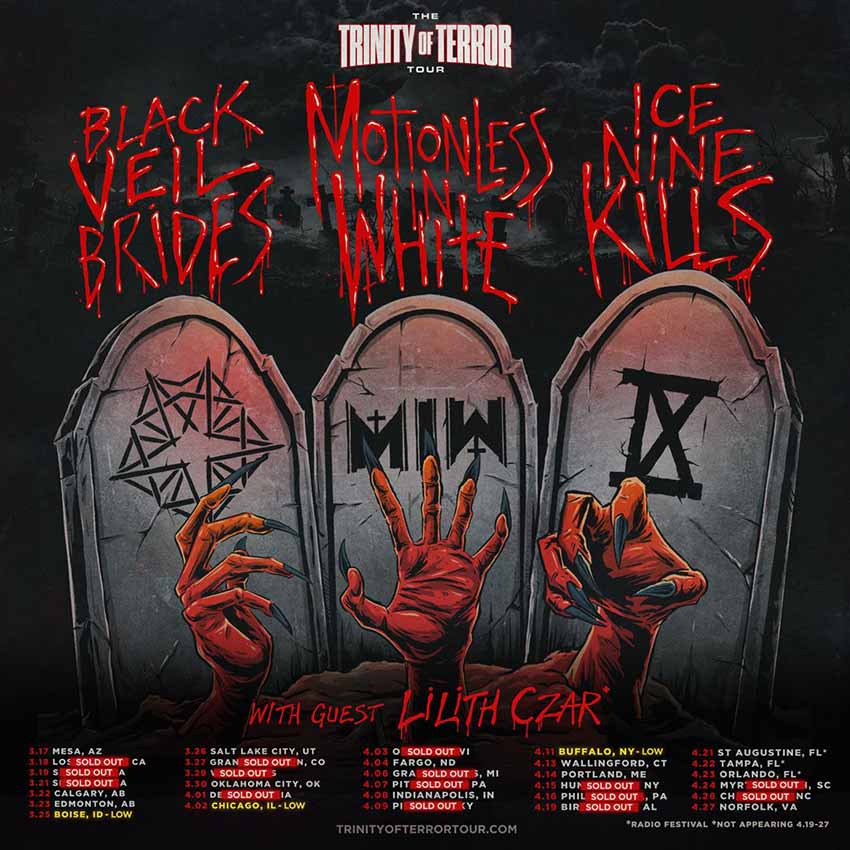 Artist photo by Ashley Osborn
Also Check Out: IDLES announce 2022 U.S. & Canada tour dates