As live concert streams continue to flourish due to the ongoing viral pandemic that has sadly postponed or cancelled most 2020 live tours and festivals across the globe, we thought we would take a moment to highlight a few previously announced rock and metal virtual events (some live, some pre-recorded) set to happen in the month of July, in chronological order.
---
SUICIDE SILENCE July 2 – July 30:
California deathcore act Suicide Silence will embark on their 'Virtual World Tour,' which plans to feature unique sets, exclusive merchandise, and custom experiences in each market, specifically 39 in total across the globe.
Each show will include:
* 90 min multi-camera live stream
* Full live-production with pro audio/video & light show
* Skits & exclusive media content
* Fully-integrated chatroom w/ opportunity to request songs
* Video Q&A
* Exclusive sneak peek into their upcoming "Live Life Hard" DVD
* Exclusive tour merchandise
* Ticket purchasers receive 15% merch store discount
Last week, the band said:
"We're only a week away from delivering these unique virtual experiences to our favorite markets around the world! We'd like to give a special thanks to Nuclear Blast Records, Bandsintown and all of the companies & individuals that have helped us put this all together. The comedic sketches we've been working on have been quite entertaining & we're very much looking forward to launching this SuicideSilenceTV presentation to the masses. This goes much further than your typical live stream & we're amped to melt your "virtual" faces off with something completely new & different!"
Get the full schedule and tickets HERE.
---
CANDLEMASS July 3:
Swedish doom metal legends Candlemass will take part in their first-ever live stream event to be broadcast from Studio Gröndahl in Stockholm, Sweden on July 3rd at 8:00 PM CEST/2:00 PM EDT/11:00 AM PDT.
"Produced by Blackbox, the livestream will be of professional quality and will feature multiple camera angles to add to the experience," reads the official announcement. "Candlemass will perform selections from their renowned catalog – including tracks from their recent album The Door To Doom and EP The Pendulum – and have hinted at trying out new material as well."
Bassist Leif Edling commented: "Most of our live gigs during 2020 have been cancelled or moved to a later date in 2021. A disappointing fact for both fans and band, so we're very happy to announce that Candlemass will perform live to give you all an evening of Epic Doom 'N Gloom very soon!"
Edling also said: "I got some really cool riffs that would be great to jam away on that evening. Why not offer the fans something new that nobody ever heard before? Make the livestream a bit more interesting."
You can catch the stream HERE, which is the same link where you can buy tickets to watch. "Fans who are unable to tune in at the time of the livestream can still purchase a ticket and replay the performance as many times as they wish for a limited time," as per an official press release.
---
ANVIL virtual metal show in Canada July 4:
Still fresh off the release of their new full-length album, 'Legal at Last' (which celebrates the legalization of recreational cannabis use in Canada) via AFM Records earlier this year, Toronto heavy metal veterans Anvil will perform at the first Canadian heavy metal live stream event put on by District 7 Production and L'Anti Bar & Spectacles on July 4th.
Here's more info from the event's organizer:
"I was wondering how to make L'Anti Bar & Spectacles live again in the midst of a health crisis. I've been presenting virtual live shows with a ticket office since May 9. The first shows were appreciated by the spectators, we sold hundreds of tickets across Canada and in Europe during our first virtual shows. I wanted to present the first virtual metal show in Canada. I thought Anvil would be the perfect band for this show. I have an excellent relationship with them; the members of Anvil accepted without hesitation. Spectators should expect a virtual show with impeccable production quality in terms of sound, image, and lighting."
Show times are as follows: Saturday, July 4th at 5pm (EST), 10pm (UK), 11pm (CET) and Sunday, July 5th for 6am (JPN), 7am (AUS).
Get tickets to the stream AT THIS LOCATION.
---
ENSIFERUM July 10:
Finnish epic folk metallers Ensiferum are planning to drop their new studio album, 'Thalassic,' on July 10, 2020 through Metal Blade Records (pre-order). To celebrate the LP's unleashing, Ensiferum will host a special live streaming event on July 10th at 9:00 PM EET, 8:00 PM CET, 7:00 PM GMT, 1PM EST and 10:00 AM PST. The band will be performing a selection of new, classic and rare tracks live from Sonic Pump Studio in Helsinki, Finland.
Ensiferum will also be chatting with fans in between the live performance and after the show. For those not able to catch the online event when it airs, the performance will be available online for 7 days immediately following the end of the show.
The band's own Sami Hinkka commented:
"Hi folks! We can't come into your hometown to rock with you but we really want to show you the new line-up in action. We know it's far away from the normal headbanging and sweaty gig with our crazy fans going nuts in a moshpit and singing along so loud that it hurts our ears on the stage but still we are very excited this live streaming, for you it will be like Ensiferum is playing in your "living room". We will prepare well balanced setlist with new, old and rare songs and we will have few breaks in between the set to answer to some of the questions you can send in advance and after the set the whole band will grab cold drinks to cool donwn and join the chat with you all. See you all soon (online, for now…)"
The event will stream at THIS LOCATION, and you can buy tickets to watch HERE.
---
TRIVIUM July 10:
Florida metallers Trivium will take part in a special global live stream event dubbed 'A Light Or A Distant Mirror,' which will take place on July 10th at 1:00 pm PDT / 4:00 pm EDT from the Full Sail University in Orlando.
Here's full info from the official announcement on social media:
"On Friday, July 10th we present you: A Light or A Distant Mirror, A Global Livestream Concert Experience Live From Full Sail University. This will be a 100% live performance with a brand new stage production and arena-style visual show that will stream globally from Full Sail Live, the state of the art event and broadcast arena at Full Sail University in the band's hometown of Orlando, Florida. Kicking off the festivities will be Sylosis and the event will be hosted by Beez from Mosh Talks. Tickets for the event are $9 and on sale NOW, head over to live.trivium.org to get your tickets, exclusive limited edition merch and VIP bundles, see you there! #triviumlive"
In addition, the band said:
"We had to get creative when we heard there was no touring this summer. We held off on the Zoom concerts and asked our creative/production team to come up with the biggest real-time live metal streaming event of the summer and what we now have to present to you is our show called 'A Light or a Distant Mirror.'
This performance will be 100% live and is not pre-taped. We will have a brand new epic stage set and lights, and we will bring it 100 percent. We are thankful to our friends at Full Sail University, who are providing us a first class performance arena and the Maestro broadcast team for streaming our show to the corners of the earth! We hope you can join us."
Get tickets to the stream HERE.
---
ANBERLIN 'We Are The Lost Ones' July 10:
Winter Haven, Florida rockers Anberlin will launch their 'We Are The Lost Ones' live stream on July 10th, after being forced to rescheduled from June 26th due to the fact that a couple of the guys in the Anberlin camp tested positive for COVID-19 after they attended a small home gathering.
"Even though they are not currently showing symptoms, we have decided this is best for our families and friends," said the band regarding the postponement.
Back to the upcoming virtual gathering, the band plan to perform their 2003 first studio album, 'Blueprints For The Black Market,' in its entirety during the stream.
Get tickets to watch HERE.
---
WALTARI 'Global Rock' release party July 11:
Finnish rockers Waltari released their 14th studio album, 'Global Rock,' on March 20th, 2020 via Metalville Records. Due to the ongoing pandemic, the band were not able to celebrate the LP's release properly, until now.
Announced for Saturday, July 11th at 8 pm CET / 1 pm EST, Waltari will host a special live stream event that will serve as a well-deserved 'Global Rock' release show. The live stream is being produced in cooperation with GLivelab Helsinki and the communications agency Noveltive.
Here's more info from the official announcement:
"The live stream by no means is just another gig: there are going to be interviews with band members, and the stream will followed by a Q&A session. Let's rock this night together!"
Waltari added:
"This stream has been in the works for a while. One pandemic doesn't stop us from having an album release party with you, fans and friends!!"
Purchase tickets HERE. The Facebook event page can be found HERE.
---
LOLLAPALOOZA virtual event July 30 – August 2:
Lollapalooza was unfortunately cancelled this year due to the ongoing global crisis. Organizers are instead coordinating a virtual event for July 30th – August 2nd that will feature archival sets from Lollapalooza in Chicago along with performances from the fest's other six international editions.
A statement from the fest released early June reads:
"Keep July 30 — August 2, 2020 on your calendars as we honor our annual tradition by bringing Chicago, and the world, together around our common bond of community, civic engagement and, of course, live music. The weekend-long virtual event will include performances from around the city and beyond, epic archival sets from Chicago and the festival's six international editions, never-before-seen footage from the 1990's and much more. Full schedule coming next month."
Stay tuned to Lollapalooza.com for more info on the streaming event. Lollapalooza are planning to return next year for their 30th anniversary celebration.
---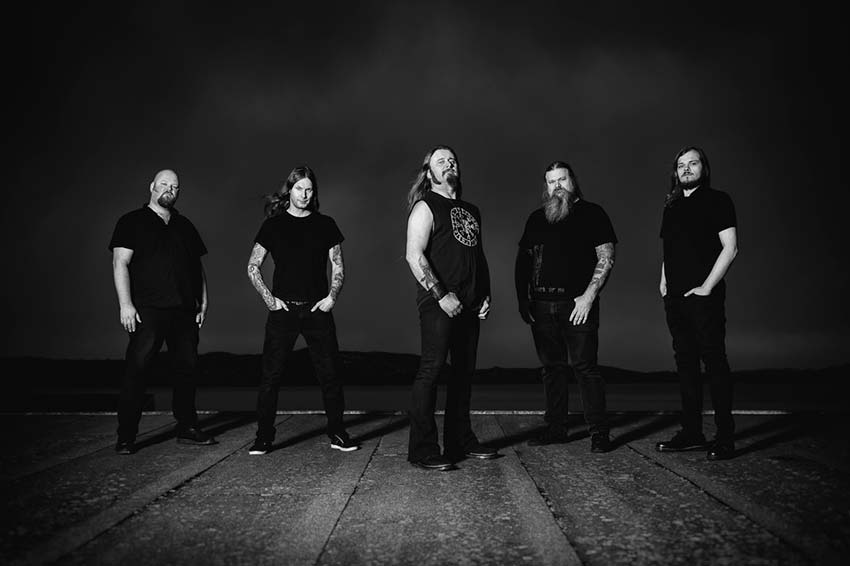 ENSLAVED July 30, August 20, September 30:
Norwegian metallers Enslaved announced their 'Cinematic Summer Tour,' consisting of a series of online events.
Here's more info from the official announcement:
"For this forward-thinking concept, ENSLAVED join forces with three festivals to present their fans three different shows:
In cooperation with Roadburn, the tour starts July 30th, with the "Chronicles Of The Northbound" show. Fans will be invited by the festival to choose their favorite ENSLAVED songs to create a career spanning set. The second show will be a "Below The Lights" set on August 20th, presented by Beyond The Gates festival.
The band will end their virtual tour at the Summer Breeze festival on September 30th, with the presentation of their new album in its entirety: "Utgard – The Journey Within"."
Regarding the news, guitarist Ivar commented:
"We must stick apart' is a proverb of Discordianism (a religion I might or might not have just made up) that might fit the situation we are all in now. We are all isolated in various degrees; and we all miss live music. So, we have stuck apart and with our fantastic team of super-people in management, label and booking, plus three of our best friends who happen to be the very creme de la creme of European Festivals; we are now able to present this digital festival-tour. We are already hard at work preparing sets and shows that will make this one for the (e-)books. Thank you for your support, faith in us and patience – to have fans like you is an absolute privilege. See you in the ether!"
You can watch via Enslaved's YouTube Channel.
---
METALLICA streams every Monday in July:
Metallica's #MetallicaMondays streams are presumably going to continue in July. The series sees the band streaming complete live shows from their past for fans via their YouTube channel and Facebook page for free every Monday.
In June, Metallica streamed high-quality sets from Colombia, Spain, Australia, England and the USA. All streams benefit the band's own 'All Within My Hands' foundation.
Via their site, the band said:
"While we're all doing our part and staying home, we find ourselves missing live music, so how about we dive back into a few of our favorite shows at a socially responsible distance? Let's stay connected and virtually visit a few of our favorite places in the world together as we bring a series of live Metallica shows right to your couch!"
If you missed a stream, you can catch reruns HERE.
---
KNOTFEST streams randomly in July:
As they've been doing since the start of the pandemic, Knotfest.com, which was rebranded as a global multi-media hub for news, exclusive interviews, performances, merchandise and more, will continue to stream live performances from huge names in metal.
Just in the past few months, the website has treated fans to exclusive performance footage from the likes of Slipknot, Lamb of God, Megadeth, Trivium, Behemoth, Amon Amarth, Anthrax, Kreator, King Diamond, Carnifex, Suffocation, Suicide Silence, and In Flames. Streams have all raised funds donated to COVID-19 relief charities.
---
Do you agree? Did we miss anything? Regardless, head over to our TOUR page for more upcoming live streams (updated daily) and more.
_________
Photo credits:
Suicide Silence photo by Hristo Shindov
Ensiferum photo courtesy of Nuclear Blast Records
Featured shot, Trivium and Slipknot photos by Johnny Perilla
Candlemass photo courtesy of Napalm Records
Waltari photo courtesy of Suspicious Activities PR
Lollapalooza photo by Charles Reagan Hackleman and courtesy of Lollapalooza
Enslaved photo courtesy of Nuclear Blast Records
Anvil photo via their Facebook page
Metallica photo via their Facebook page
Anberlin photo via their Facebook Page