Share the post "Megadeth, Lamb of God, Trivium & Hatebreed live at Jones Beach (photos)"
The Megadeth and Lamb of God co-headline 'The Metal Tour of the Year' with special guests Trivium and Hatebreed is finally demolishing North American cities after being postponed from 2020 due to the outbreak of Covid-19. The extensive outing kicked off on August 20th in Austin, TX at the Germania Insurance Amphitheater, and is scheduled to come to a close on October 2nd in Quebec City, QC at the Centre Videotron. All remaining tour dates are listed here and below.
We caught the Wantagh, NY showing at the Northwell Health at Jones Beach Theater a week ago today, September 12th. The evening was kicked off by Hatebreed, who were added to the outing last-minute after original openers In Flames were forced to drop off due to visa issues. The Connecticut hardcore crew pummeled New York with an eight-track set filled with heavy favorites like "Smash Your Enemies," "Perseverance," "I Will Be Heard" and "Destroy Everything," and evening throwing in their Slayer tribute "Ghosts of War" (as heard on their covers album 'For the Lions') for good measure.
Like vocalist Jamey Jasta noted mid-way through their show, the last time Hatebreed had set foot on Jones Beach soil was during the metal-leaning 2017 'Warped Tour,' which saw Hatebreed sharing the stage with the like of GWAR, Municipal Waste, The Acacia Strain, and others. The roar from the crowd no-doubt signaled NY's appreciation for the return of Hatebreed to Wantagh.
Hatebreed played:
01. Empty Promises
02. Instinctive (Slaughterlust)
03. Smash Your Enemies
04. Ghosts of War (Slayer cover)
05. Perseverance
06. Looking Down the Barrel of Today
07. I Will Be Heard
08. Destroy Everything
Hatebreed photos by Ignacio Orellana:
Gearing up for the release of their new full-length album titled 'In the Court of the Dragon,' Florida heavy metal titans Trivium brought their own intensity to the Jones Beach amphitheater with an eight-song performance of their own, launching their set with the title-track to said impending new record. Trivium performed 'What the Dead Men Say' numbers "Catastrophist," "IX," and its title-track, as fans continued to pile into the mammoth outdoor Long Island venue.
Mainman Matt Heafy urged fans lounging in the nosebleed section to "step it the f**k up" and stand on up, reminding the crowd that they had waited over a year for this tour to finally come to fruition. As the sun slowly descended, Trivium closed out their set with "Down From the Sky" (off ' Shogun'), "The Heart From Your Hate" (from 'The Sin and the Sentence'), another new track in the form of "Feast of Fire," and fan-favorite 'In Waves' (the title-track to their 2011 LP of the same name).
Trivium played:
01. In the Court of the Dragon
02. Catastrophist
03. IX
04. What the Dead Men Say
05. Down From the Sky
06. The Heart From Your Hate
07. Feast of Fire
08. In Waves
Trivium photos by Ignacio Orellana:
The Jones Beach stage got a bit more heated and the action in the mosh pit continued to rev up, as Richmond, Virginia heavy metal greats Lamb of God set Wantagh ablaze with their fiery show. In typical fashion, Randy Blythe demonstrated his massive jumping skills, as the singer launched himself many feet in the air a handful of times during Lamb of God's twelve-song display.
The ongoing trek also marks Lamb of God's first major U.S. tour to feature fresh drummer Arturo "Art" Cruz (Winds of Plague, ex-Prong, ex-Enthral), who took over for founder and longtime drummer Chris Adler in 2019 (Art is also featured on Lamb of God's 2020 self-titled opus). Lamb of God performed "Ruin," "Walk With Me in Hell," "Now You've Got Something to Die For," "512," "Laid to Rest," "Redneck" and more during their roughly 60-minute set.
Lamb of God played:
01. Memento Mori
02. Ruin
03. Walk With Me in Hell
04. Resurrection Man
05. Now You've Got Something to Die For
06. Set to Fail
07. New Colossal Hate
08. 512
09. Vigil
10. Contractor
11. Laid to Rest
12. Redneck
Lamb of God photos by Ignacio Orellana:
Closing out a jam-packed evening at the Jones Beach Theater, west coast thrash metal legends Megadeth infiltrated the LI stage with a twelve-tune set as well, exploding into beloved 'Rust in Piece' track "Hangar 18" at the start of the performance. Led by band mastermind Dave Mustaine, Megadeth's 'The Metal Tour of the Year' appearances feature the return of bassist and NYC native James LoMenzo (previously active in the band from 2006-2010), who agreed to take care of bass duties on the run following the departure of long-running bassist David Ellefson.
Megadeth performed select songs off their aforementioned 1990 album, along with 'Dystopia,' 'Countdown to Extinction,' 'Cryptic Writings' and 'Peace Sells… but Who's Buying?,' with Mustaine ripping through track-after-track, even after his major win against throat cancer just last year. Other highlights of the set include an appearance from Megadeth mascot Vic Rattlehead (accompanied by a robot) and the Jones Beach crowd singing "Happy Birthday" when Mustaine mentioned that his 60th birthday was the following day, September 13.
Megadeth played:
01. Hangar 18
02. The Threat Is Real
03. Sweating Bullets
04. She-Wolf
05. The Conjuring
06. Trust
07. Conquer or Die!
08. Dystopia
09. Tornado of Souls
10. Symphony of Destruction
11. Peace Sells
12. Holy Wars… The Punishment Due
Megadeth photos by Ignacio Orellana:
'Metal Tour of the Year' remaining tour dates:
Sun Sep 19 Clarkston, MI – DTE Energy Music Theatre [TIX]
Mon Sep 20 Cincinnati, ON – PNC Pavilion [TIX]
Wed Sep 22 Rogers, AR – Walmart AMP [TIX]
Fri Sep 24 Mount Pleasant, MI – Soaring Eagle Casino Amphitheatre
Sat Sep 25 Indianola, IA – Knotfest Iowa** [TIX]
Sun Sep 26 St. Louis, MO – Hollywood Casino Amphitheatre – St. Louis [TIX]
Tue Sep 28 Minneapolis, MN – Armory [TIX]
Thu Sep 30 Toronto, ON – Budweiser Stage [TIX]
Fri Oct 01 Laval, QC – Place Bell [TIX]
Sat Oct 02 Quebec City, QC – Centre Videotron [TIX]
**Festival Date, Knotfest Iowa does not include Hatebreed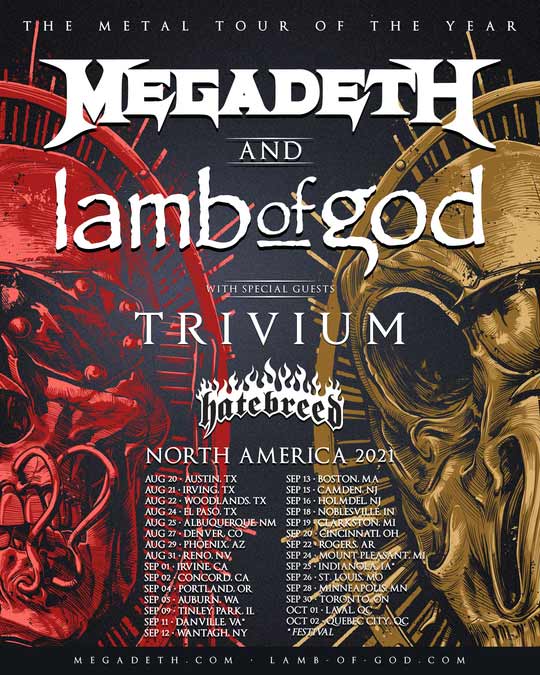 Here are some fan-filmed videos from YouTuber JimmyMac 70:









Also Check Out: Raven announce 'Metal City' U.S. tour