Share the post "Nine Inch Nails, Smashing Pumpkins, Pixies + more playing 'Riot Fest' 2021"
The 2021 'Riot Fest' lineup has been announced, with more acts to be added to the roster soon. The festival is set to take place from September 17th through the 19th at Douglas Park in Chicago, IL. In addition, My Chemical Romance has been announced for the 2022 edition of the gathering (going down September 16th-18th in Chicago).
Organizers say, "The Riot Fest 2021 lineup is (mostly) here! Nine Inch Nails will headline in 2021—plus, more bands to be announced next week. Tickets for both 2021 and 2022 (with My Chemical Romance) are ON SALE NOW. We'll announce more bands for 2021 with single day tickets next week. We've missed you, and we can't wait to see you this September in Douglass Park. http://ow.ly/sRGN50EMURl"
See the announced lineup for 2021 below.
Nine Inch Nails
The Smashing Pumpkins
Run The Jewels
Pixies
Faith No More
Devo
Mr. Bungle
Coheed And Cambria
Taking Back Sunday
Dirty Heads
Sublime With Rome
Lupe Fiasco (playing 'The Cool')
Vic Mensa
NOFX
New Found Glory
Circle Jerks
Simple Plan
Dinosaur Jr.
The Ghost Inside
Gogol Bordello
Motion City Soundtrack
Thrice
Circa Survive
State Champs
The Mighty Mighty Bosstones
K.flay
Best Coast
Bayside
The Lawrence Arms
Les Savy Fav
Meg Myers
Beach Bunny
Big Freedia
Mayday Parade
Pup
Andrew W.K.
The Bled
Gwar
Fever 333
Living Colour
Saves The Day
Thursday
The Sounds
Mother Mother
Hepcat
Alex G
Anti-Flag
Joywave
Fishbone
Fucked Up
Kennyhoopla
HEALTH
The Gories
Amigo The Devil
White Lung
Ratboys
Beach Goons
Eyedress
Meet Me at the Altar
Night Moves
Seratones
Just Friends
Radkey
Holy Fawn
Melkbelly
Ganser
Hospital Bracelet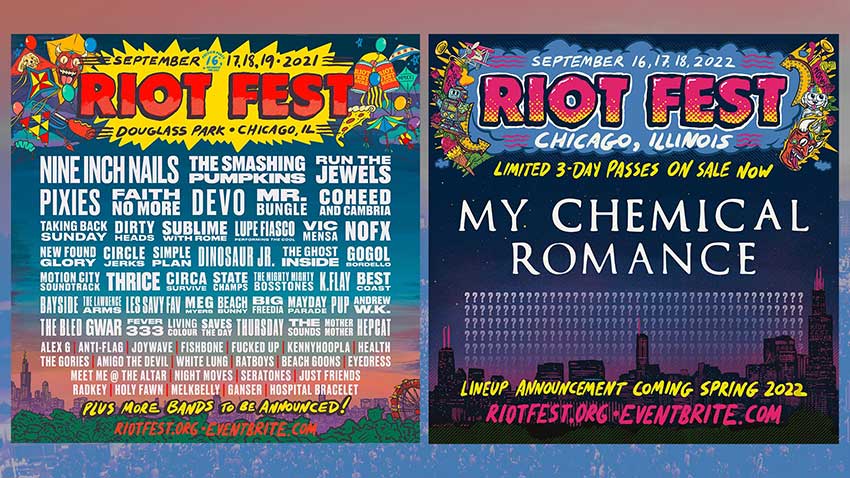 Also Check Out: Metallica, Nine Inch Nails, Korn + more playing 'Louder Than Life' 2021