Share the post "Nowhere Fast Drop Lyric Video for "Dark Towns" Off Latest Album 'Aeonian'; Spring Tour with Lotus Kid Announced"
Louisville, KY's Nowhere Fast have unveiled a lyric video for their track "Dark Towns" off their latest album 'Aeonian.' Stream the clip here:
The album is now streaming on all major streaming sites via www.nowherefastmusic.com, or at nowherefastmusic.bandcamp.com.
"Dark Towns" was directed by Mike Thompson for Missingreels.com.
Nowhere Fast will be on tour with Pittsburgh's Lotus Kid starting March 26. See dates below.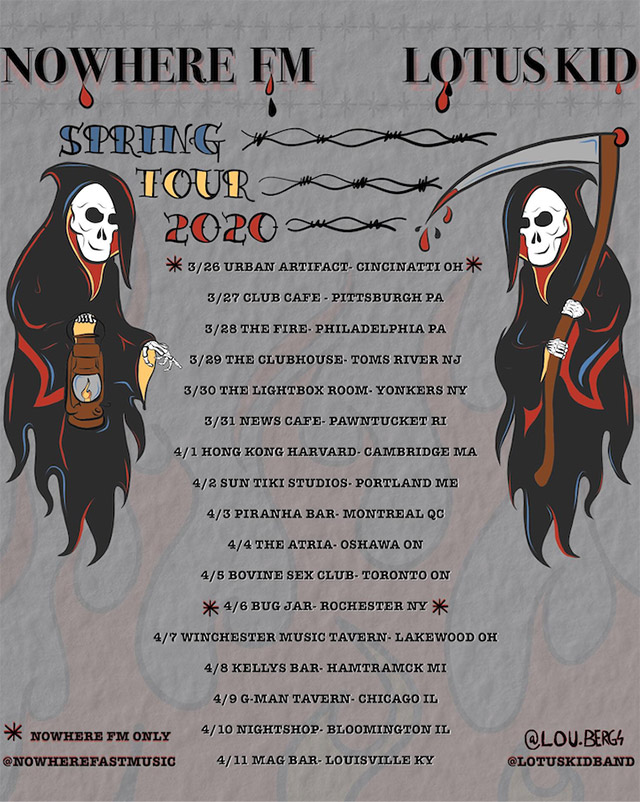 Upcoming Shows:
MAR 26 Urban Artifact – Cincinnati, OH
MAR 27 Club Cafe- Pittsburgh, PA
MAR 28 The Fire- Philadelphia, PA
MAR 29 The Clubhouse – Toms River, NJ
MAR 30 The Lightbox Room- Yonkers, NY
MAR 31News Cafe- Pawtucket, RI
APR 01 Hong Kong Harvard Shows- Cambridge, MA
APR 02 Sun Tiki Studios- Portland, ME
APR 03 Piranha Bar- Montreal, Canada
APR 04 Atria Bar & Grill- Oshawa, Canada
APR 05 Bovine Sex Club- Toronto, Canada
APR 06 Bug Jar- Rochester, NY
APR 07 Winchester- Lakewood, OH
APR 08 Kelly's Bar – Hamtramck, MI
APR 09 The GMan Tavern- Chicago, IL
APR 10 Nightshop- Bloomington, IL
APR 11 Mag Bar- Louisville, KY
JUN 04 The Manette Saloon- Bremerton, WA