Prophecy Fest 2022 has released set times for the upcoming three-day gathering from Thursday, September 29th to Saturday, October 1st in Cave of Balve ("Balver Höhle"). Tickets are here.
The label's founder Martin Koller comments, "At Prophecy Fest every band is a headliner. We always build the festival's running order with the best dramatic effect in mind – and not the size of any band. Of course, there are many other factors such as travel times that we also have to take into consideration and need to factor in. Still, we think that we have come up with an exciting programme that is as musically diverse as it will be fascinating to watch. We sincerely hope that you like our choices as much as we do. See you all in Balve!"
THURSDAY SEP 29 "Prophetic Overture"
16:00 OPENING with FREE BEER
17:15 ZWISCHENLICHTEN
18:20 CRONE (acoustic show)
19:15 KRACHMUCKER TV reading King Diamond
20:05 NEUN WELTEN
21:10 VRÎMUOT
22:15 MOSAIC
FRIDAY SEP 30 "Cave of Balve Day 1"
13:35 IMHA TARIKAT
15:00 ARÐ
16:15 OF THE WAND & THE MOON
17:40 WINTERFYLLETH
19:05 FIRE + ICE
20:35 THE VISION BLEAK
22:05 ALCEST
23:45 ARTHUR BROWN
SATURDAY OCT 1 "Cave of Balve Day 2"
12:00 DOLD VORDE ENS NAVN
13:25 A FOREST OF STARS
14:50 SATURNUS
16:20 CAMERATA MEDIOLANENSE
17:45 ANTIMATTER
19:15 AUSTERE
20:40 DARKHER
22:05 COVEN
23:45 EMPYRIUM (Songs of Moors & Mist Fields)
Again, tickets are here.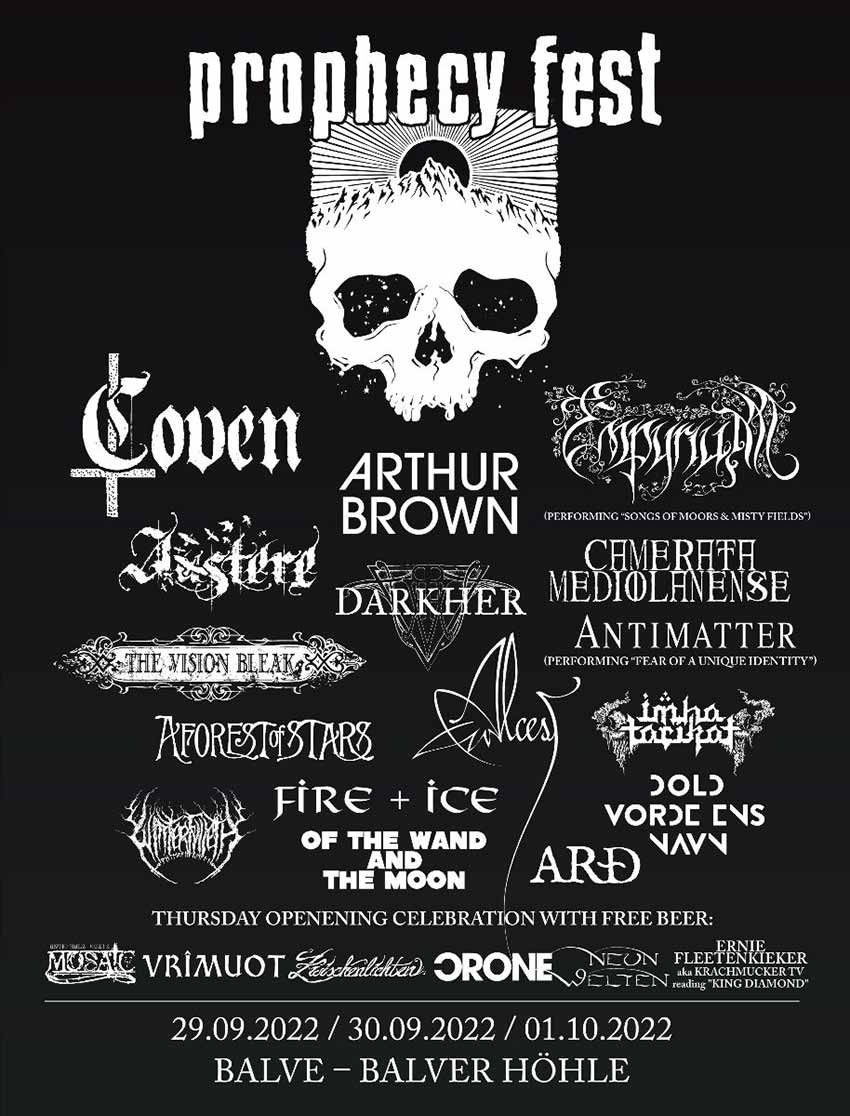 Also Check Out: Deathfeast Open Air 2022 full line-up & running order confirmed