Share the post "Puscifer debut new LP, 'Existential Reckoning,' at visually-striking desert performance (stream review)"
Puscifer, Puscifer, Puscifer. Beware for if you say the name three times a beautifully made up Ronald Reagan may come to your computer screen and tingle your spidey senses.
At a time when we need music and visuals the most, bands have finally started dropping albums left and right. Puscifer does not disappoint with the release of their new album, 'Existential Reckoning' (now streaming across all music platforms). With that said, I'm starting to have a hard time deciphering between the trident of Maynard acts. Ever since the release of A Perfect Circles' 'Eat The Elephant,' his music has sort of followed a pre-existing path. Even with the new Tool album, I heard notes and tones that I honestly didn't want to hear on the album. It has to be hard keeping all three separate and I don't take anything away from the genius that is Maynard James Keenan, but things have started to blend together in recent years. That's fine since all the music is great, but I'm definitely looking forward to whatever the next phase might be.
Now, let us shift gears to Puscifer's 'Existential Reckoning: Live in Arcosanti' stream, which sadly should have read as Puscifer's 'Existential Reckoning: Pre-Recorded in Arcosanti.' I wanted so much to believe this would actually be a live concert. In 2020, being someone immersed in tech, I get that there can be problems, but, really? Why call it a live concert? If the Tony Awards can do a live show every year, I think Puscifer could have done one night.


The livestream kicks off with a black and white Maynard, looking like Wilford Brimley, wandering for cell phone service, water, beer and of course, Arcosanti, Arizona. He sits back to relax. The set opens up with the first song on the new album, "Bread and Circus." The band starts to play under a pitch black sky littered with LED screens, lights and a ton of spooky Halloween fog. I start to get a hard on, but why? … ah, it's Maynard dressed up as a sexy Ronald Reagan, with bright red lipstick. Maynard and vocalist / guitarist Carina Round accompany each other beautifully. The set is cool, the music is rockin', the bass could have been a little louder, but everything's sounding good.
The set list continues down the line only playing the songs off the new album, 'Existential Reckoning.' "Apocalyptical" is a jammer and it's also when Maynard and Carina really kick it up a notch. With their mics strapped to their chests, they start dancing like robots on some new TikTok dance craze. This is also where I should have realized it probably isn't live, but I wanted to believe so bad and I guess I blinked at the part when the mics strapped to their chests just disappeared.
"Grey Area" was cool to watch because Carina donned a power glove. Yes, a power glove. She poked at it like it was doing something, but after realizing the show wasn't actually live, I started questioning everything. Even if my Mom was really my Mom? Turns out she is. Phew.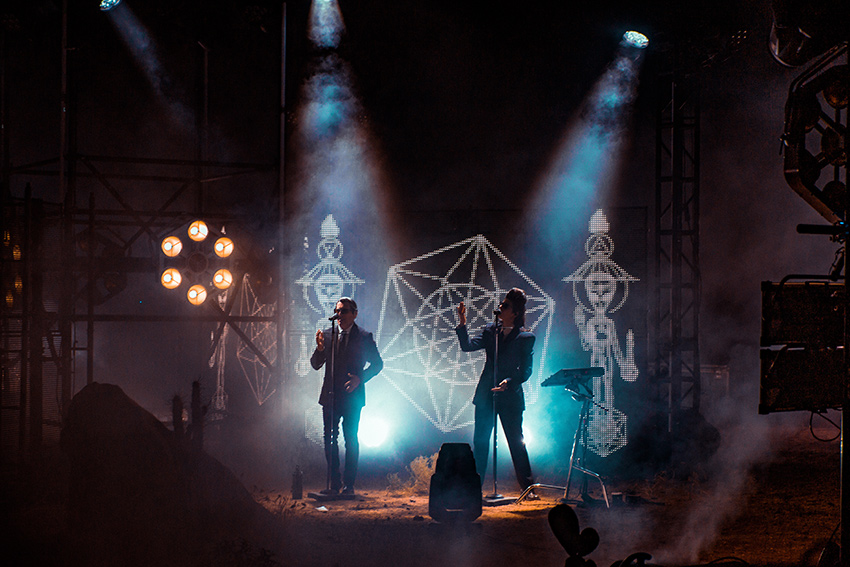 The show continued and honestly, it was a seamless experience. The lighting and aerial shots were cool to watch. Maynard and Carina have a great relationship and sound amazing together. I just personally wanted more out of it. Even if it was like three extra random songs. An hour and ten minutes just seems short for today's climate.
I did enjoy going to the food court though. I had the luxury of making my own frozen pizza and drinking right out of the whiskey bottle. Plus, social distancing was easy because all my friends were on Zoom. And, it only took me 20 minutes to figure out how Zoom worked.
Puscifer's lineup consisted of Maynard James Keenan, Carina Round, Mat Mitchell, Greg Edwards, and Gunnar Olsen. Not sure where Jeff Friedl was, but Olsen (Bruce Springsteen, Miley Cyrus, The Exit) did not disappoint. The show ended with the arrival of daylight. That's when I REALLY knew it wasn't live. I was butt hurt as you can tell. The show concluded with the band at a bar relaxing while Maynard and Carina drunkenly sang over "Man Overboard" off their 2011 album, 'Conditions of My Parole.' They ended up getting so drunk that the rest of the band had to carry them outside. That's when we cut to Wilford Brimley pissing on a cactus and call it a night.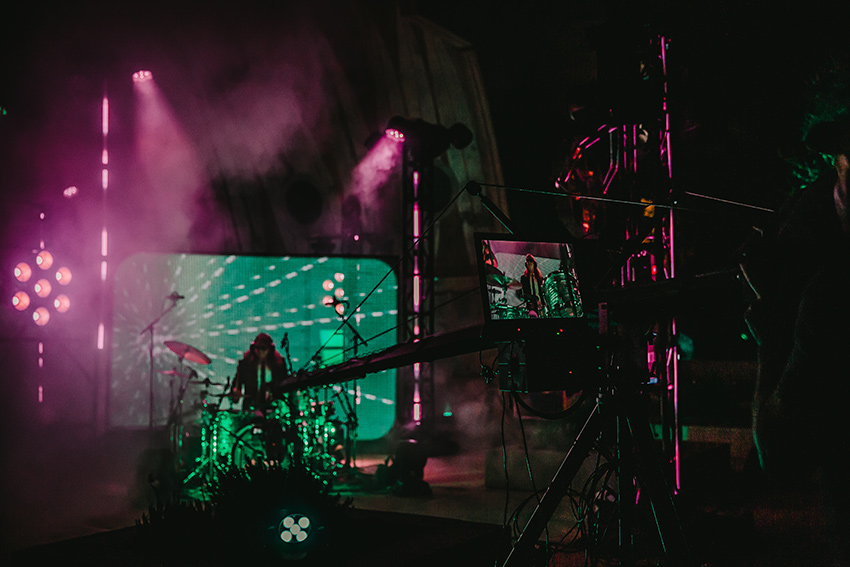 Overall, it was a fun experience. I just wish it wasn't labeled 'Live.' Personally, I could have watched at least 2 hours more of this stream. I'm happy to relisten to the new album with my headphones and I can't wait for a new tour (if that ever happens and if I build up the courage to even go). Let me know how you feel otherwise, HAPPY HALLOWEEN!
Puscifer setlist (via setlist.fm):
01. Bread and Circus
02. Apocalyptical
03. The Underwhelming
04. Grey Area
05. Theorem
06. UPGrade
07. Bullet Train to Iowa
08. Personal Prometheus
09. A Singularity
10. Postulous
11. Fake Affront
12. Bedlamite
'Existential Reckoning: Live in Arcosanti' is streamable throughout the weekend via pusciferlive.com.
See below for more photos from the desert performance.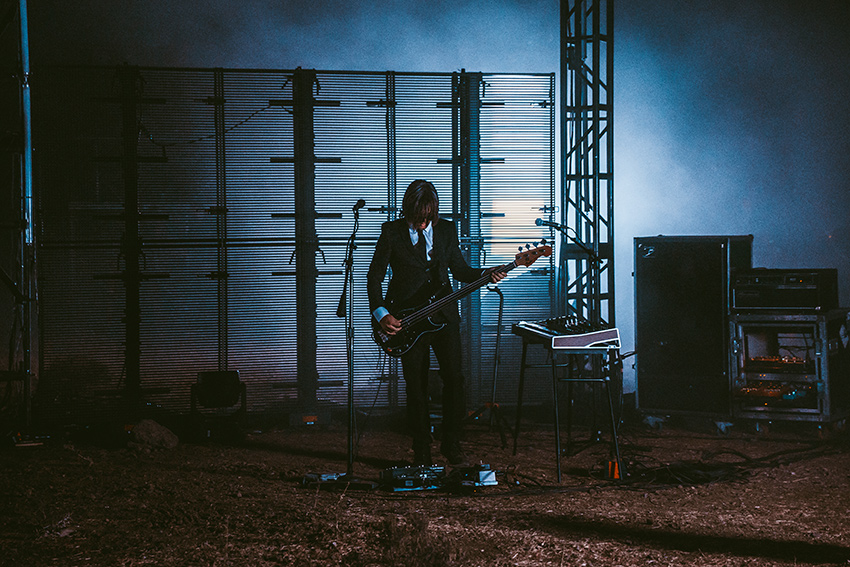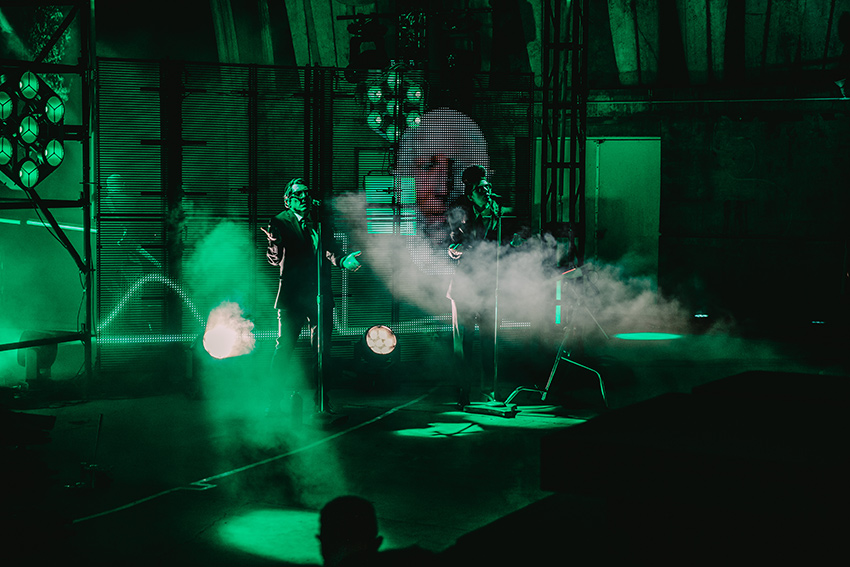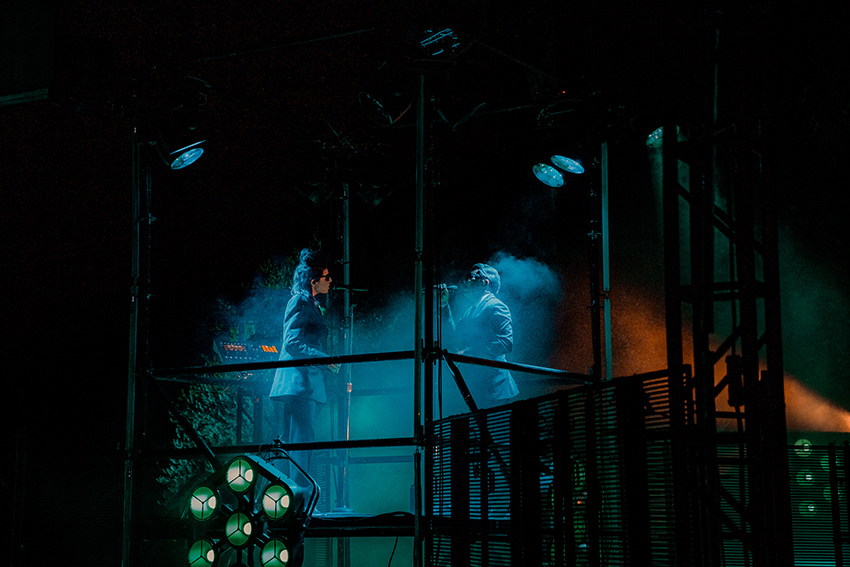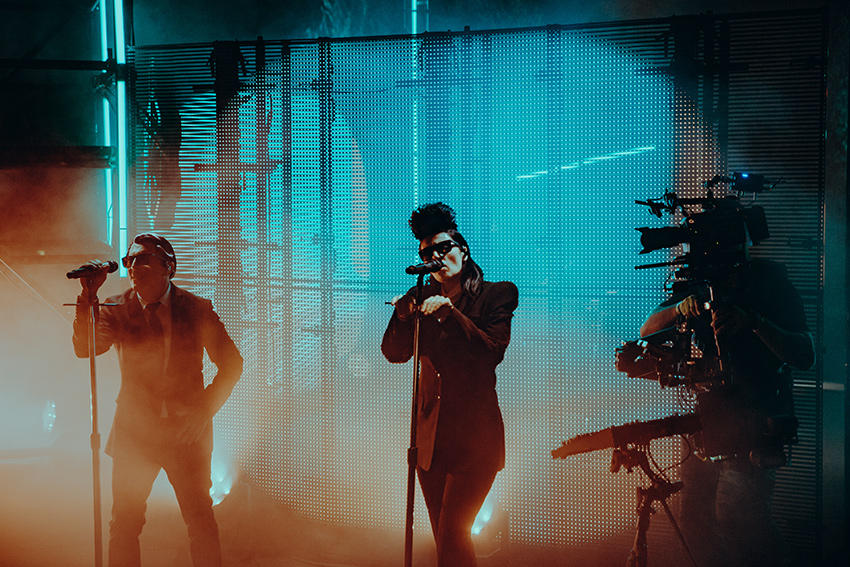 _________




The author of this post was provided with a review ticket to this stream