NY's own Pyrrhon are gearing up for the release of their new full-length album, 'Abscess Time,' on June 26, 2020 via Willowtip Records (pre-order). The band have just released the impending LP's title-track, which you can check out below.
The band's frontman Doug Moore comments:
This song is the first Pyrrhon song ever that we wrote entirely in the room together, as a group. We started with a really simple bass-and-drum groove and just fleshed out the entire thing from that starting kernel. Structurally, you could think of it as our version of "rock music". It's got more in common with The Stooges or Flipper than with Suffocation or Atheist. Like a lot of music borne out of group jamming, its details are variable and subject to interpretation from performance to performance; only the bones of the song are fixed in place. In that sense, it's the culmination of a process that has been occurring in our work since our very first album: it collapses the distinctions between our respective individual songwriting personalities and speaks in a singular, collective voice.

The lyrics are about how problems don't go away when you hide them; they just fester and get worse until they eventually explode, clearing the way for even more wanton misbehavior. The lyrical concept was a direct outgrowth of the music's grim, inexorable rhythmic feel – the sound of a disaster that moves slowly, but that you still can't escape from. Most Pyrrhon lyrics are somewhat topical, but I didn't expect this one to feel quite as on-the-nose as it does now.
Here's more on the upcoming record, via the official announcement:
The 12-song album – running nearly 60 minutes – follows the band's critically-acclaimed 2017 release What Passes For Survival, and shows the band retaining their signature technical aggression while revealing a new sense of exploration into their most sophisticated, grooving, alluring, and inventive work to date. While broadening their musical scope, PYRRHON have achieved an unforgettable and masterful new take on songwriting. Poised with perpetual evolution, PYRRHON reveal how fearlessly fluid, sonically explosive, and triumphant experimental death metal can be.
Stream "Abscess Time":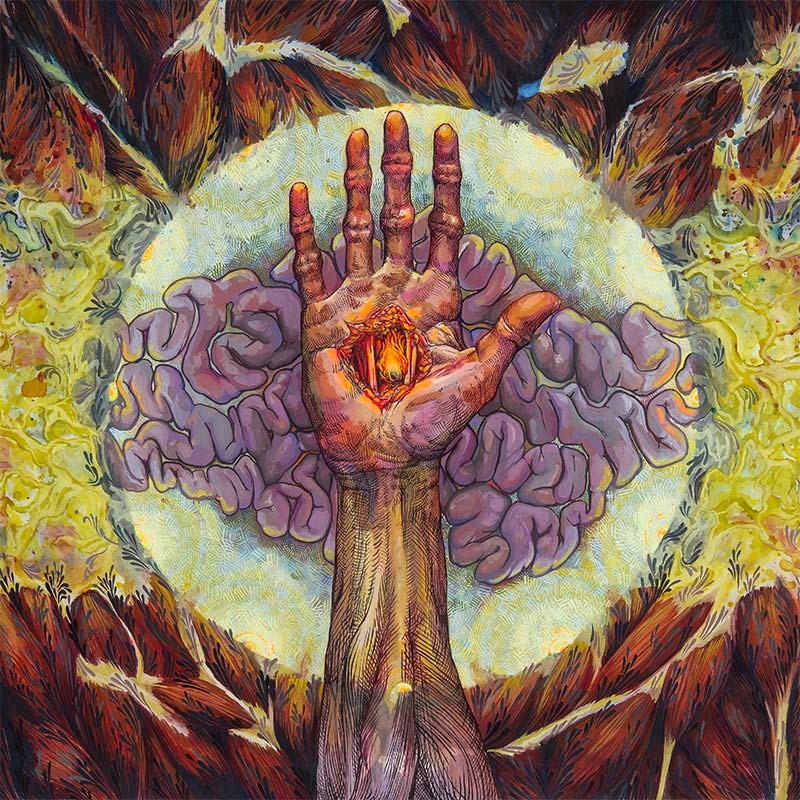 Track listing:
1. Abscess Time
2. Down At Liberty Ashes
3. Teuchnikskreis
4. The Lean Years
5. Another Day In Paradise
6. The Cost Of Living
7. Overwinding
8. Human Capital
9. Cornered Animal
10. Solastalgia
11. State Of Nature
12. Rat King Lifecycle
Record, mixed, and mastered in January & February 2020 by Colin Marston at Menegroth: The Thousand Caves, Queens, NY
Album artwork by Caroline Harrison
Photos by Caroline Harrison
Pyrrhon is:
Dylan DiLella – guitars
Erik Malave – bass, vocals
Steve Schwegler – drums
Doug Moore – vocals