Sad news to report as Riley Gale of Power Trip has unfortunately passed away. The band posted the following statement on August 25th:
Dear Power Trip fans worldwide,

It is with the greatest of sadness we must announce that our lead singer and brother Riley Gale passed away last night.

Riley was a friend, a brother, a son. Riley was both a larger than life rock star and a humble and giving friend. He touched so many lives through his lyrics and through his huge heart. He treated everyone he met as a friend and he always took care of his friends. We will celebrate Riley's life and never forget the great works of music, charity, and love that he left behind.

You, the fans, meant so much to him, please know how special you are. If you have a memory of Riley please share it, no matter how small, as we remember him.

Please respect our wishes for privacy during this time. In lieu of flowers please send donations to Dallas Hope Charities, the link to donate directly is here: https://www.dallashopecharities.org

Signed,
Riley's Loving Family

P.S. Funeral and visitation arrangements are pending.
Riley Gale died on August 24, 2020 at the age of 35. No cause of death has been revealed. According to Metal Archives, Riley sang on 1 demo, 3 EPs, 2 full-lengths, 2 live albums, along with a split, compilation, and a digital single while with Power Trip. The Encyclopaedia Metallum also notes he once performed with Balls Out and Masterpiece Machine.
RIP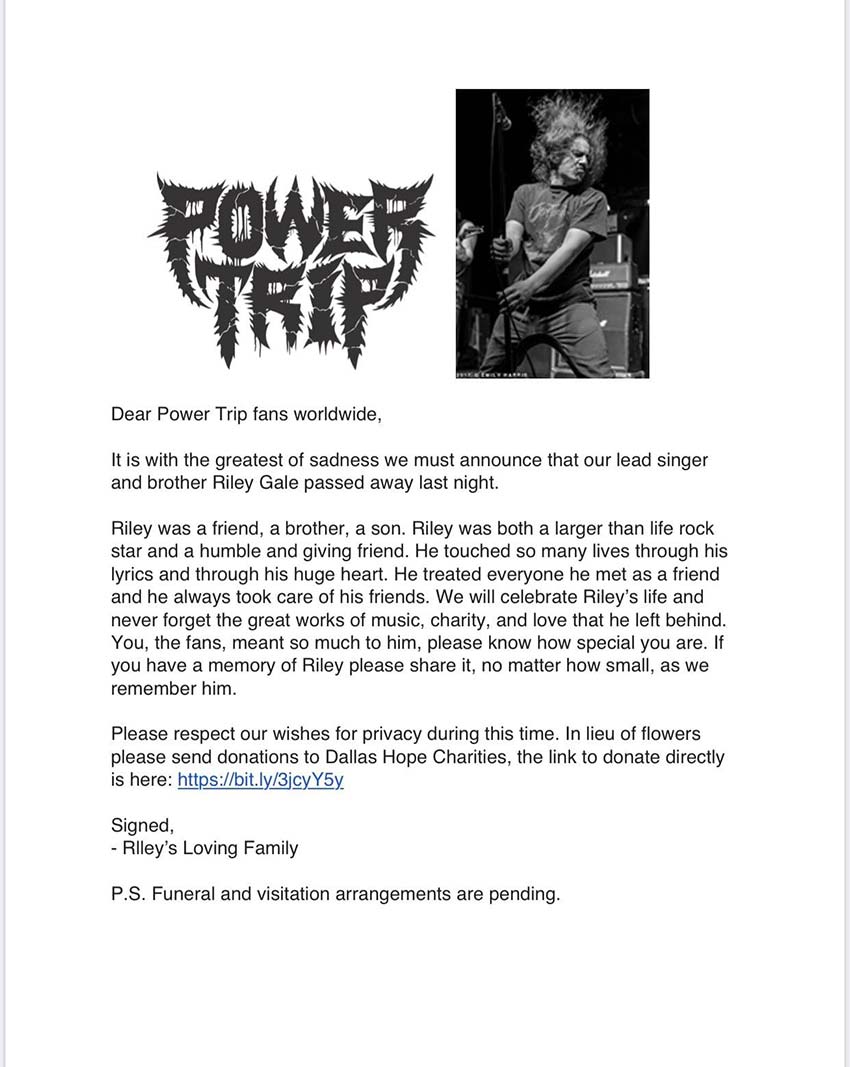 Concert shot by Lina Glasir