Tennessee hard/alt rockers Saliva have announced a lengthy spring through fall 2021 U.S. trek going by the title of 'Every 20 Years Tour' — see the full schedule below.
The outing is in support of the band's previously announced 'Every Twenty Years' effort, which features re-recorded classic tunes with current vocalist Bobby Amaru. The album, which commemorates the twentieth anniversary of their major label debut, 'Every Six Seconds,' released May 7th via Megaforce Records (get it).
Check out the announced tour dates, with more to be announced soon, below.
5/8 Katy, TX – Wildcatter Saloon
5/14 Bristol, TN – 423 Social Club
5/15 Myrtle Beach, SC – Suck Bang Blow
5/16 Columbia, SC – Main Course (Unplugged)
5/29 New Brockton, AL – Bama Slam Saloon
6/4 Keokuk, IA – L'Treyns
6/5 Farmer City, IL – Heritage Days
6/25 New Orleans, LA – Southport Music Hall
6/26 Houston, TX – Warehouse Live
7/2 Black Mountain, NC – Silverado's
7/3 Hannibal, MO – Tom Sawyer Days
7/16 Joplin, MO – Guitars Rock & Country Bar
7/24 Lubbock, TX – Lonestar Amphitheater
7/30 Chickasha, OK – Legends Event Park
7/31 Lake Ozarks, MO – The Regalia Hotel
8/7 Maryville, TN – The Shed
8/10 Sturgis, SD – Full Throttle Saloon
8/13 Springfield, MA – John Boyle O'Reilly Club
8/14 Inwood, WV – Shiley Acres
8/19 Ft Wayne, IN – Pierre's
8/28 Mt. Morris, MI – Genesee County Fair
9/11 S Lyon, MI – Scorpions MC Pig Roast
9/18 Yukon, OK – Honeymoon Fest
9/19 Davenport, IA – RC Casino
9/24 Jasper, AL – The Speakeasy
9/25 Sheffield, AL – Slag Yard
10/1 Orange Park, FL – Orange Park Pavilion
10/10 Montpelier, IN – Montpelier Jamboree
11/18 St. Pete, FL – Berts Backyard
Check out the flyer below.
ICYMI and leading up to the release of 'Every 20 Years,' Saliva unleashed an updated version of "Click Click Boom," which you can stream at the end of this post.
"Re-recording 'Click Click Boom' was much easier than the original recording because we already had the blueprint laid out for us," states guitarist and founding member Wayne Swinny. "There was no need to alter anything because the original had all the right pieces in all the right places. We simply used the advances in modern technology to enhance the song sonically."
"I think the combination of multiple genres of music has contributed greatly to the popularity of 'Click Click Boom,'" adds Swinny. "Producer Bob Marlette took a song which was a cool, interesting rock song and crafted it masterfully into a piece of music that has stood the test of time for two decades and will continue to do so into the future."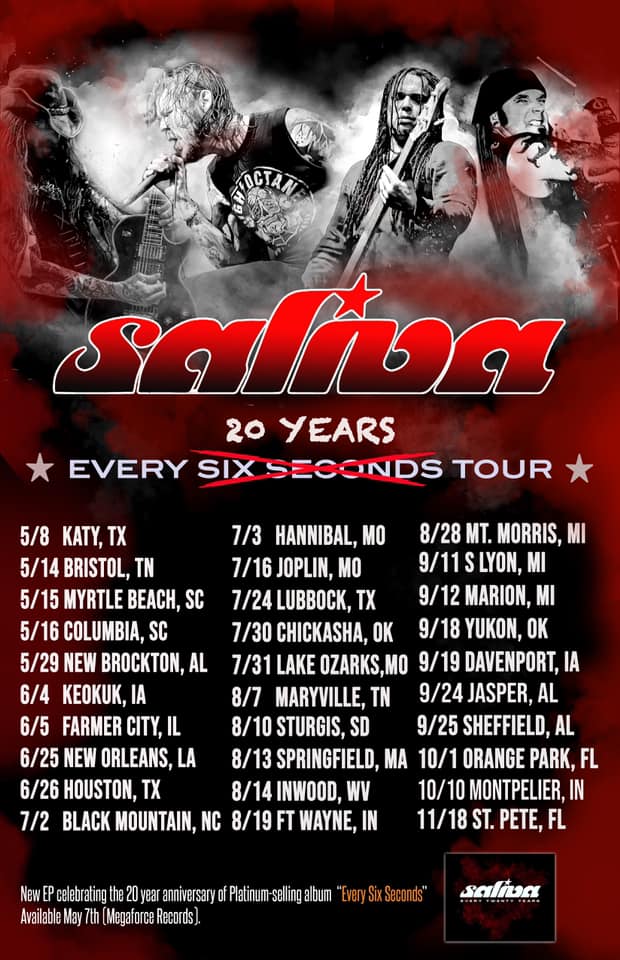 Saliva is:
Bobby Amaru – vocals
Wayne Swinny – guitar
Paul Crosby – drums
Brad Stewart – bass
Saliva online:
https://salivaofficial.com/
www.facebook.com/Saliva
Also Check Out: Deftones post "Swerve City" guitar playthrough video