Industrial metal act Static-X have released a music video for their song titled "Terminator Oscillator," which appears on the band's 2020 release by the name of 'Project Regeneration Vol. 1' — stream the clip below.
A presser states, "The 2-part album features the final vocal performance of Wayne Static, along with the otiginal Wisconsin Death Trip band lineup. The song has become a fan-favorite and the Godzilla inspired music video was directed by Edsel Dope and co-directed by Matt Zane. The clip follows a giant X-faced monster wreaking havoc on an entire city, while chasing down the members of Static-X."
"We wanted to do something outside of what you would generally expect to see from a metal band music video. The video really captures the quirky, Sci- Fi spirit of Static-X and is unlike anything that we've ever seen from bands in our genre," states Static-X.
ICYMI, Static-X recently announced their 'The Rise of the Machine' North American tour with support from Fear Factory and Dope, and Mushroomhead and Twiztid in select dates — all dates are listed below.
Stream:



Tour Dates:
Feb 21 – Portland, OR – Hawthorne Theater [TIX]
Feb 22 – Seattle, WA – Showbox^
Feb 23 – Vancouver, BC – Rickshaw Theater^
Feb 24 – Spokane, WA – Knitting Factory^ [TIX]
Feb 25 – Boise, ID – Revolution Concert Hall [TIX]
Feb 26 – Reno, NV – Virginia Street Brewhouse^ [TIX]
Feb 27 – Sacramento, CA – Ace Of Spades [TIX]
Mar 01 – Phoenix, AZ – Van Buren* [TIX]
Mar 02 – Albuquerque, NM – El Rey Theater*^
Mar 03 – Oklahoma City, OK – Whiskey Nights*^
Mar 04 – Dallas, TX – House of Blues* [TIX]
Mar 05 – San Antonio, TX – The Aztec Theater* [TIX]
Mar 06 – Houston, TX – House Of Blues* [TIX]
Mar 08 – Atlanta, GA – Buckhead Theater* [TIX]
Mar 09 – Orlando, FL – Plaza Live*^
Mar 10 – Charlotte, NC – Underground* [TIX]
Mar 11 – Baltimore, MD – Soundstage* [TIX]
Mar 12 – Boston, MA – Big Night Live* [TIX]
Mar 13 – New York, NY – Irving Plaza* [TIX]
Mar 15 – Montreal, QC – Corona*^ [TIX]
Mar 16 – Toronto, ON – Phoenix*^
Mar 17 – Detroit, MI – St. Andrews Hall* [TIX]
Mar 18 – Ft. Wayne, IN – The Clyde* [TIX]
Mar 19 – Milwaukee, WI – The Rave*^
Mar 20 – Grand Rapids, MI – Intersection* [TIX]
Mar 22 – Cleveland, OH – House Of Blues # [TIX]
Mar 23 – Philadelphia, PA – T.L.A.# [TIX]
Mar 24 – Pittsburgh, PA – Roxian# [TIX]
Mar 25 – Cincinnati, OH – Bogarts# [TIX]
Mar 26 – Chicago, IL – House Of Blues# [TIX]
Mar 27 – Minneapolis, MN – The Fillmore# [TIX]
Mar 28 – Lincoln, NE – Bourbon Theater# [TIX]
Mar 29 – Denver, CO – The Summit# [TIX]
Mar 31 – Las Vegas, NV – House Of Blues# [TIX]
Apr 01 – San Diego, CA – House Of Blues# [TIX]
Apr 02 – Los Angeles, CA – Belasco Theater# [TIX]
Apr 03 – San Francisco, CA – The Fillmore# [TIX]
* Featuring Special Guest Mushroomhead
# Featuring Special Guest Twiztid
^ Not a Live Nation Date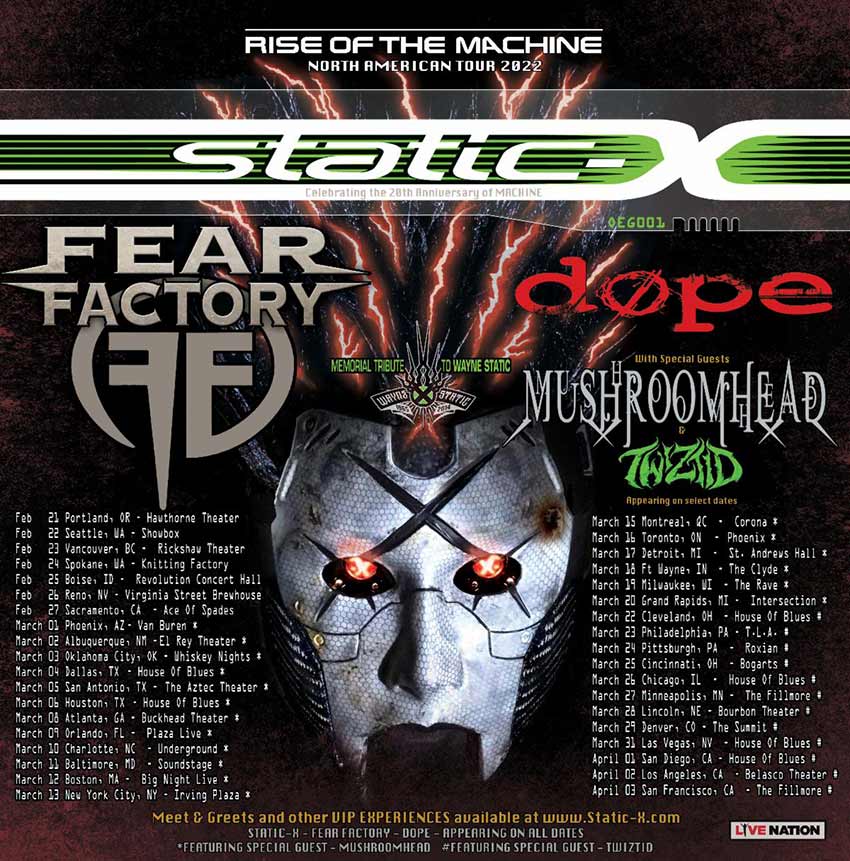 Artist photo by Matt Zane
Also Check Out: Sabaton reveal new video single, "Christmas Truce"