Share the post "The Acacia Strain announce 'Step Into The Light' record release shows"
Massachusetts rippers The Acacia Strain are gearing up for the release of their new album, 'Step Into The Light,' on May 12th through Rise Records (pre-order). To celebrate the effort's unleashing, the band have announced record release shows in New York and Maine, with special guests Escuela Grind, Vomit Forth, and Chained to the Bottom of the Ocean.
The Acacia Strain will also take to the streets next month for a tour with Fit For an Autopsy, Full of Hell, and Primitive Man. The trek is set to ignite on March 8th in Brooklyn, NY and will run through April 1st in Worcester, MA. See all upcoming tour dates below.
The Acacia Strain record release shows:
5/19 — Syracuse, NY — The Lost Horizon
5/20 — Albany, NY — Empire Underground
5/21 — Portland, ME — The Cavern
The Acacia Strain w/ Fit For an Autopsy, Full of Hell & Primitive Man:
3/8 — Brooklyn, NY — The Brooklyn Monarch
3/9 — Philadelphia, PA — Underground Arts
3/10 — Columbus, OH — The King of Clubs
3/11 — Detroit, MI — St. Andrew's Hall [TIX]
3/12 — Chicago, IL — Metro
3/14 — Denver, CO — The Gothic [TIX]
3/15 — Salt Lake City, UT — The Complex
3/17 — Seattle, WA — El Corazon
3/18 — Portland, OR — Hawthorne Theater [TIX]
3/19 — Sacramento, CA — Ace of Spades [TIX]
3/20 — Santa Ana, CA — The Observatory [TIX]
3/21 — Los Angeles, CA — 1720 [TIX]
3/22 — Mesa, AZ — Nile Theater
3/24 — Dallas, TX — Amplified Live
3/25 — Austin, TX — Come and Take It Live
3/26 — Houston, TX — Warehouse Live
3/28 — Tampa, FL — The Orpheum [TIX]
3/29 — Atlanta, GA — The Masquerade (Heaven) [TIX]
3/30 — Greensboro, NC — Arizona Pete's [TIX]
3/31 — Baltimore, MD — Baltimore Soundstage [TIX]
4/1 — Worcester, MA — The Palladium [TIX]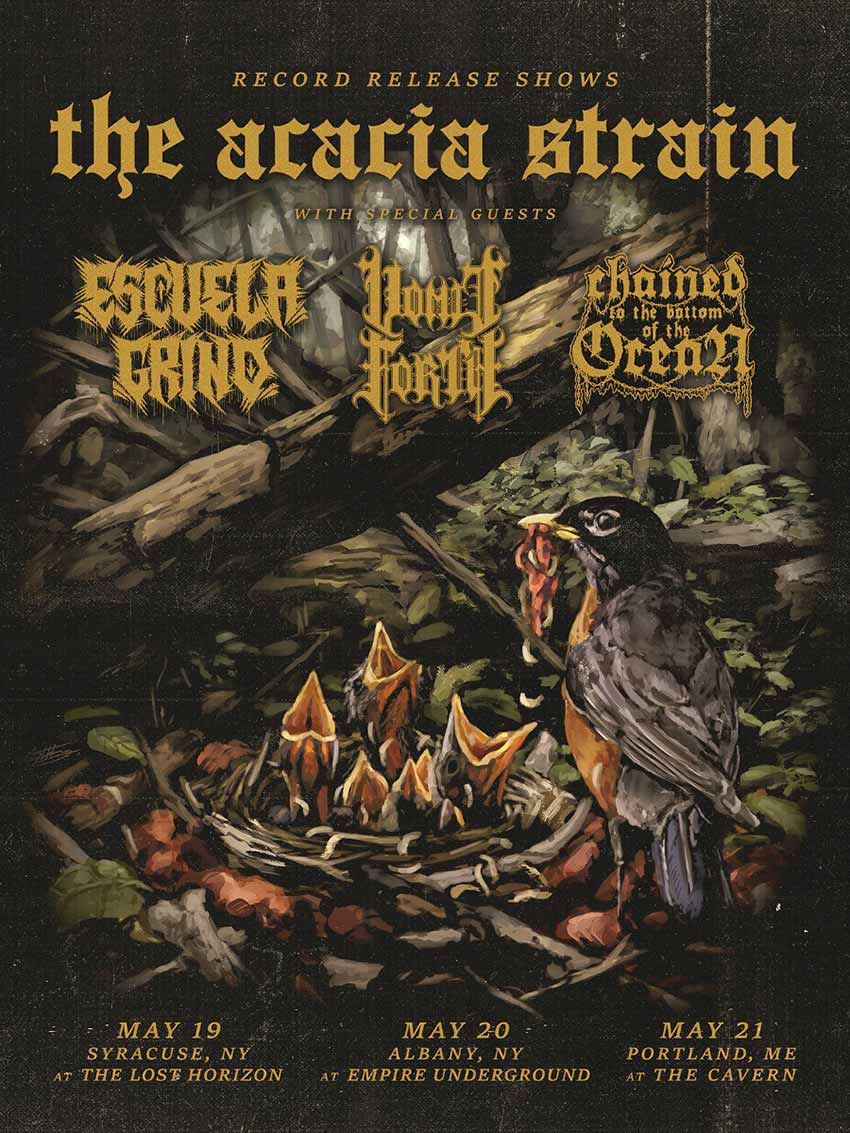 'Step Into The Light' track listing:
"Flourishing"
"Calf's Blood"
"Chain" (feat. Jacob Lilly)
"Fresh Bones"
"Teeth of the Cursed Dog"
"Open Wound"
"Sinkhole" (feat. Josef Alfonso)
"Is This Really Happening?"
"Untended Graves"
"None Of Us Asked To Be Here"




Concert photo by Matteo Palermo
Also Check Out: Exumer announce 2023 U.S. tour dates for April