Share the post "Tim Lucier (Kingsmen) reveals guitar playthrough for "Nightmare""
Rhode Island heavy metal band Kingsmen are gearing up for the release of their debut full-length album, 'Revenge. Forgiveness, Recovery," on April 10th via SharpTone Records.
Guitarist Tim Lucier has teamed up with GearGods to release a guitar playthrough video for the band's new single "Nightmare" — check it out below.
Speaking to GearGods, Lucier comments:
'Nightmare' was written during a very dark time for me personally. Being able to work with Mark Lewis [Producer] on finding my identity and sound for this album was a time in my life I would never ask to change. We spent hours together working on tone and really focusing on the importance of a message through this aggressive track.
A press release notes:
After a series of unfortunate events over the last few years that nearly ended the band, KINGSMEN buckled-down and poured their hearts and souls into writing their first full-length. Revenge. Forgiveness. Recovery was recorded in Nashville, TN with producer Mark Lewis (Trivium, Whitechapel, Cannibal Corpse). Defying categorization, a singular style emerged at the forefront of the sessions. In the aftermath, they caught the attention of Sharptone who signed them in 2019.
Also, Kingsmen will be playing a string of east coast shows this spring, check out the schedule below.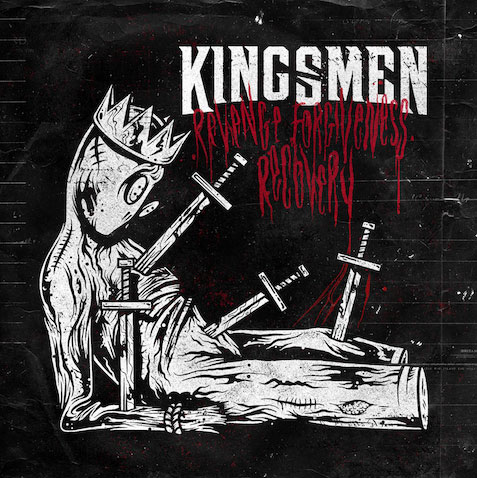 KINGSMEN Tour Dates (with BE//GOTTEN):
April 10 – Providence, RI – Alchemy
April 11 – Falls Church, VA – Falls Church VFW
April 13 – Trenton, NJ – Champs
April 15 – Amityville, NY – Revolution
April 16 – Manchester, NH – Jewel
*Additional Dates To Be Announced Soon