New Zealand's own Ulcerate will make their triumphant return to North America come this fall for their own headlining romp. Featuring support from Australia's Altars, the 13-date 'Stare Into Death North America MMXXIII Tour' will start on November 7th in North Hollywood, California at Knitting Factory and will close out on November 25th in Brooklyn, New York at Saint Vitus Bar. All dates for the trek can be viewed below.
Ulcerate drummer Jamie Saint Merat comments, "After three long years of pandemic interruption, we are very proud to finally announce the first shows on North American soil to showcase "Stare Into Death And Be Still". Originally booked for 2020, to finally have this come to fruition is nothing short of cathartic. Joining us as special guests are our Australian brothers ALTARS – together offering a deadly Antipodean assault that will truly be a sight to behold."
In addition and to help celebrate Debemur Morti Productions' 20th anniversary, Ulcerate have announced plans to reprint their latest studio offering 'Stare Into Death And Be Still' in limited edition vinyl format. Th effort can be pre-ordered via the label's EU, US and Bandcamp.
Ulcerate with Altars:
11.07.2023 – Knitting Factory – North Hollywood, CA
11.08.2023 – Neck Of The Woods – San Francisco, CA
11.10.2023 – Bossanova Ballroom – Portland, OR
11.11.2023 – Alma – Tacoma, WA
11.12.2023 – Rickshaw Theatre – Vancouver, BC
11.16.2023 – Reggies – Chicago, IL
11.17.2023 – Sanctuary – Detroit, MI
11.18.2023 – Hard Luck – Toronto, ON
11.19.2023 – Piranha Bar – Montreal, QC
11.21.2023 – Middle East – Boston, MA
11.22.2023 – Warehouse On Watts – Philadelphia, PA
11.24.2023 – Metro – Baltimore, MD
11.25.2023 – Saint Vitus Bar – Brooklyn, NY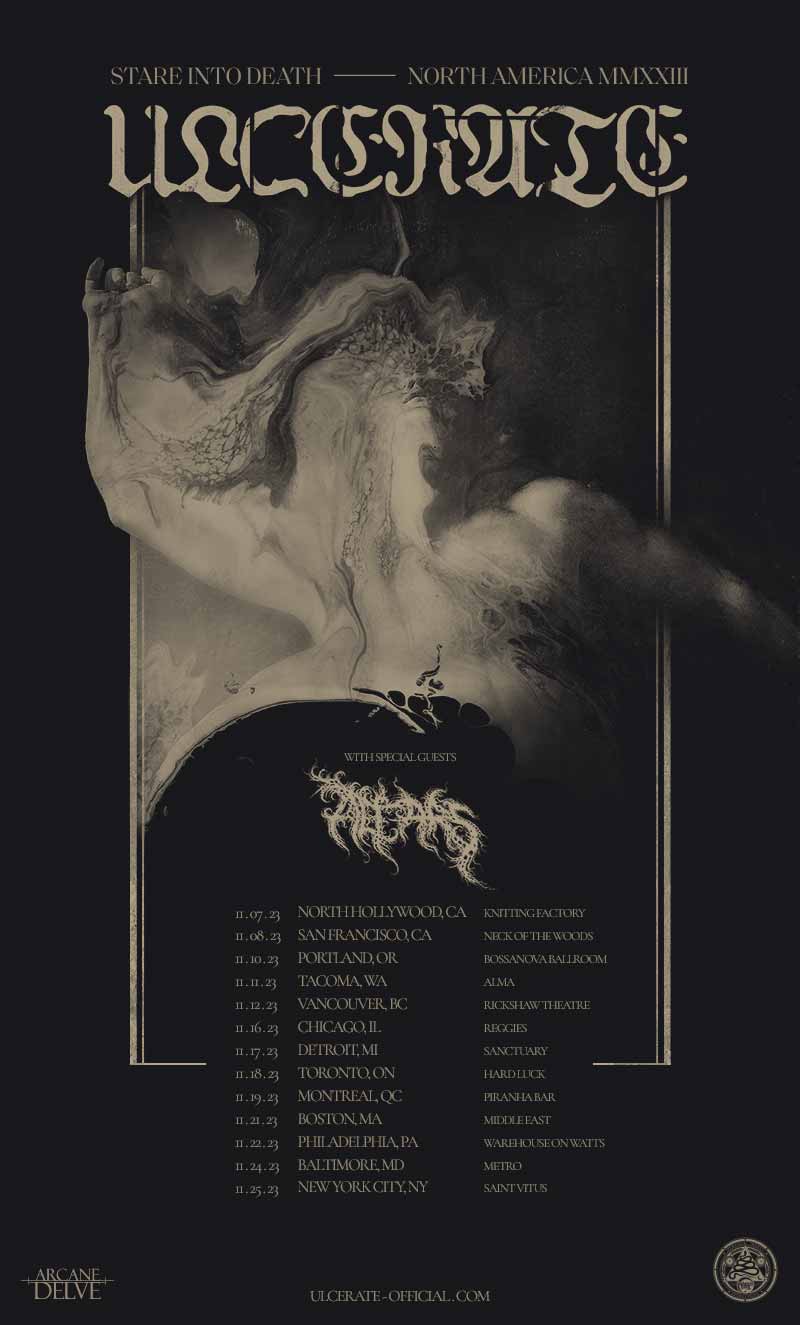 Also Check Out: Cavalera, Exhumed & Incite announce U.S. tour dates