The hellish LA group, CONSTRICT, make abominable metallic hardcore with an aggressively negative worldview. Today, the band shared the title track from their forthcoming EP titled No Eden in partnership with Revolver Magazine.
"No Eden" wastes no time showing off the unholy power of the band which is comprised of members from God's Hate, Vamachara, Disgrace, Forced Order, and more. Due out March 20th on Flatspot Records, the band's label debut is bound to turn heads with its abysmally dark themes and sheer ferocity. "No Eden" is now available to stream on Bandcamp or Spotify and pre-orders for the EP are available here.
CONSTRICT has also announced two releases shows taking place in California this March with Section H8, No Right and more. Find the full dates below.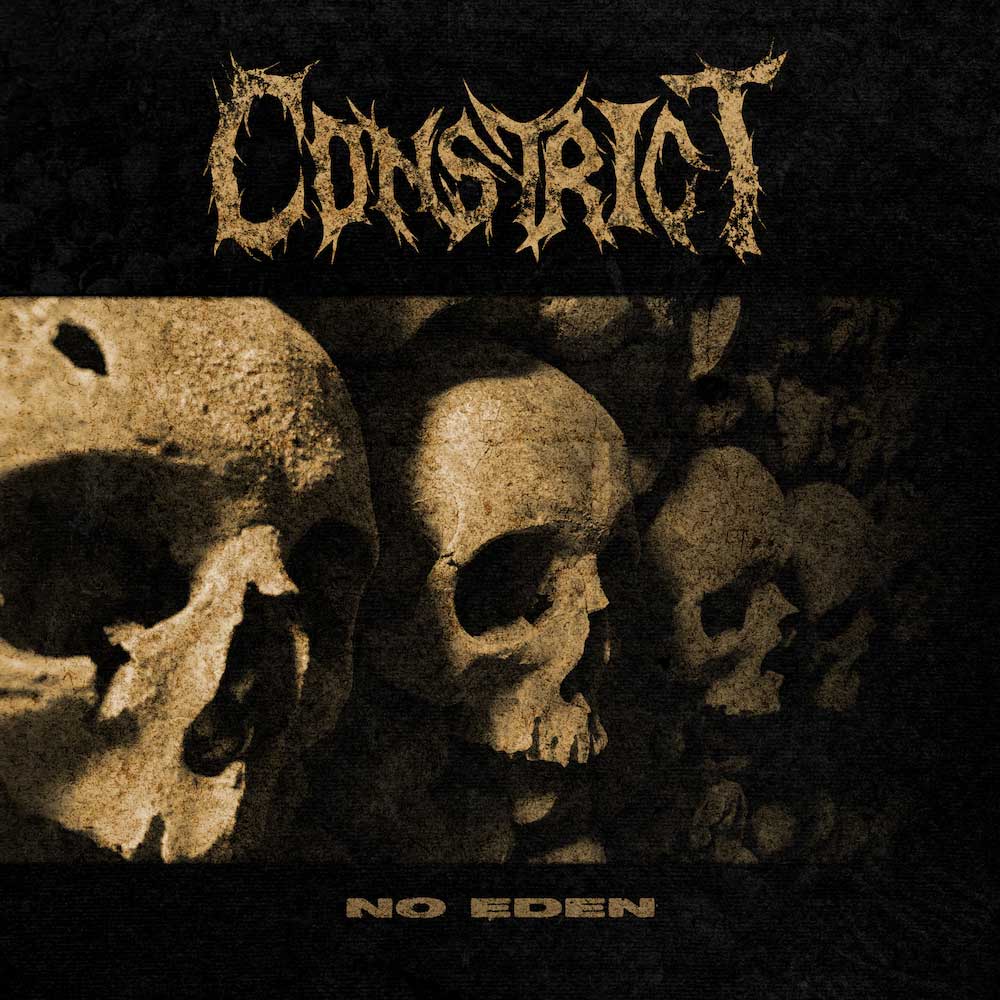 Formed in 2017 in Los Angeles, CONSTRICT is a metallic hardcore group of terrific power and formidable versatility. Featuring personnel from God's Hate, Vamachara, Disgrace, and Forced Order (among others), CONSTRICT combines the core sonic brutality of European stalwarts like Kickback and Arkangel, the rhythmic ferocity of Connecticut hardcore acts like Death Threat, and the antireligious death-fascination of 90s extreme metal in a manner unmatched and unimagined in the modern hardcore scene. First demonstrated on 2017's self-released Blood is Sweeter From Enemies, CONSTRICT's sound has only grown more aggressive and creative in the past three years, during which time the band has shared the stage with the likes of Candy, Trail of Lies, and Xibalba.
On March 20th, 2020, Flatspot Records will proudly issue the newest offering from CONSTRICT, a monstrous EP bluntly titled No Eden. Across No Eden's six tracks, CONSTRICT scrape the flesh from the 1990s and 2000s most blasphemous musical scenes and regurgitate it in a truly deranged fashion; rife with Immolation-esque guitar harmonies and unapologetic guttural screeds against blind faith and complacency, the EP is a no-frills joyride through the filth, violence, and pain of human existence. CONSTRICT skillfully leap from the massive metallic riffage of the opening title track to powerful hardcore stomps like "Deceiver" and "Bliss of Power", commanded capably by the lyrical prowess and vocal fury of frontman Anthonie Gonzalez. The EP closes with "Mantra", which features an unforgettably adept blend of every heinous offering displayed on the previous five tracks and best represents the group's mission statement: to provide genre-flouting heavy music free of the tired tropes and orthodoxies that dominate so much of today's art and music.
Recorded and mixed at Catacomb Recording Company in Rowland Heights, California, the raw power of CONSTRICT's performances are rendered all the more alarming by the adroit mastering of Brad Boatright at Audiosiege in Portland, Oregon. With this newest batch of tracks, CONSTRICT solidify their place as hardcore's most vicious and capable new horde.
Tour Dates:
3/27 – Los Angeles, CA @ Unit 122 w/ Section H8, Frostbite, Lead Dream, Dprive, Pull Your Card
3/28 – Santa Cruz, CA @ Sub Rosa w/ No Right, Lead Dream, Dprive, Eightfold Path