Share the post "Dead Poet Society share "I Never Loved Myself Like I Loved You" video"
Los Angeles alt-rock band Dead Poet Society have released a music video for their song "I Never Loved Myself Like I Loved You," which appears on their debut album dubbed '-!-' (referred to as 'The Exclamation Album').
A presser states, "The video is an impromptu, one-take affair, which sees lead singer Jack Underkofler slowly unravel as he walks the streets of L.A.. Like much of -!-, the video highlights the emotional and self-reflective adversity that the band exercises through their music."
"This video was completely shot by accident," the band says. "We were in the process of pre-production, getting test shots with our iPhones. We improvised a possible scene and ended up capturing a moment that resonated with us all so strongly that we felt we had to release it as the actual video itself. It's not perfect in terms of its aesthetic or technical value, but the imperfection is what this song is about. For us, this video captured the exact emotions and feelings that went into writing this song, and that's what matters."
ICYMI, Badflower, Teenage Wrist and Dead Poet Society will join up for a U.S. trek this September and October — see all tour dates below.
Stream:



Shows:
Tue, Sep 21 – The Fillmore Charlotte – Charlotte, NC [TIX]
Wed, Sep 22 – Stage Ae – Pittsburgh, PA
Thu, Sep 23 – Webster Hall – New York, NY
Sat, Sep 25 – The Woodlands – Dover, DE *
Sun, Sep 26 – Louder Than Life 2021 – Louisville, KY [TIX]
Tue, Sep 28 – L'astral – Montreal, Canada [TIX]
Wed, Sep 29 – The Axis Club – Toronto, Canada
Thu, Sep 30 – Saint Andrews Hall – Detroit, MI [TIX]
Fri, Oct 1 – Glc Live At 20 Monroe – Grand Rapids, MI [TIX]
Sat, Oct 2 – Bottom Lounge – Chicago, IL [TIX]
Sun, Oct 3 – The Rave / Eagles Club – Milwaukee, WI
Tue, Oct 5 – The Granada – Lawrence, KS
Wed, Oct 6 – Bourbon Theatre – Lincoln, NE
Thu, Oct 7 – Gothic Theatre – Englewood, CO
Sat, Oct 9 – Aftershock 2021 – Sacramento, CA * [TIX]
Sun, Oct 10 – Knitting Factory Concert House – Boise, ID [TIX]
Tue, Oct 12 – Neumos – Seattle, WA
Wed, Oct 13 – Knitting Factory Concert House – Spokane, WA [TIX]
Sat, Oct 16 – Fonda Theatre – Los Angeles, CA
Sun, Oct 17 – The Observatory North Park – San Diego, CA [TIX]
Mon, Oct 18 – The Pressroom – Phoenix, AZ
Wed, Oct 20 – The Studio At Warehouse Live – Houston, TX
Thu, Oct 21 – Brewster Street Ice House – Corpus Christi, TX
Fri, Oct 22 – The Hifi Dallas – Dallas, TX [TIX]
Sat, Oct 23 – Revolution Music Room – Little Rock, AR
Sun, Oct 24 – Mars Music Hall – Huntsville, AL [TIX]
Tue, Oct 26 – Soul Kitchen Music Hall – Mobile, AL
Thu, Oct 28 – Culture Room – Fort Lauderdale, FL [TIX]
Fri, Oct 29 – Jannus Live – St Petersburg, FL
Sat, Oct 30 – The Masquerade (Heaven) – Atlanta, GA [TIX]
Sun, Oct 31 – The Basement East – Nashville, TN [TIX]
* no Teenage Wrist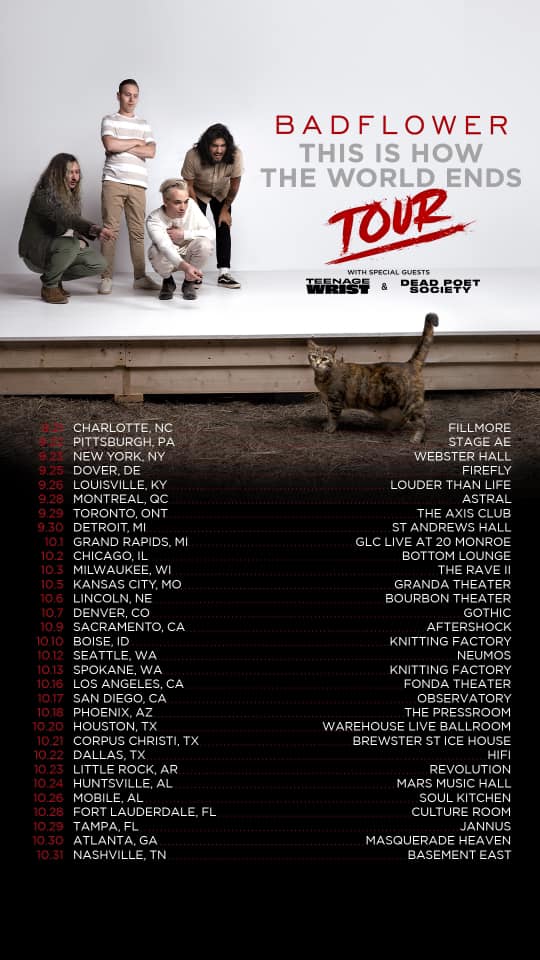 Also Check Out: Turnstile release new video single, "Blackout"