Draconicon have unleashed their new video single titled "Dark Side of Magic" — watch the clip below. The track serves as the second single to appear from the band's forthcoming album.
"Once again, recording sessions for the song took place at Miskatonic Recording Studio and Giuseppe Orlando's Outersound Studio, while Marco Mastrobuono (HOUR OF PENANCE, FLESHGOD APOCALYPSE, SHORES OF NULL and more) was responsible for the mixing/mastering at Kick Recording Studio in Rome," states a press release.
Shooting for the music video for "Dark Side of Magic" took place at Cinecittà 3 studios, and the clip was filmed by director Francesco Di Giorgio, with Simonluca Fraioli serving as photography director. Check out the single cover artwork, created by Dan Goldsworthy (Accept, Gloryhammer, Alestorm), below as well.
Draconicon guitarist and co-founder Alessandro Mammola comments, "Dark Side of Magic is the transition phase rite that answers to the call of darkness. Sacredness is the recurring topic of the song. While, the first verse turns its gaze towards darkness, the second one, with its chant in ancient Latin, makes us sink into oblivion, the place where humans lose all hope and move away from light forever. The chorus is an obsessive call to the dark side, an invitation to join the ranks of those who, after having had a taste of power, glory and death, cannot back out and do without it any longer."
Stream: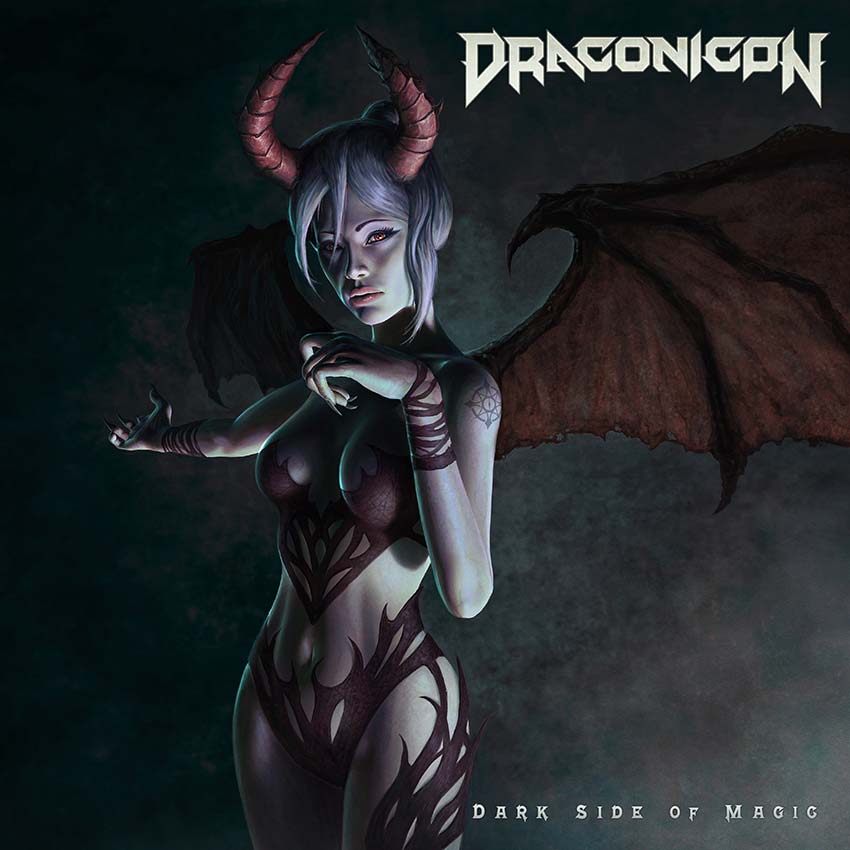 If you missed Draconicon's debut single, "Edge of Power," you can stream it below. The track was recorded at Miskatonic Recording Studio and Giuseppe Orlando's Outersound Studio, mixed and mastered by Marco Mastrobuono (Hour Of Penance, Fleshgod Apocalypse, Shores of Null and more) at Kick Recording Studio in Rome. The clip was filmed at film studios Cinecittà 3, by the filmmaker Francesco Di Giorgio and Simonluca Fraioli (director of photography).
Previously speaking on the song, violinist and co-founder Simone Borghetto said, "Edge Of Power is the real battle cry of evil warlords, a unique and terrible scourge: Draconicon. Impersonating all of this is certainly not easy: a real madness has taken over their souls, such a strong thirst for power made them lose control and turned them no longer into mere humans, but almost into monsters endowed with the instinct of real hunters for innocents, who are condemned to be their victims."


Draconicon online:
draconicon.com
facebook.com/draconicon.official
instagram.com/draconicon.official
Also Check Out: Electromancy unleashes robotic chaos with "The Spark" (premiere)