Share the post "Endseeker reveal "Count The Dead" lyric video + live stream"
German death metallers Endseeker have released their new single, "Count The Dead," in official lyric video form — check out the clip below. The song appears on the band's forthcoming new album, 'Mount Carcass,' which drops on April 16th through Metal Blade Records (pre-order).
Endseeker comment: "With great concerns, we're noticing the growing civil unrests and social division on a global scale. We constantly get confronted with violence and injustice in the media, witnessing the increasing decline of conversation powerlessly. We are aware that stability is not a given condition while autocratic and anti-democratic tendencies are on the rise, also in our system. How much longer can we live in peace when the community and constitutional principles are getting pushed further back constantly? Countless leaders and despots undermining democratic values have contributed to the negative global changes over the years. Hate spreads further and further, like a cancer, as we speak."
They add, "Nip things in the bud and leave no inch to fascist ideologies, warmongers and racketeers. Humanity has suffered a lot from misery coming from exclusion and hatred. We as a band stand up for democracy, participation, human rights, equality of opportunity, freedom of speech, social cohesion and global solidarity."
Stream "Count The Dead":



In addition and in support of 'Mount Carcass,' Endseeker will host a record release live streaming show on Sunday, April 18th at 10AM PST//1PM EST//7PM CET. The virtual gig streams live from Knust, Hamburg, get your tickets at this location. Note that tickets are available only as bundles with purchase of CD or vinyl (shirt optional) via Kings Road.
Endseeker say, "We took all the frustration and despair over the cancelled shows and the whole misery Covid has brought upon us all and forged it into a bunch of straight forward, powerful songs that accompanied us through 2020 and will now be shared with the rest of the world. 'Mount Carcass' is definitely our most focused – in a way, even the angriest – record so far, and 'Unholy Rites', with its uplifting zombie-vibe, is the perfect opener for this new chapter in the history of Endseeker. We'd of course love to start this new chapter with YOU, our fans. Sadly, there won't be a sweaty sold-out release show like last time, however, we're back at the Knust in Hamburg on April 18th for a special livestream event (more details to be revealed soon). Come and celebrate with us online until we see each other in the pit again!"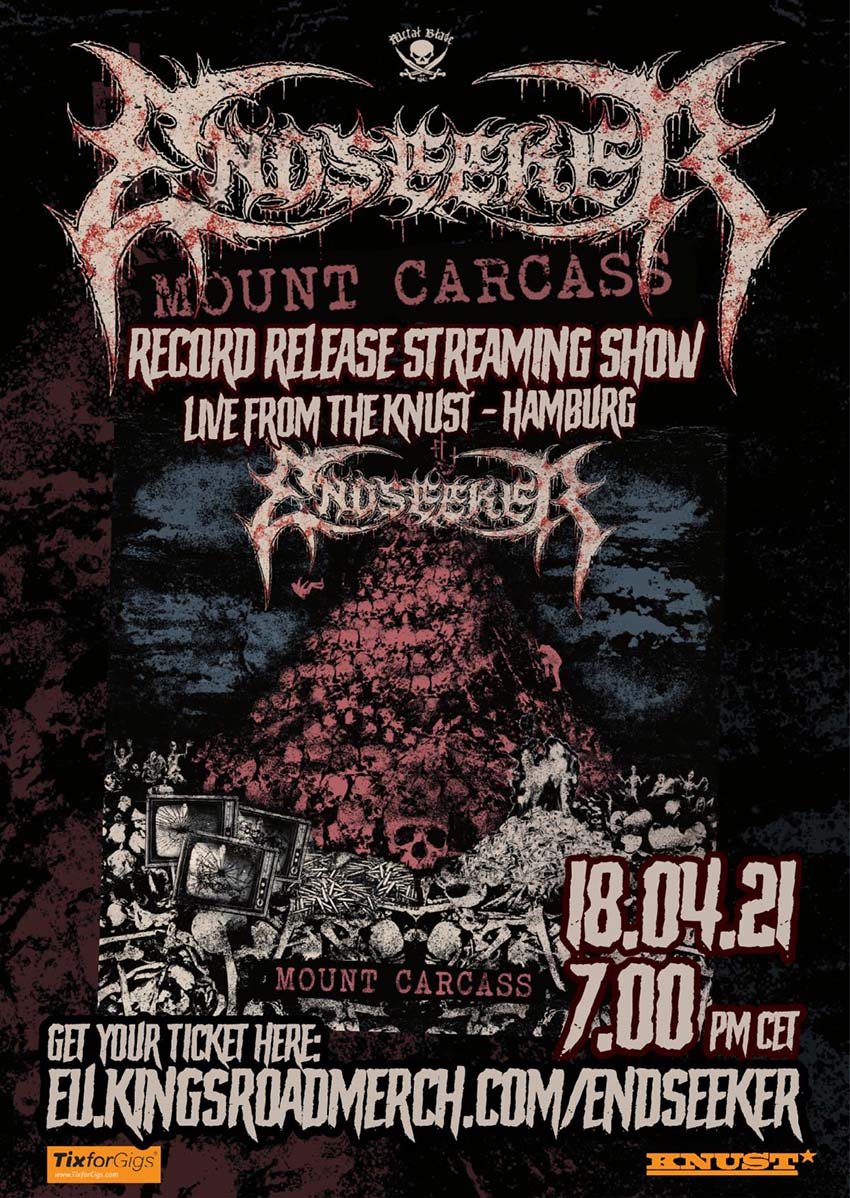 'Mount Carcass' track-listing:
1. Unholy Rites
2. Merciless Tide
3. Bloodline
4. Mount Carcass
5. Count the Dead
6. Cult
7. Moribund
8. Frantic Redemption
9. Escape from New York (John Carpenter cover)
Endseeker line-up:
Lenny – vocals
Jury – guitars
Ben – guitars
Eggert – bass
Kummer – drums
Endseeker online:
https://www.facebook.com/endseekermusic
https://www.instagram.com/endseeker_official
http://endseeker.de/
https://endseeker.bandcamp.com/


Artist photo by Toni Gunner
Also Check Out: Orange Goblin reschedule 25th anniversary live stream shows