Share the post "HOHENSTEIN set release date for PURITY THROUGH FIRE debut, reveal first tracks"
Today, Purity Through Fire sets April 4th as the international release date for Hohenstein's striking debut album, Weisser Hirsch, on CD, A5 digipack, vinyl LP, and cassette tape formats.
It was but early last year when Hohenstein inconspicuously announced itself with its debut demo through the cult Worship Tapes. The band had existed the year prior, even recording the demo then, but time moves the way it moves… Now, Hohenstein announce themselves at length with their debut album, Weisser Hirsch.
While rooted deeply in black metal, Hohenstein themselves differ considerably from Meuchelmord, the main band of vocalist/guitarist Cernunnos. Here joined by drummer Caedem, Hohenstein build massive, mesmerizing walls of melancholic majesty, in stark contrast to Meuchelmord's usually iron-fisted iteration of black metal. Equally traditional, what the duo conjure across Weisser Hirsch is immediately engaging, surprisingly dynamic, and paradoxically lively in its monochromaticism. Hohenstein thankfully evade the usual clichés associated with DSBM, instead working with a surprisingly catchy hook that's equally rooted in misery and mystery and varying the intensity from there. Thus, the hallmarks of so much great nowadays German black metal are present, but the duo present them within a sorrowful landscape that leaves the listener free to roam where he chooses: into the depths of depression or beyond to the battlefield, eerily quiet after the rampant bloodshed? The choice is yours…one need only to take the first step to Weisser Hirsch.
The first steps can be taken with the new tracks "Ahnengrab" HERE and "Sundalschlacht" HERE, both at Purity Through Fire's official YouTube channel [also posted below]:


Cover and tracklisting are as follows: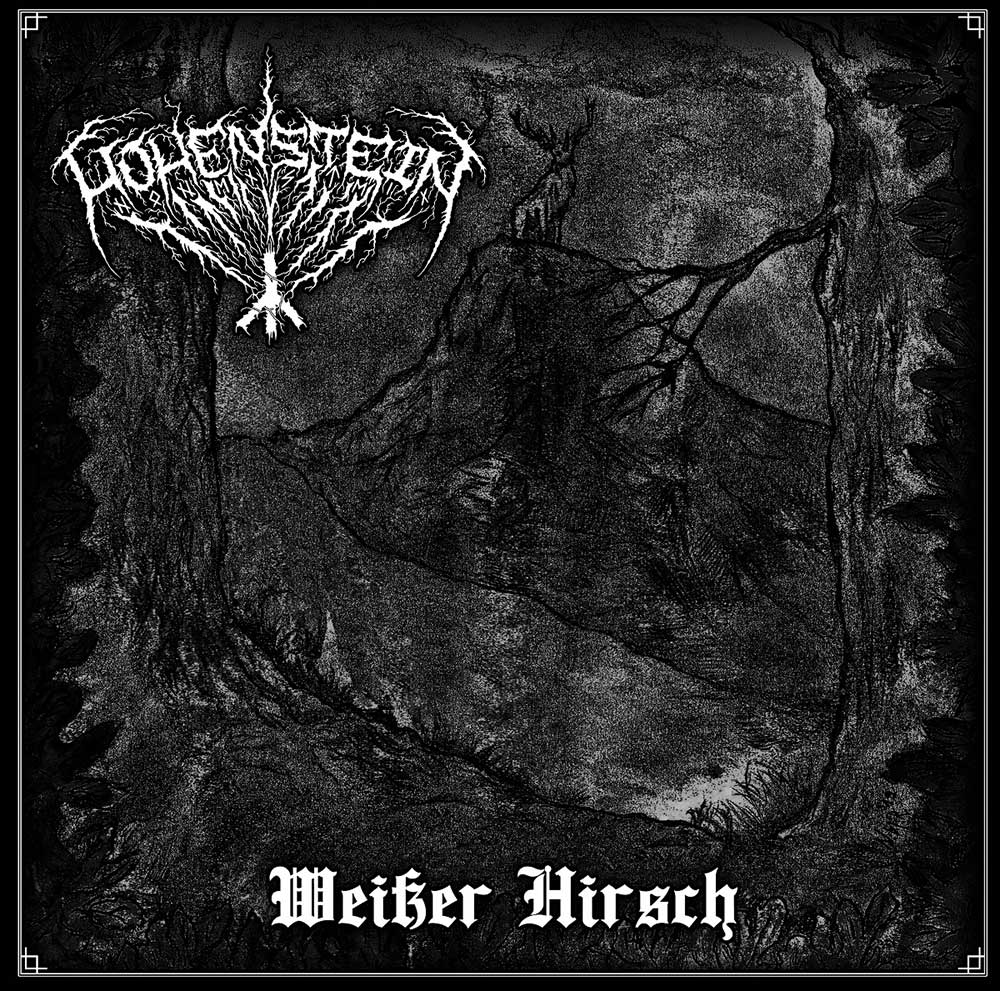 Tracklisting for Hohenstein's Weisser Hirsch
1. Kriegsvintar
2. Sundalschlacht
3. Grüner Altar
4. Ahnengrab
5. Brøhn
6. Ewige Flamme
7. Runenkrieger
8. Algiz in Brand
9. Neue Ufer