Nashville heavy rockers Howling Giant have announced plans to embark on a fall 2023 U.S. tour in support of their upcoming full-length offering, 'Glass Future,' due out on October 27th (pre-order).
The upcoming tour will feature Howling Giant sharing the stage with Black Tusk for three shows, Restless Spirit for five gigs, in addition to four headlining dates. See all upcoming shows below.
Howling Giant singer and guitarist Tom Polzine comments on the impending run, "All systems go! We are stoked to unleash Glass Future on October 27th, and cannot wait to bring this album to life in November at a US dive bar near you. We're pumped to share the stage with our buds in Black Tusk and Restless Spirit. Come hear the sounds of these new riffs as they plummet towards our fragile planet. We'll have shirts for sale in the crater."
On a somber note, Howling Giant and label mates Heavy Temple were both victims of theft while in Milan during their ongoing European tour. If you'd like to offer assistance or share this link, your support would be greatly appreciated: GoFundMe.
Howling Giant supporting Black Tusk:
03 NOV 2023 Atlanta, GA (US) The Earl
04 NOV 2023 Wilmington, NC (US) Reggie's 42nd Street Tavern
05 NOV 2023 Asheville, NC (US) The Odd
Howling Giant headlining:
07 NOV 2023 Louisville, KY (US) Portal
08 NOV 2023 Cleveland, OH (US) No Class
09 NOV 2023 Detroit, MI (US) Sanctuary
11 NOV 2023 Chicago, IL (US) Reggies, Music Joint
Howling Giant with support Restless Spirit:
10 NOV 2023 Cudahy, WI (US) X-Ray Arcade
12 NOV 2023 St Louis, MO (US) Platypus Bar
14 NOV 2023 Dallas, TX (US) Club Dada
15 NOV 2023 Austin, TX (US) The Lost Well
17 NOV 2023 New Orleans, LA (US) Gasa Gasa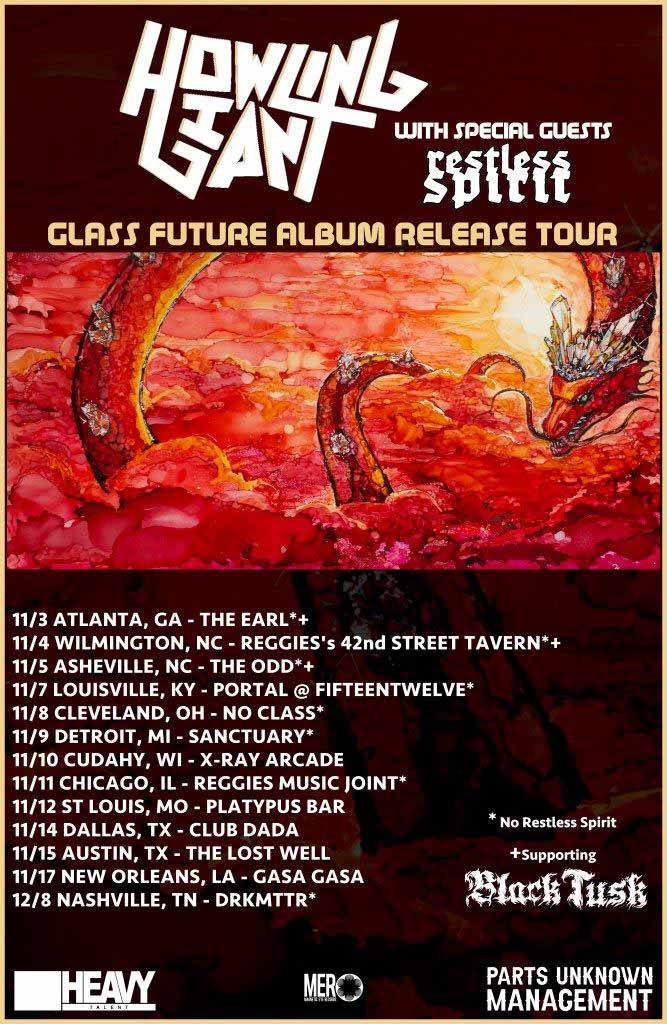 Also Check Out: Foo Fighters going on 'Everything Or Nothing At All Tour'