Canadian metallers Imonolith have revealed (via Heavy Consequence) their new single "Becoming the Enemy" (ft. Johannes Eckerström of Avatar), which appears on their forthcoming debut album 'State of Being' (due out March 27th – pre-order). Check out the lyric video below.
"'Becoming the Enemy' is a song about becoming your own worst enemy," says drummer Ryan 'RVP' Van Poederooyen. "All of us have done it at some point in our lives. The point of the song lyrically is to learn from your mistakes instead of repeating them over and over."
The lyric video for 'Becoming The Enemy' features a character called "The Sickness" who reprises his role from the band's previous "Instinct" video.
"We continue the theme we started in 'Instinct,'" RVP explains. "The theme of our album 'State of Being' is about how people deal with various states of being throughout their lives. We thought having 'The Sickness' appear in a couple of videos would help tie everything together and tell a visual story to go along with the album as a whole."
Imonolith will be touring through Europe and the UK this spring — get all tour dates below.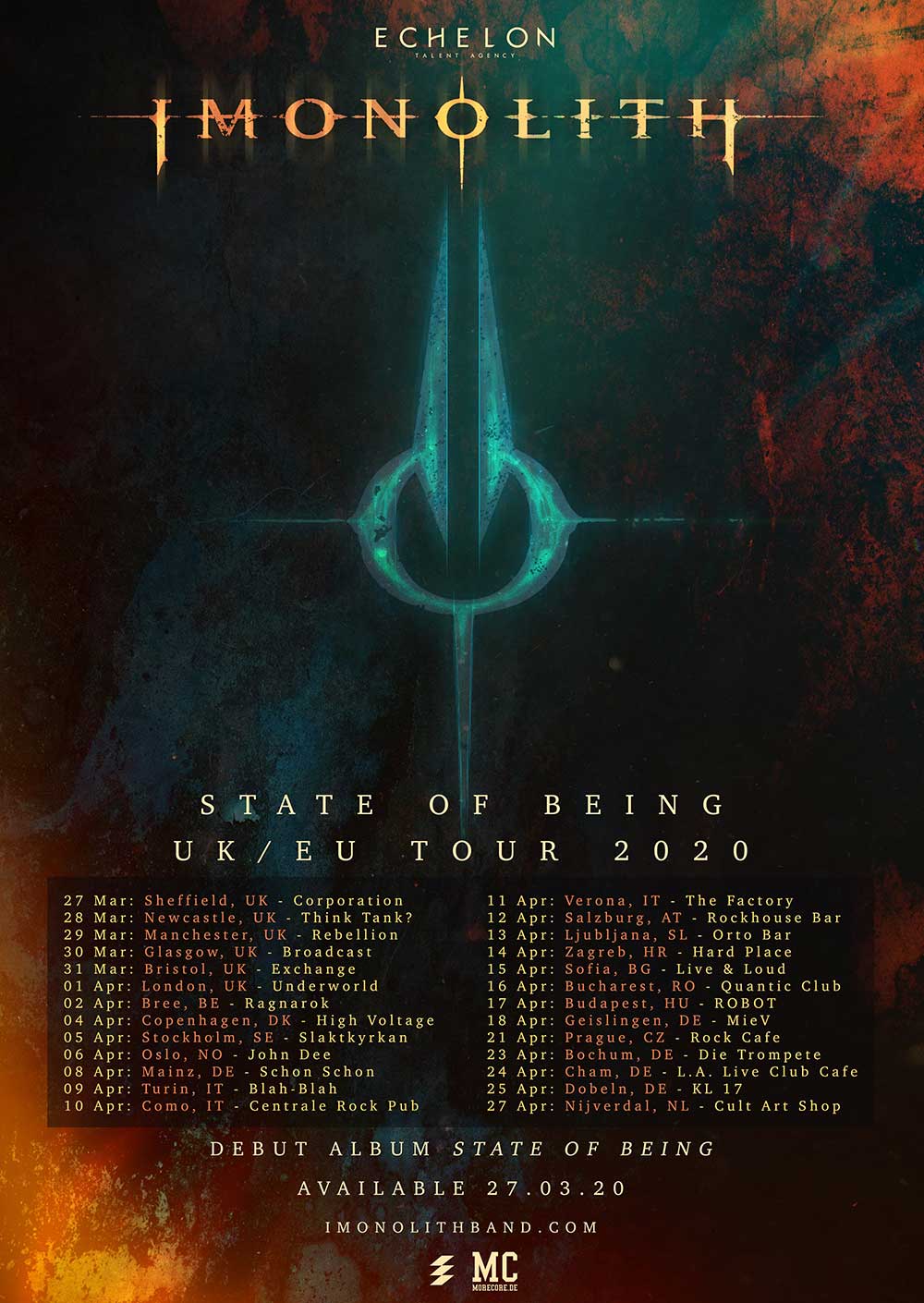 Imonolith tour dates:
Mar 27: Sheffield, UK – Corporation
Mar 28: Newcastle, UK – Think Tank?
Mar 29: Manchester, UK – Rebellion
Mar 30: Glasgow, UK – Broadcast
Mar 31: Bristol, UK – Exchange
Apr 1: London, UK – Underworld
Apr 2: Bree, BE – Ragnarok
Apr 4: Copenhagen, DK – High Voltage
Apr 5: Stockholm, SE – Slaktkyrkan
Apr 6: Oslo, NO – John Dee
Apr 8: Mainz, DE – Schon Schon
Apr 9: Turin, IT – Blah-Blah
Apr 10: Como, IT – Centrale Rock Pub
Apr 11: Verona, IT – The Factory
Apr 12: Salzburg, AT – Rockhouse Bar
Apr 13: Ljubljana, SL – Orto Bar
Apr 14: Zagreb, HR – Hard Place
Apr 15: Sofia, BG – Live & Loud
Apr 16: Bucharest, RO – Quantic Club
Apr 17: Budapest, HU – ROBOT
Apr 18: Geislingen, DE – MieV
Apr 19: Martigny, CH – Sunset Bar
Apr 21: Prague, CZ – Rock Cafe
Apr 23: Bochum, DE – Die Trompete
Apr 24: Cham, DE – L.A. Live Club Cafe
Apr 25: Dobeln, DE – KL17
Apr 27: Nijverdal, NL – Cult Art Shop
More dates to be announced soon
Top photo by Erich Saide