Share the post "Norwegian fest 'Beyond the Gates IX' reveals full lineup"
'Beyond the Gates IX' – set to go down August 19 – 22, 2020 in Bergen, Norway – has affirmed their lineup, and have revealed daily schedules.
This year's gathering features newly confirmed acts Candlemass, 1349, Whoredom Rife, Hexvessel and Year of the Goat, who will perform alongside the likes of Enslaved, Heilung, Sodom, 1349, Mercyful Fate, Archgoat, Opeth, Perturbator, and many more.
Says Beyond the Gates festival orginizer, Torgrim Øyre:
Beyond the Gates 2020 is by far the biggest and most ambitious metal event in Bergen ever. Being so fortunate as to have a band like Mercyful Fate headlining the event is certainly a dream come true.

The festival has a very diverse bill this year with all four days moving in different directions, from black metal, via alternative music and prog, as well as more traditional metal, we feel that we are branching out. Bands are going out of their way to make this a special occasion. Mercyful Fate will be joined by Candlemass, who will perform the seminal doom classic "Nightfall" in its entirety, and Enslaved will perform one of modern prog metals finest hours, "Below the Lights". Needless to say, we are very excited indeed.
See the full lineup below. Get tickets here.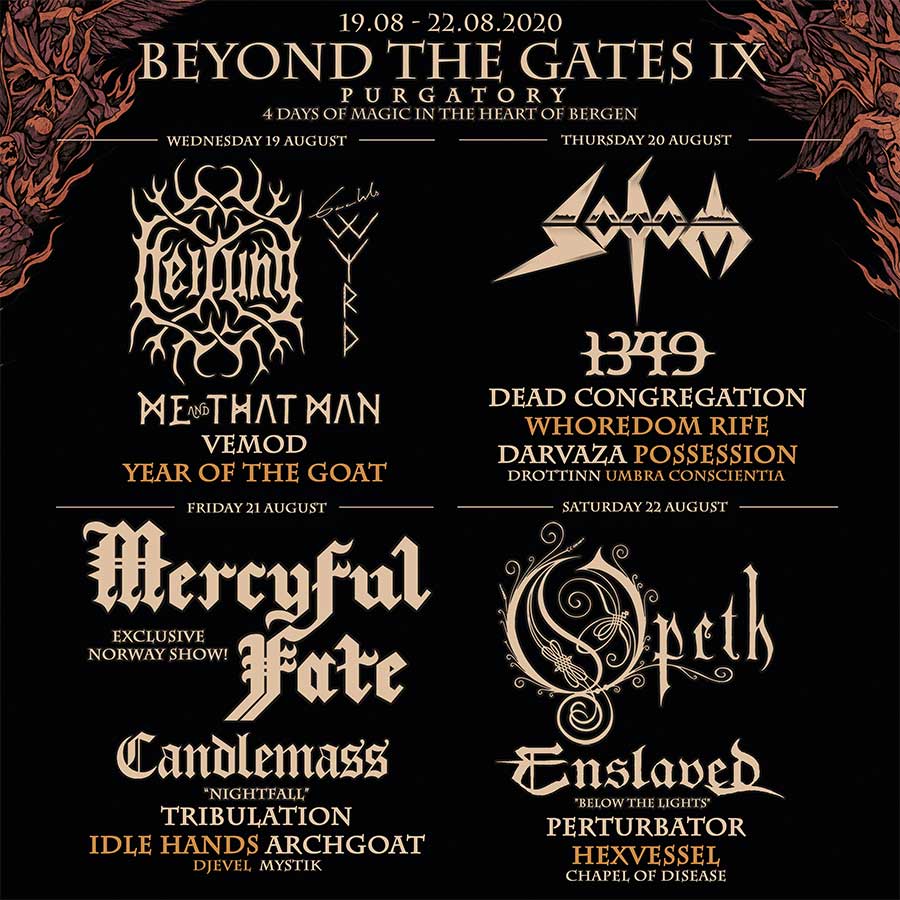 WEDNESDAY
USF Verftet:
Heilung
Gaahls WYRD
Me and That Man
Vemod
Year of the Goat
THURSDAY
USF Verftet:
Sodom
1349
Dead Congregation
Whoredom Rife
Darvaza
Possession
Kvarteret – Terratur Possessions showcase
Drottinn – matiné show
Umbra Conscientia – matiné show
FRIDAY
Grieghallen:
Mercyful Fate
Candlemass – "Nightfall"
Tribulation
Idle Hands
Kvarteret (club shows):
Archgoat – matiné show
Djevel – matiné show
Mystik (Afterparty presented by Born For Burning)
SATURDAY
USF Verftet:
Opeth
Enslaved – "Below the Lights"
Perturbator
Hexvessel
Chapel of Disease
Top Enslaved photo by Johnny Perilla