Share the post "Origin & Misery Index announce 'Space Control' tour w/ Wolf King"
Death metallers Origin and Misery Index will be joining forces for a North American trek dubbed 'The Space Control Tour 2022,' which will also feature Wolf King. All dates are listed below.
Origin guitarist Paul Ryan comments, "2022 is the 25th year of ORIGIN's existence, and what better way to celebrate than to hit the road with one of our favorite bands and people to share the stage with – none other than the mighty MISERY INDEX! We were on the road when Covid-19 hit and ORIGIN has never gone a full calendar year without a show, let alone the 26 months that we all have suffered during the pandemic! Excited to get the grind out to the masses again and possibly even play some new material as well!!"
Drummer John Longstreth adds: "ORIGIN and MISERY INDEX grew up together! We've had the amazing opportunity to share the road and stage with these titans multiple times in our 25-year existence, and we couldn't be more excited to do it again! As COVID-19 hit at the beginning of our final "UNPARALLELED UNIVERSE" tour, we were one of the final bands forced off the road as the world ended. I am thrilled to report that ORIGIN is back with a new album full of punishing post-apocalyptic new shreds, and we're set to bring it to the post-apocalyptic world! So take your vitamins, and do your pushups, because we're all around (covid)19 lbs overweight, and it's time to trim the fat! Let's SHRED!!!! See you out there!"
"Only on rare occasion do the stars align to deliver a ripping assault of such extraordinary magnitude. Get your tickets, come out with your friends, and get blasted to bits," comments Misery Index about the impending North American tour.
Tour Dates:
5/06/2022 Cobra Lounge – Chicago, IL
5/07/2022 Emerson Theater – Indianapolis, IN
5/08/2022 The Sanctuary – Detroit, MI [TIX]
5/09/2022 Velvet Underground – Toronto, ON
5/10/2022 Mavericks – Ottawa, ON
5/11/2022 Foufounes Electriques – Montreal, QC
5/12/2022 La Source De La Martieniere – Quebec City, QC
5/13/2022 Sonia – Boston, MA [TIX]
5/14/2022 Saint Vitus Bar – Brooklyn, NY
5/15/2022 Dingbatz – Clifton, NJ [TIX]
5/16/2022 The Blind Tiger – Greensboro, NC
5/17/2022 Masquerade (Hell) – Atlanta, GA [TIX]
5/18/2022 Brass Mug – Tampa, FL
5/20/2022 Acadia – Houston, TX
5/21/2022 Amplified Live – Dallas, TX
5/22/2022 Come And Take It Live – Austin, TX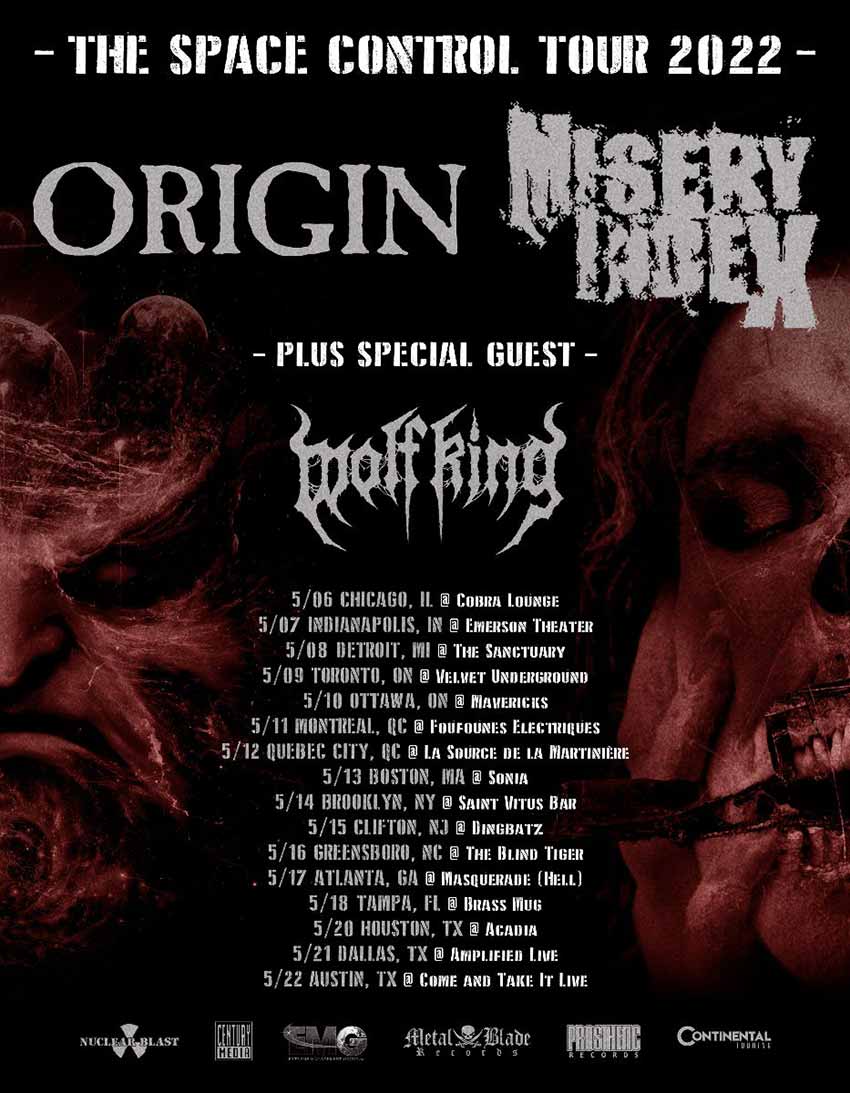 Concert photo by Johnny Perilla
Also Check Out: Opeth & Mastodon confirm 2022 co-headlining North American tour