'Prophecy Fest' 2021 have announced the final acts for their upcoming gathering in Germany. See the full press release below.
---
Dark, forward thinking music with an attitude in one of the world's most fascinating cultural locations, the legendary, natural Cave of Balve ("Balver Höhle") in the heart of Germany. Prophecy Fest in the label's 25th anniversary year is proudly announcing the final acts completing the billing of the festival's three days and nights from Thursday, September 9 to Saturday, September 11.
In addition to the newly announced band, the first details of the pandemic requirements for visitors have been provided by the local authorities and can be found below (Pandemic FAQ). We are glad to be able to reveal now that camping will likely be available for which the conditions are also listed below (Location & Travel).
Legendary British rocker ARTHUR BROWN will bring his flamboyant performance to Prophecy Fest. The mystical maverick has been quoted by vocalists from ALICE COOPER to IRON MAIDEN's Bruce Dickinson as a most important influence and his work is embraced by artists from ELTON JOHN to Pete Townshend (THE WHO). At the 2019 Prog Awards ARTHUR BROWN received the "Visionary Artist Award". Next to this giant of rock, more exquisite acts have been added to the final billing: Freshly signed doom duo FVNERALS have happily agreed to come to Balve and present their dark and heavy sound live to the expert audience at the label's own festival. Italian "Suicide Pop" classic SPIRITUAL FRONT are eager to being their charmingly sardonic smiles and unique musical mix of neofolk, new wave, and whatever they deem fit for purpose to the cave. Neofolk connoisseurs will also be stoked to find the name HEKATE now printed onto the festival flyer too. Despite the fact that the Germans have musically expanded their stylistic range far beyond this genre, they remain true to their roots. VRÎMUOT complete the good news for all friends of neofolk. Mastermind and multi-instrumentalist T.S. will attend with the stated mission to breathe new life into this often self-referencing scene. On further billing news, DORNENREICH have announced that they will be performing a special acoustic show in Balve in the meantime, while SECRETS FOF THE MOON and VÖLUR sadly had to withdraw from the festival due to work-related personal reasons.
The final billing has now been confirmed (in alphabetical order):
ARTHUR BROWN, DEINE LAKAIEN, DOOL, DORDEDUH, DORNENREICH, EÏS,
E-L-R, EMPYRIUM, FVNERALS, HEKATE, KLIMT 1918, NEGURĂ BUNGET,
PRIMORDIAL, ST. MICHAEL FRONT, SPIRITUAL FRONT, SUN OF THE SLEEPLESS, and VRÎMUOT.
Martin Koller comments: "We are proud to present the complete billing for Prophecy Fest in the year of our 25th label anniversary", states the label founder. "With outstanding artists such as iconic rocker Arthur Brown joining us in Balve, we believe to have a well balanced festival that should provide music from the full bandwidth of our stylistic range. Hopefully, you agree with us and look forward to the return of outstanding music Balve as much as we do."
---
Get further details about location, travel, and ticket options HERE.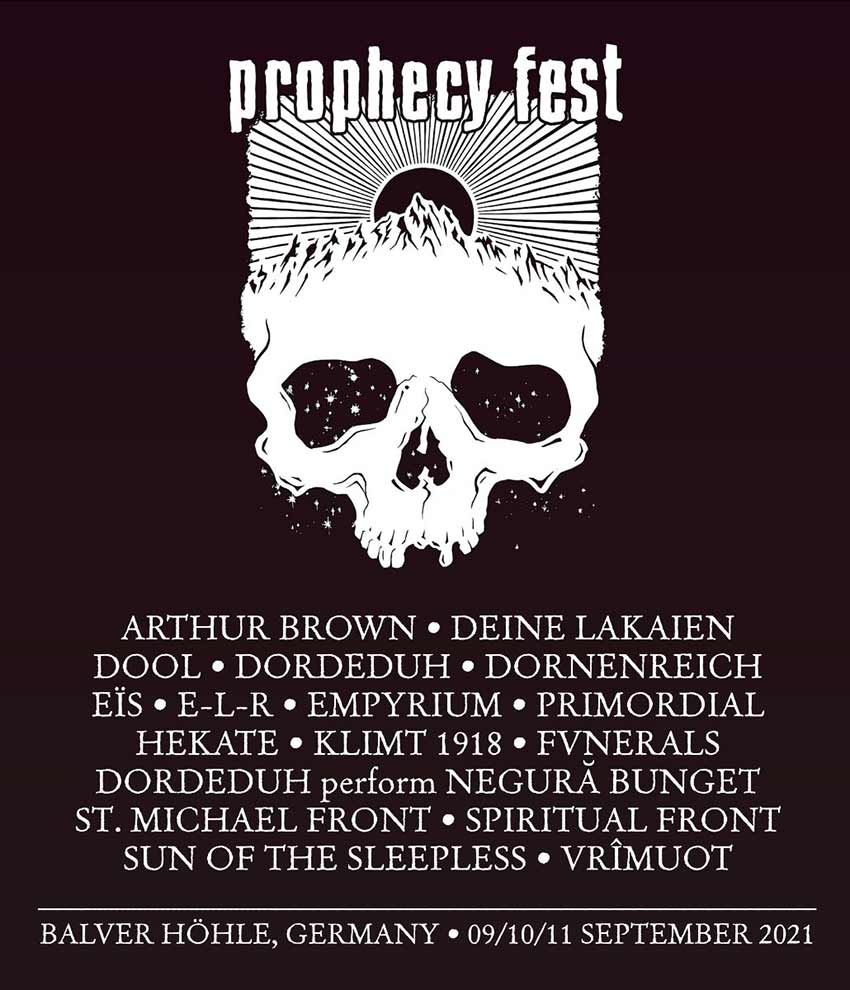 Also Check Out: Oceans reveal new song "Shark Tooth" + German/Austrian shows