Canadian hard rockers Saint Asonia have been forced to postpone and reschedule their planned 2021 European tour to 2022.
They say, "Tour Update! While we wanted nothing more than to play for you all this coming fall, we will unfortunately have to delay these shows until the following year. All purchased tickets will remain valid for the new dates. We can't wait!!"
See the new schedule + the official flyer below, and get tickets at saintasonia.com.
Tour Dates:
Fri, SEP 30, 2022 – Fesko-Kholl – Vladivostok, Russia
Sun, OCT 2, 2022 – Loft-Park Podzemka – Novosibirsk, Russian Federation
Tue, OCT 4, 2022 – Tele Club – Yekaterinburg, Russia
Thu, OCT 6, 2022 – Zvezda Club – Samara, Russian Federation
Sat, OCT 8, 2022 – Milo Concert Hall – Nizhnij Novgorod, Russia
Sun, OCT 9, 2022 – GlavClub Green Concert – Moscow, Russian Federation
Tue, OCT 11, 2022 – Arena Hall – Voronez, Russia
Thu, OCT 13, 2022 – Krop Arena – Rostov-na-donu, Russia
Fri, OCT 14, 2022 – Krop Arena – Krasnodar, Russia
Sun, OCT 16, 2022 – Kosmonavt – Saint Petersburg, Russia
Tue, OCT 18, 2022 – Prime Hall – Minsk, Belarus
Thu, OCT 20, 2022 – Atlas – Kyiv, Ukraine
Sat, OCT 22, 2022 – Fuzz Club – Tavros, Greece
Tue, OCT 25, 2022 – Thekla – Bristol, United Kingdom
Wed, OCT 26, 2022 – Rescue Rooms – Nottingham, United Kingdom
Fri, OCT 28, 2022 – Rebellion – Manchester, United Kingdom
Sat, OCT 29, 2022 – The Garage – London, United Kingdom
Tue, NOV 1, 2022 – Die Kantine – Cologne, Germany
Wed, NOV 2, 2022 – Doornroosje – Nijmegen, Netherlands
Thu, NOV 3, 2022 – Rockhal – Esch-sur-alzette, Luxembourg
Sat, NOV 5, 2022 – Gruenspan – Hamburg, Germany
Sun, NOV 6, 2022 – Columbia Theater – Berlin, Germany
Tue, NOV 8, 2022 – Lucerna Music Bar – Prague, Czech Republic
Wed, NOV 9, 2022 – Fleda club – Brno, Czech Republic
Fri, NOV 11, 2022 – European Tour – Warsaw, Poland
Sat, NOV 12, 2022 – Klub U Bazyla – Poznań, Poland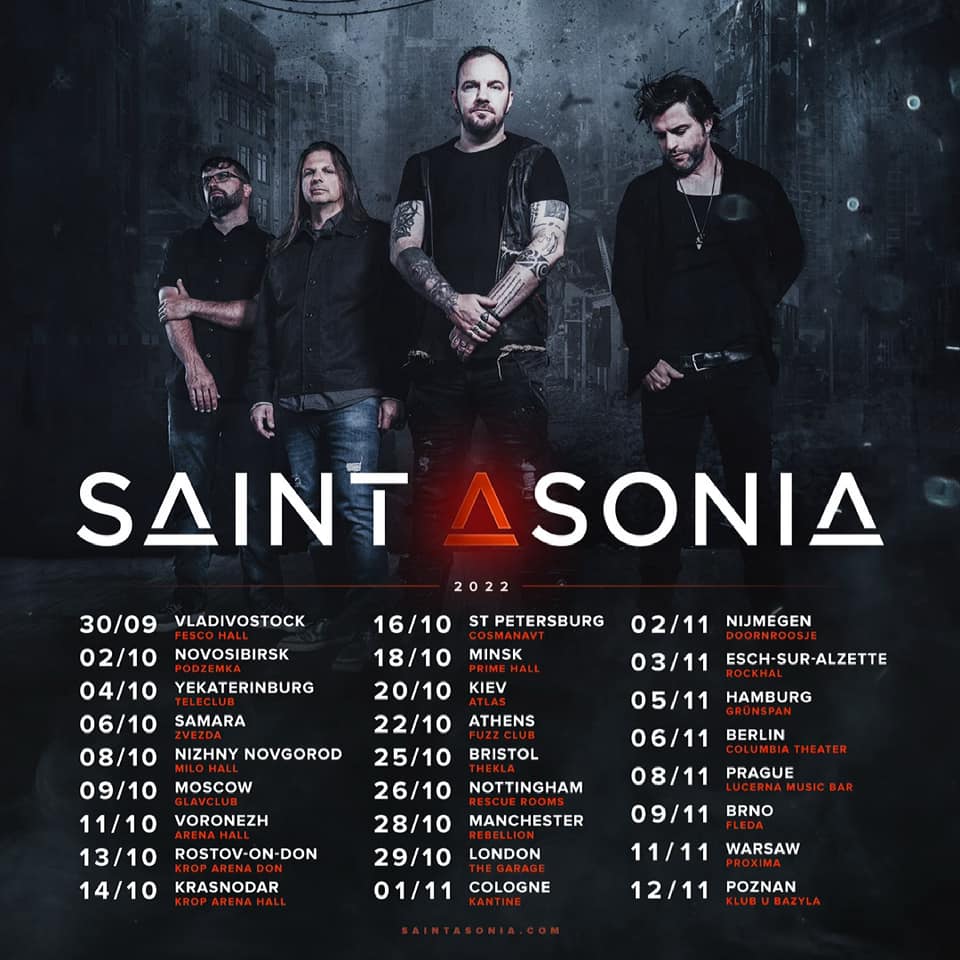 Also Check Out: Evanescence & Within Temptation European tour moved to 2022