Gothic rock/metal band Secrets of the Moon have announced new live shows in their homeland of Germany. In case you missed it, the band announced that they are breaking up and will perform their final festival gig at this year's edition of 'Party.San Metal Open Air' in August. The newly booked German shows happen in October and will give fans a final chance to see the band in an indoor concert setting.
Secrets of the Moon's singer Phil Jonas previously stated, "We are seeing the darkness at the end of the tunnel. From the moment that we built the four walls of the 'black house' with our bare hands skyward, we knew this would be not only our ultimate record but the epitaph at our final resting place. We thank you for walking this long winding idiosyncratic path with us over all these years. It has been an illuminating ride."
Since their inception in 1995, the band have released seven full-length albums (with their last being 2020's 'Black House'), along with a series of demos, splits and EPs.
As noted, the band's last festival show will take place at Party San Metal Open Air, a fest also featuring performances by Mayhem, Katatonia, Wolves in the Throne Room, Carcass, Dismember and much more.
Tour Dates:
11 AUG 2022 Schlotheim (DE) Party.San Open Air [TIX]
13 OCT 2022 Dortmund (DE) Junkyard +Dolch [TIX]
14 OCT 2022 Schweinfurt (DE) Alter Stadtbahnhof +Dolch [TIX]
15 OCT 2022 Leipzig (DE) UT +Dolch Connewitz
16 OCT 2022 Hamburg (DE) Knust +Dolch [TIX]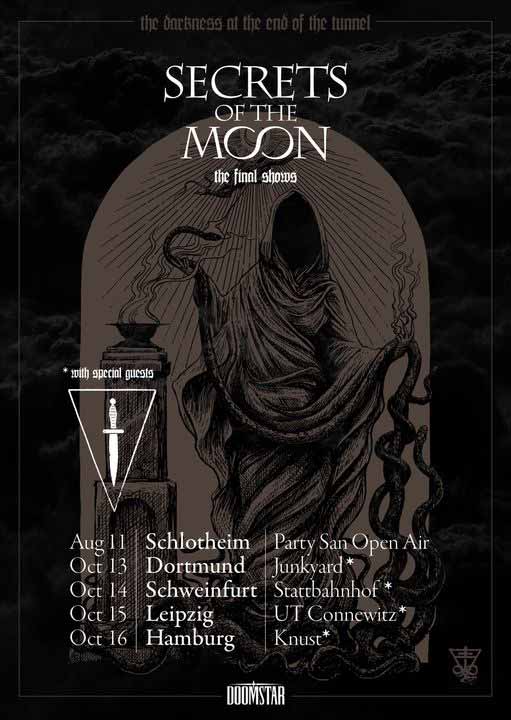 Also Check Out: DOOL announce shows in Netherlands & Germany