Share the post "Unleashed unleash new video single, "You Are the Warrior!""
Swedish death metal brutes Unleashed have revealed their new video single titled "You Are the Warrior!," which you can check out below. The tune appears on the band's impending full-length offering on Napalm Records dubbed 'No Sign of Life' (out November 12th).
Vocalist and bassist Johnny Hedlund comments:
"In the battle of life there will be moments, for the Warrior, when the whole world seems to be against you. When pain and suffering is at its peak and everything is pitch black. This is the time to recall the reason for the struggle, and to remember those before you, their resolve and will of steel. You aim for the most noble deed of all and strive toward greatness, the highest of all ideals. That…is the call to Odin.
As you sail into the great unknown of life, the great adventure, there will be dark clouds on the horizon, and know that sooner or later the winds will die down, and YOU will need to ROW.
That…is the hour of the Midgard Warrior.
It is then your time to bear the axe of responsibility, and the shield of protection for those who cannot protect themselves.
Your forefathers' battle is over, this is now yours!
You are the Warrior! And You FIGHT!"
Stream:



'No Sign Of Life' track listing:
1. The King Lost His Crown
2. The Shepherd Has Left the Flock
3. Where Can You Flee?
4. You Are the Warrior!
5. No Sign of Life
6. The Highest Ideal
7. Midgard Warriors for Life
8. Did You Struggle with God?
9. Tyr Wields the Sword
10. It is Finished
11. Here at the End of the World
'No Sign of Life' will be available in the following formats:
LTD Wooden Box Edition
Digipak
1LP DieHard Gatefold GOLD
1LP Gatefold MARBLED RED WHITE
1LP Gatefold CLEAR GREEN
1LP Gatefold BLACK
Digital Full Length Album
Unleashed are:
Johnny Hedlund – bass, vocals
Anders Schultz – drums
Tomas Måsgard – rhythm guitar
Fredrik Folkare – lead guitar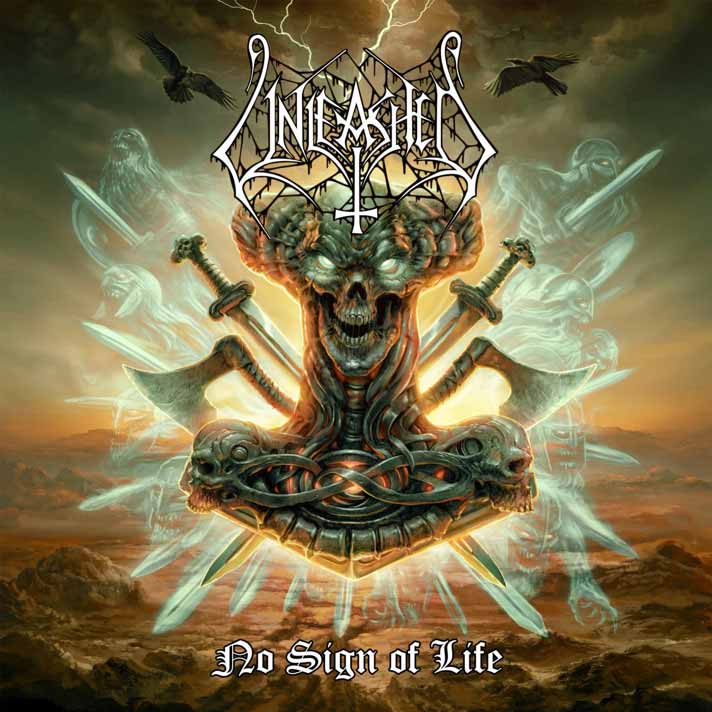 Artist photo by Jens Rydén
Also Check Out: The Vth Circle release "The Intense Vibrations" lyric video