Belgian death grinders Aborted have announced that they are dropping off Napalm Death's scheduled spring trek with Tombs and WVRM.
Aborted state:
Hey everyone,

We wanted to give you guys some good news in these dark days but unfortunately seems like nothing is spared from the Covid-19 outbreak. Due to all the measures in place (which everyone should follow, mind you), we have to cancel our upcoming tour with Napalm death, Tombs and WVRM. We feel that we as artists have to do our part as well in urging people to help flatten the curve and take part in social distancing for a while. In the meanwhile this leaves us, along with many others, with a huge financial deficit as our tour merch was already printed, plus work visas; flights; deposits etc were already paid for and it puts us in a very sh***y situation. We won't ever ask for a gofundme or anything from anyone. But if you planned on coming to one of the shows and get some merch and you want to support us if possible at all, you can now grab out tour merch from indiemerch and help us resolve this financial catastrophe. Now is the time to support the bands you love, support them by streaming their music; buying the records and merch as this will be the sole source of income for many of us for the unforeseeable future. In the meantime we will be working on a tour to replace this one with when possible and write the next album while we are stuck at home like everyone else. Hoping all of you are safe and doing well, thank you in advance and take care of your loved ones.

Sven, Stefano, Ken, Ian & Harrison

http://indiemerchstore.com/b/aborted

*Everything will start shipping next week, we are working through getting it in the system so they will show on pre-order at the moment*
In more news, Aborted recently posted a stream to their new single "Gloom And The Art Of Tribulation," which appears on the band's impending EP, 'La Grande Mascarade' (due 4/17). Check it out below.
Additionally and as noted, Aborted recently recruited Harrison Patuto (ex-Vale of Pnath) as their new permanent guitarist, replacing Mendel bij de Leij.
Stream "Gloom And The Art Of Tribulation":


Here's the full list of upcoming Napalm Death, Tombs and WVRM tour dates: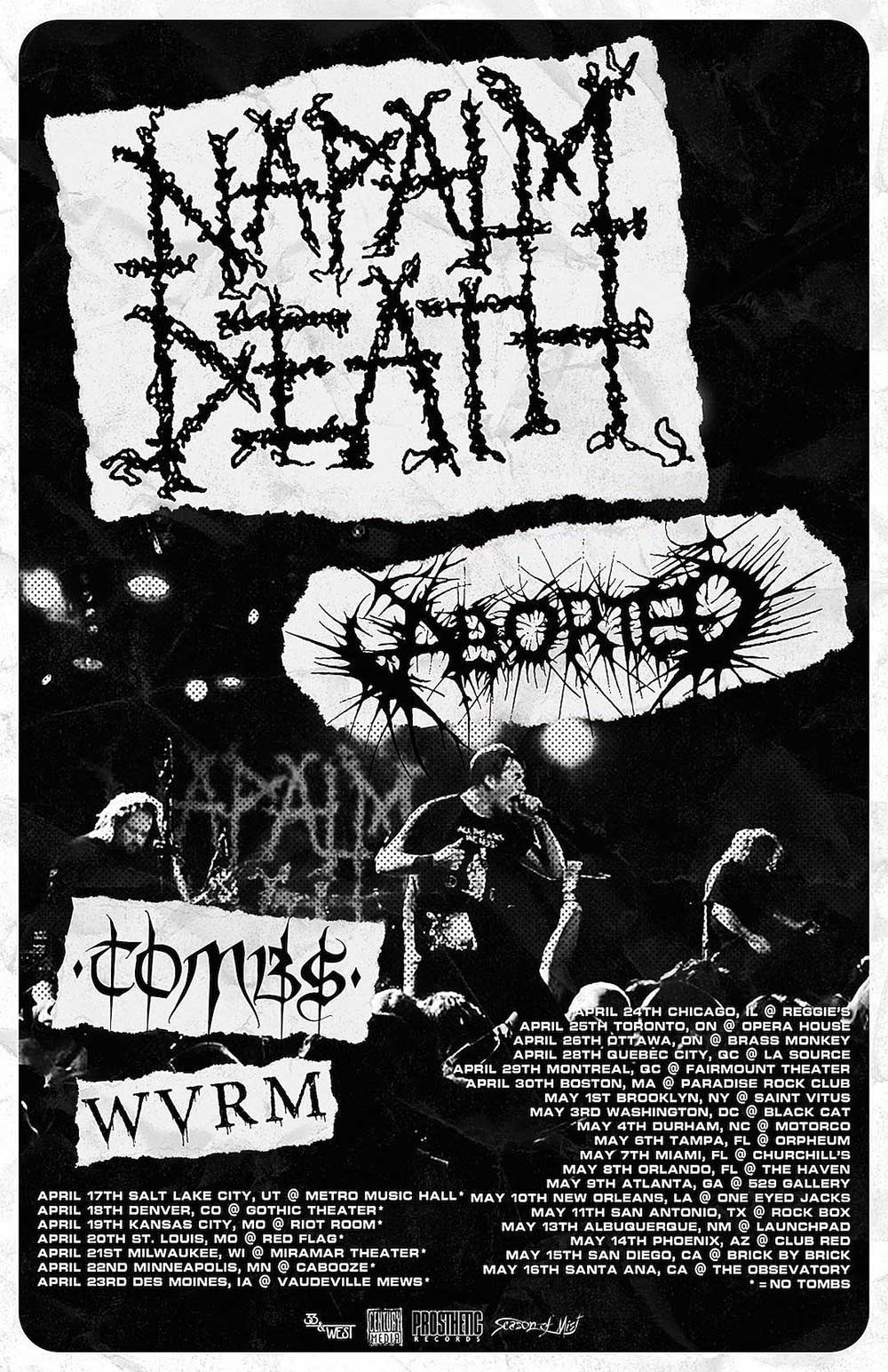 April 17 – Salt Lake City, UT – Metro Music Hall*
April 18 – Denver, CO – Gothic Theater*
April 19 – Kansas City, MO – Riot Room*
April 20 – St. Louis, MO – Red Flag*
April 21 – Milwaukee, MN – Cabooze*
April 23 – Des Moines, IA – Vaudeville Mews*
April 24 – Chicago, IL – Reggie's
April 25 – Toronto, ON – Opera House
April 26 – Ottawa, ON – Brass Monkey
April 28 – Quebec City, QC – La Source
April 29 – Montreal, QC – Fairmount Theater
April 30 – Boston, MA – Paradise Rock Club
May 1 – Brooklyn, NY – Saint Vitus
May 2 – Brooklyn, NY – Saint Vitus
May 3 – Washington, D.C. – Black Cat
May 4 – Durham, NC – Motorco
May 6 – Tampa, FL – Orpheum
May 7 – Miami, FL – Churchill's
May 8 – Orlando, FL – The Haven
May 9 – Atlanta, GA – 529
May 10 – New Orleans, LA – One Eyed Jacks
May 11 – San Antonio, TX – Rock Box
May 13 – Albuquerque, NM – LaunchPad
May 14 – Phoenix, AZ – Club Red
May 15 – San Diego, CA – Brick By Brick
May 16 – Santa Ana, CA – The Observatory
*= No Tombs